The EU is an empire in decay
It is Brussels – not Salvini or Orban – that is a threat to peace in Europe.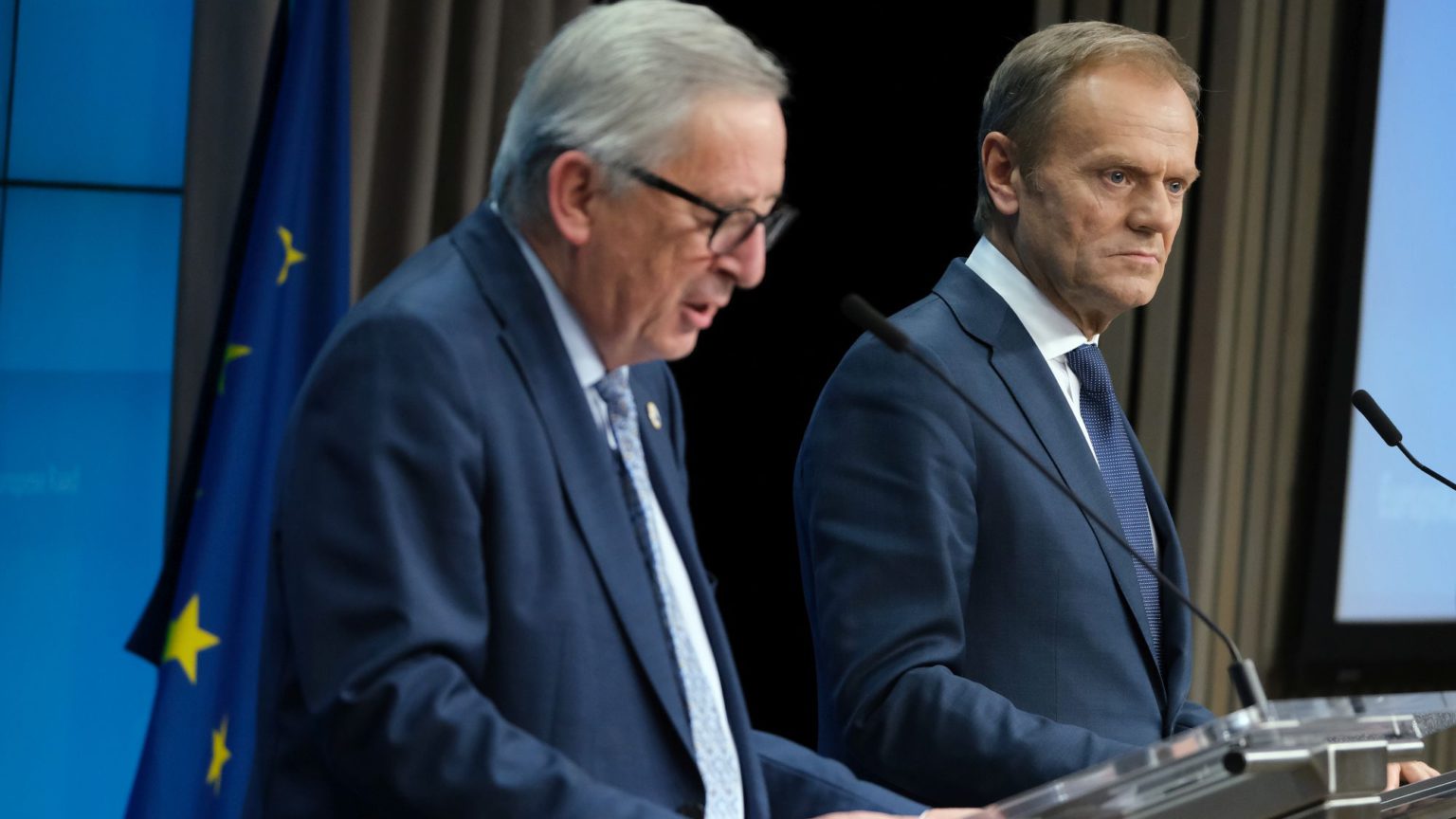 Most Europeans believe that the European Union will collapse within 20 years, raising the prospect of new conflicts and wars on the continent. This is the conclusion of the Berlin-based think-tank, the European Council on Foreign Relations, having carried out polls in 14 EU member states. Younger voters, aged 18 to 34, were especially worried about the prospect of war between current EU countries.
The belief that the EU will disintegrate within two decades is an entirely rational one. The union bears many of the hallmarks of an empire in decay: it has over-extended its borders; it is attracting more outsiders than it desires or can accommodate; it has too many leaders; it has emerging nativist movements; and its poor are growing ever-more angry and resentful towards the political establishment.
However, the second belief – that war between former nations will ensue – is unfounded. There is no appetite among EU member states for another European conflict, and no signs of animosity between nation states on the continent, as there clearly were prior to 1914 and 1939. The only hostility evident today is directed against the EU and Germany's leadership itself.
The First World War was on the cards ever since 1871, with the unification of Germany, a country that was soon going to dominate the continent as France continued its long decline. Ever since the Napoleonic wars, Britain had made it policy that no single nation should ever again dominate Europe, and by the 1900s Britain and Germany were in an open naval arms race. There was also by then a general desire for war among the populaces, as personified by the cult of Nietzsche and, as Robert Wohl wrote in The Generation of 1914 (1980), the belief that European culture was decadent and needed 'purification'.
The signs were even more obvious in the 1930s, with Nazi Germany's re-occupation of the Ruhr, the re-militarisation of the Rhineland, and then the invasion of Czechoslovakia and Poland. By 1936, Orwell observed, it was clear to most that a forthcoming war was inevitable.
There are no comparable signs today. If anything, the case is the opposite. The defining aspect of Europe's nationalist and populist movements is not that they represent growing animosity between nations, but rather that they embody a pan-European alliance among like-minded nationalists. Last Saturday, Matteo Salvini, the Italian populist deputy prime minister, held a rally in Milan attended by leading members of 10 different parties across the continent. One by one they took to the stage to denounce immigration and to denounce Angela Merkel, the German chancellor, and the French president Emmanuel Macron as 'destroyers of Europe'.
The real prospect of war on the continent comes not with the disintegration of the EU, but with its continued existence. There may not be any tangible appetite among other EU members for seceding from the Union, but there is clearly something wrong with the model. If it is to survive it will have to become more federated or decentralised or two-tier, otherwise the likes of Salvini or Hungary's Viktor Orbán will flourish and multiply. But the EU's ideological leaders are so wedded to ever-closer union that it's hard to see this happening.
The EU made it as difficult as possible for the UK to leave, with the view of setting an example to other members. Any future member that wants to leave, when the decadent and decrepit Union has become more reactionary, centralised and oppressive, and its members even more discontent, may ultimately have to take stronger measures. Remember Yugoslavia.
---
Drop the hi-tech translators and learn another language
Last week Google moved a step further to realising a real-life Babel Fish with the announcement of a new service called Translatotron. It is an experimental artificial-intelligence system that directly translates a person's voice into another language.
Although this is technically breathtaking, I find there is something deathless about translation technology. There is nothing like putting in the hard graft over the months and years and then waking up one day to realise you can understand words that in the past were just noise. As in any walk of life, it is gratifying and beautiful to behold the fruits of your labour.
If you have learned a language proficiently, you can hold a conversation in it or eavesdrop on tourists, two things you can't do with technology. You have internalised a second language. You have become autonomous in relation to it and no longer need an external crutch.
We outsource our brain too much these days, from sat navs to Google searches to Alexa. Much of my generation were left functionally innumerate by pocket calculators. At this rate the current generation will be left functionally ignorant of everything.
It's all very well to have it and to use translation technology, but what happens when the technology is not there? Capisce?
---
The Merchant of Menace, by Horatio Krankenhaus
Now is the springtime of our discontent. This bodes some strange eruption in our state. Nigel Farage valiant is he in tremors is victorious in Flanders, with benefit of monetary capital that is shady. He dost seek the Channel to become a mote between the land of the Franks and this sceptred isle. The perilous narrow ocean parts asunder. An affrontage 'pon Neptune's Empire there ever was.
He hath won the prize itself the European elections. What then? What rests? O wretched state! O bosom black as death! This rogue and peasant slave, with his heat-oppressed brain hath made the happy Earth his Hell, filled with cursed cries and deep exclaims.
What is the cause of his distemper? This peevish fellow doth infect mine eyes with his pestilent speeches. And so some justice did arrive on Monday 'pon the banks of the River Tyne, when he converged with the Thane of Northumberland who cast heated, sweet lactose upon his garments. Tear-falling pity dwelt not in this eye!
'Twas no impediment upon his victory on Thursday eve. 'Liberty! Freedom! Tyranny is dead!', he did declare. 'Run hence, proclaim, cry it about the streets.' Farage did celebrate with much wine. Much, much wine. As the witching hour struck, he did affirm, prostrate beneath Brexit Party bench: 'Of my nation? What ish my nation? Ish a villain, and a bastard, and a knave, and a rascal? What ish my nation? Who talks of my nation?'
Oh villain, villain smiling, damned villain, this dull and muddy-mettled rascal. The devil take thy soul, Farage! Hie thee to Hell for shame and leave this world, thou cacodemon! There thy kingdom is!
To enquire about republishing spiked's content, a right to reply or to request a correction, please contact the managing editor, Viv Regan.