London Leavers are finally making themselves heard
spiked reports from the Brexit Party's final pre-election rally.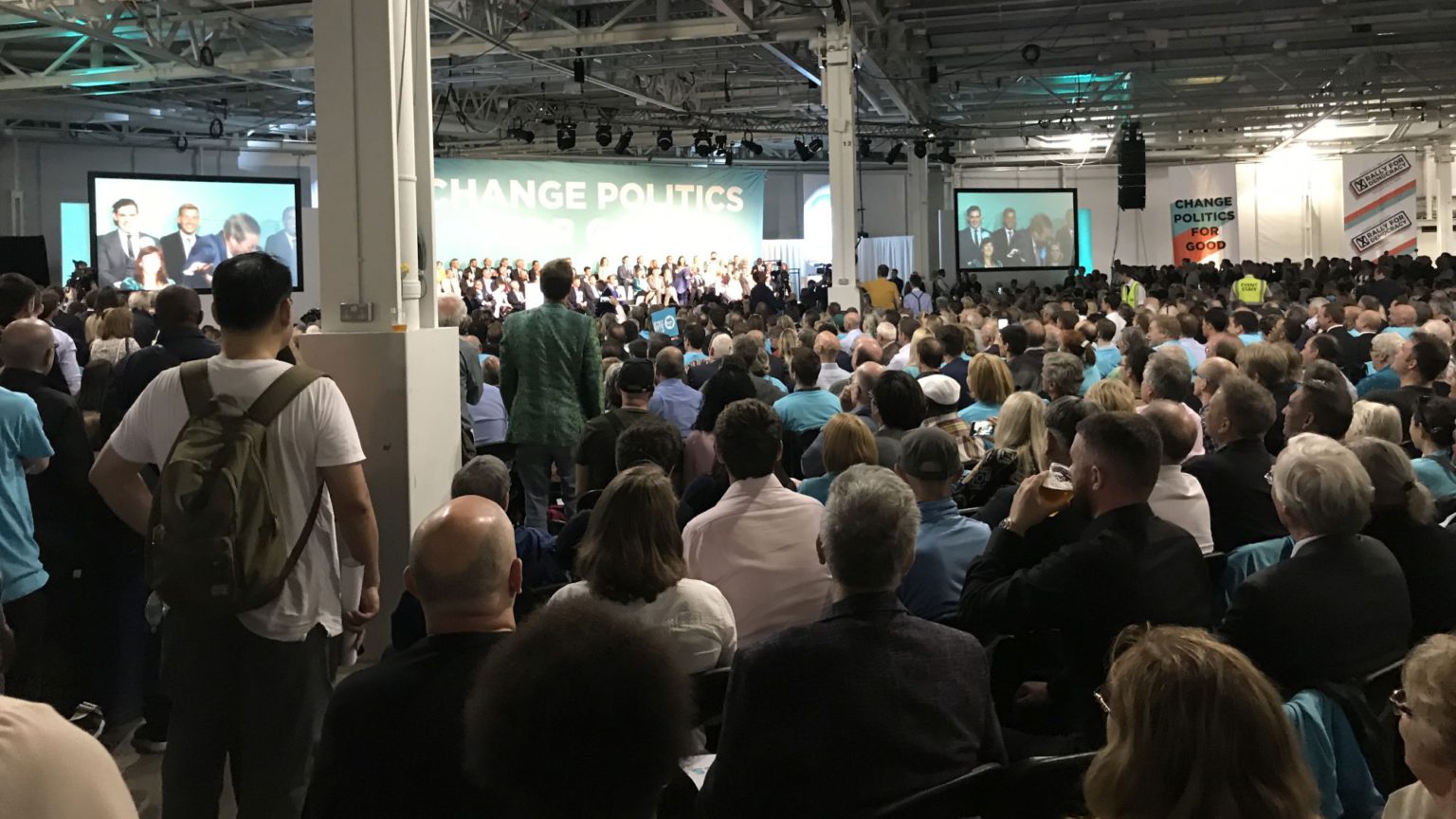 The Brexit Party was set up just five-and-a-half weeks ago. According to all of the polls, it is on course to win in this week's European elections. Some polls even suggest that the Brexit Party will come second in London, a Remain stronghold. And it was in west London, in the Olympia exhibition centre, that the party held its final pre-election rally last night, drawing a crowd of over 3,000 people according to the organisers.
All 70 of the Brexit Party candidates were on stage. The crowd was addressed by former Conservative minister Ann Widdecombe, former president of the Czech Republic Vaclav Klaus, and finally by Brexit Party leader Nigel Farage. Widdecombe made good use of her years in post-retirement panto, adopting a crowd-pleasing call-and-response routine. There was something end-of-the-pier about Farage's speech, too.
Where the other parties no longer represent the country's 17.4million Leave voters, the Brexit Party has arrived to try to fill the void. Last night's crowd were angry that Theresa May had not only failed to deliver her promise to take Britain out of the EU by 29 March, but had also cooked up a withdrawal deal that would keep us in the EU in all but name.
Even the mention of Boris Johnson, leader of the Vote Leave campaign, drew boos from the crowd – though they weren't as loud as the boos for Theresa May, Jean-Claude Juncker and Michel Barnier. As Farage pointed out from the stage, Johnson described the Withdrawal Agreement as a 'vassal state' deal, only to vote for it later on. 'You cannot trust the political class in this country', Farage said. This sentiment was shared by everyone I spoke to at the rally.
'The Brexit Party has exploded', said Alex, a Brexit Party supporter. On his back was a giant cardboard cutout of the UK that read 'Britain voted Brexit'. From north London, Alex works for a concrete-testing company and publishes children's books on the side. He was not the stereotypical Brexiteer. In fact, in the EU referendum, he voted Remain. In 2017, he voted Labour. 'It's wrong what's going on. I believe in democracy', he said. 'We should have digested the Leave vote and moved on.' Instead, politicians are 'scared of leaving' and want to frustrate Brexit. Even his daughter, a graduate and a staunch Remainer, thinks that holding a second referendum would be 'obscene', he told me.
There were other Labour voters in the crowd, too. A young woman, who didn't want to be named, has recently moved from Essex to London. She voted Labour at the last election but now wanted to 'clean out the establishment'. Then there was Jovan, who works in security, from north-west London. He voted for Brexit and for Corbyn. He is disappointed by the establishment's manoeuvrings against Brexit over the past few years. 'I thought the game was up', he said. But then the Brexit Party emerged. 'The first day they launched, by that evening I signed up and I gave my £25.'
Christine, retiree and former UKIP voter, was so incensed by the betrayal of Brexit that she wanted to start her own party: 'Luckily, Nigel did it first.' 'The establishment hate him and that's a good thing', she told me. 'You don't have to love the man', said Alex, the former Remainer, 'but he is doing the business'.
Strikingly, there was hardly any mention of immigration from any of the speakers at last night's rally. Mark, a builder and former UKIP voter, originally voted Brexit over control of immigration. Now, three years since the referendum, his political priorities are different. 'It's not so much about leaving the EU but respecting democracy', he said. 'The damage it will do to our political system if we don't leave – the country will never be the same again.' As for Westminster – 'that's a swamp in serious need of draining', he said.
For Jovan, the former Corbyn voter, democracy is the No1 reason to vote for the Brexit Party, too. He is fed up with hearing that London is full of Remainers. 'It's rubbish', he said. 'I was going to vote Remain, but my friends who looked into it and were astute persuaded me otherwise.' And the Leave votes of ethnic minorities are being ignored too, he said. 'In the news, it's all, "they're racist", "they're thick", but all of my mates that properly looked into it, all of them black, voted to Leave.' One of the many big cheers of the night followed Farage's suggestion that the UK embrace the Commonwealth after Brexit – in terms of both trade and immigration. For Jovan, this 'flies in the face of everything they have been saying about us'.
It should be no great surprise that the Brexit Party could draw such support even in London. After all, more Londoners voted for Brexit than voted for London's mayor, Sadiq Khan. Last night, London's Leavers were finally making themselves known.
Fraser Myers is a staff writer at spiked and host of the spiked podcast. Follow him on Twitter: @FraserMyers.
To enquire about republishing spiked's content, a right to reply or to request a correction, please contact the managing editor, Viv Regan.