Want Scottish independence? Vote Brexit Party
If one referendum result can be ignored, so can another.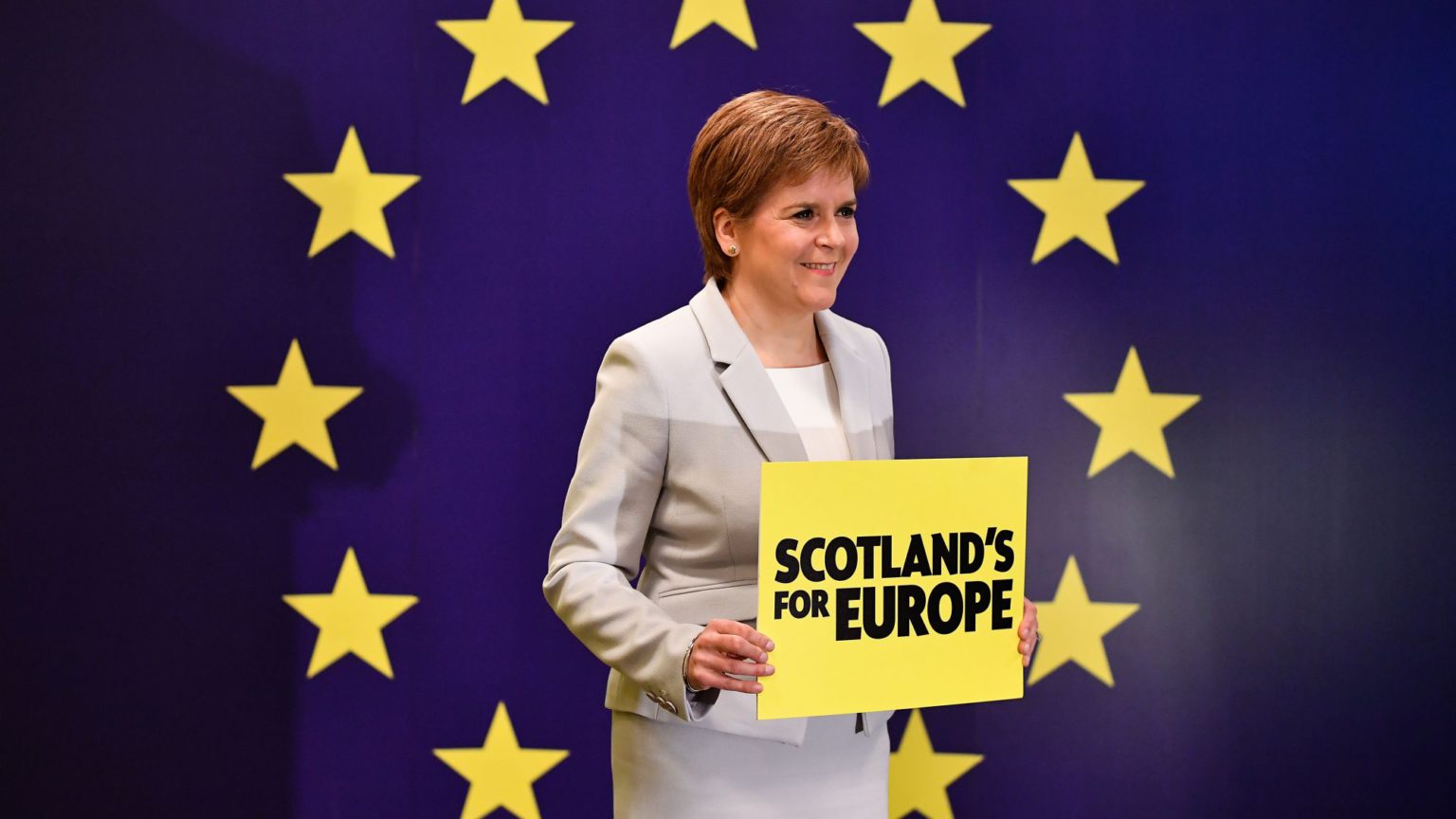 Of all the odd experiences I've had amid the current political turmoil in British politics, standing on Princes Street in Edinburgh handing out leaflets with Nigel Farage's smiling face on them must be the oddest of all.
I disagree with the Brexit Party leader on many things. But on the biggest, most important question facing the UK today, we are in agreement: we voted to leave the EU and we should do so, even if that means leaving with no overarching deal. No Deal is hardly anyone's first choice. It would be better to agree a future relationship with the EU that works for everyone. But the negotiations have not produced such an agreement, so the best, democratic alternative now is for a clean break rather than Theresa May's awful and misnamed Withdrawal Agreement.
The reaction to our stall was mixed. Most people walked on past with a polite 'no thanks'; a few people enthusiastically talked to us, and maybe more people muttered something like 'you've got to be joking'. One or two used coarser language. That was hardly a surprise. In the EU referendum, 62 per cent of Scottish voters wanted to remain in the EU (even more than in London). In Edinburgh, the Remain vote was a whopping 74.4 per cent – making Edinburgh the most pro-EU voting area in the most pro-EU part of the UK.
But for those who voted for Scottish independence in the earlier referendum, in 2014, there is a logical argument for voting for the Brexit Party now. I've written many times for spiked on why Scottish independence would be a bad idea, so Scottish nationalists may be less than keen to take advice from me – but here goes.
The forthcoming European Parliament elections are not simply an exercise in democracy – they have become a rearguard action to defend democracy. Whatever your views on the question of Brexit itself, we had a nationwide debate for months, we went to the polls, and we made a choice. We should now implement that choice. To do otherwise would call into question any future democratic choices. If the vote went the 'wrong' way as far as the establishment is concerned, the result could simply be ignored or overturned.
But doesn't Scotland's vote in the EU referendum mean that Scotland should be allowed to stay in the EU? No. The Scottish people voted to stay in the UK in 2014, with a massive turnout of 84.6 per cent – the highest recorded for an election or referendum in the UK since the introduction of universal suffrage. That clear vote, with 55.3 per cent voting against independence, means also accepting the results of UK-wide votes.
If we go down the path of allowing politicians – whether in Westminster or Holyrood – to pick and choose which votes they will honour, we deprive the democratic process of any meaning. And if there is one idea that the Westminster establishment hates, it is Scottish independence.
Let us imagine there is another referendum on Scottish independence in the near future. (I think most Scots would rather there wasn't an 'IndyRef2', given how divisive the last one was.) If the vote were close, but in favour of independence, I think that vote should be honoured. Scotland should be able to leave the UK, no matter how much I hate the idea.
The reaction of the political establishment would be vituperative, perhaps even more so than after the vote for Brexit. They would blame 'low-information' voters, they would rain down arguments about how it is all too difficult, how it would wreck the Scottish economy, and point out all the practical difficulties. If escaping the UK's 46-year-old relationship with the EU is deemed impossible by MPs, business leaders and financiers, how much more difficult would it be to unravel the three centuries of union between Scotland and the rest of Britain? Maybe, they would say, we should have another vote in a couple of years' time, when people have the full facts. In short, the establishment would push hard to reverse a democratic vote to leave the UK.
If the Brexit vote is overturned, if the UK doesn't leave the EU, those establishment figures would not just have their own anti-independence arguments to rely on. They would also have a precedent for ignoring the results of referendums. That would be a disaster for anyone campaigning for Scottish independence.
I'm in favour of Scotland staying in the UK, even more so since I moved back to Scotland a couple of years ago. I'm also in favour of the UK leaving the EU. Those two positions put me at odds with the vast majority of Scottish nationalists. But those who want Scottish independence and want Scotland to be in the EU would be far better served by arguing for Brexit now and an independent Scotland rejoining the EU in the future. It would be short-sighted to argue for the terrible prospect of a huge democratic vote being overturned by skullduggery, heel-dragging, hypocrisy and lies – exactly what is happening right now.
If supporting a party led by Nigel Farage seems odd to me, it would seem bizarre to Scottish nationalists. But if they hold out any hope for independence in the future, they should support the Brexit Party next Thursday.
Rob Lyons is science and technology director at the Academy of Ideas and a spiked columnist.
To enquire about republishing spiked's content, a right to reply or to request a correction, please contact the managing editor, Viv Regan.