In defence of Brexit passion
The police want us Brexiteers to tone down our language – fuck that.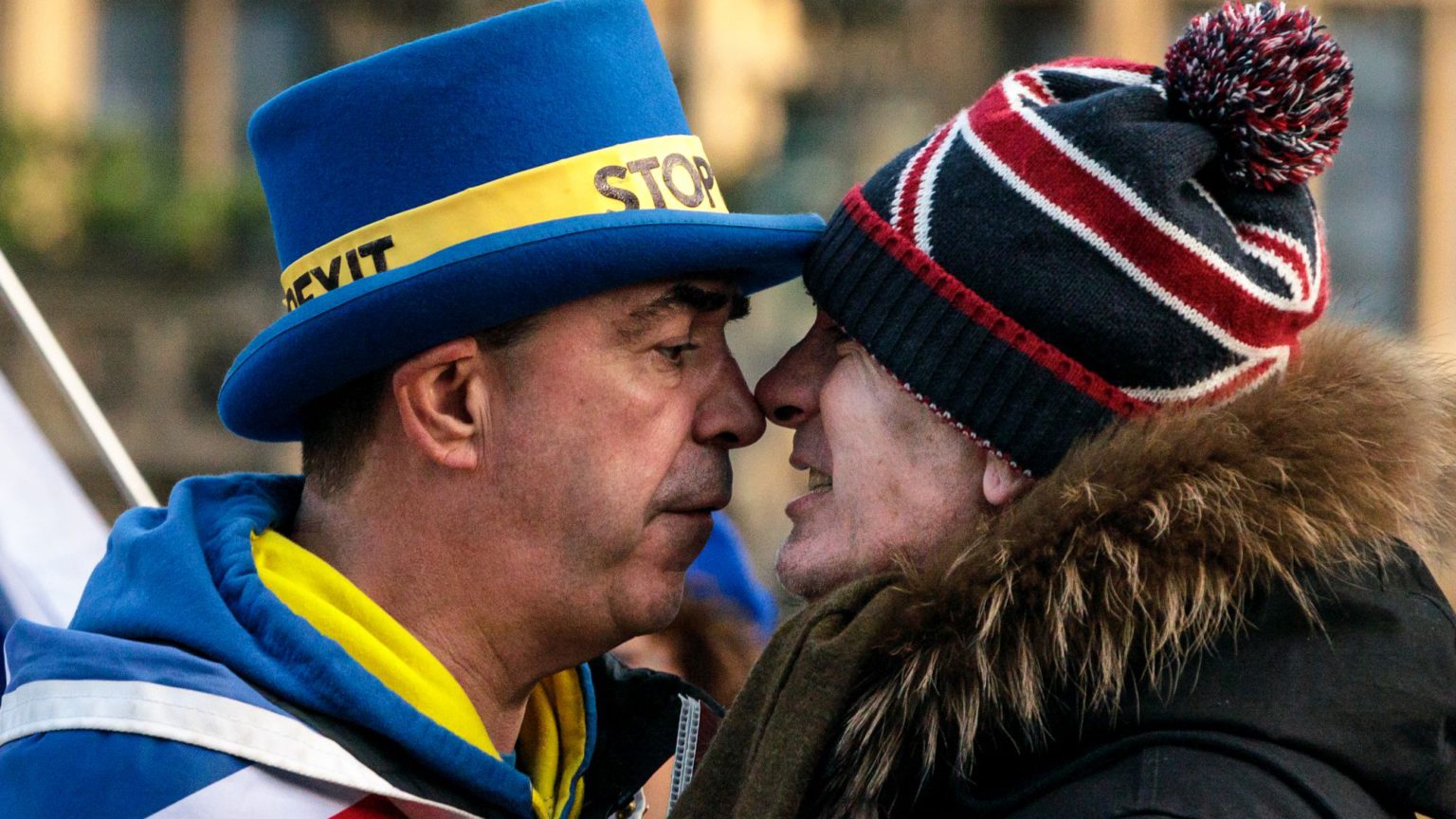 The British establishment has some front. First it decimates our democratic rights by doing everything within its considerable power to dilute, degrade or thwart entirely the thing that 17.4million of us voted for: Brexit. Then it virtually criminalises us if we get angry about this. It treats us as speechcriminals if we fume against the undermining of our vote or describe as 'traitors' those MPs who have devoted their every waking hour to making sure Brexit doesn't happen. The elite's war on the democratic vote for Brexit is now attended by a complementary war on public anger – they're determined to forcefield their betrayal of the referendum result from the fury of the people.
Consider last week's rude and authoritarian intrusion into the Brexit debate by the National Police Chiefs' Council. The NPCC effectively warned the populace to tone down its Brexit passion. Addressing a gathering of journalists, Martin Hewitt, chair of the NPCC, said Brexit is a 'highly emotive' issue and therefore people with a platform must 'communicate in a way that is temperate' and which is not going to 'inflame people's views'. Brexit Britain has 'an incredibly febrile atmosphere', he said, and this means 'anybody in a position of responsibility' must 'think carefully about the way that they express their views and their opinions'. After all, he said, we wouldn't want to 'incite… anybody to behave in a way that we wouldn't want them to behave'.
It is testament to the low esteem in which freedom of speech is held these days that the NPCC's intervention on Brexit caused virtually no controversy. The intellectual classes said nothing. There was no Twitterstorm. There was no flurry of thinkpieces wondering if it is the role of the police to instruct people on how they should express their political opinions. In a normal era, it would have been treated as borderline scandalous for a top cop to hold forth on political speech. But ours is not a normal era. Ours is an era in which the vast bulk of the political, media and chattering classes have lined up against the largest democratic vote in UK history and against what they view as the ignorant, dangerous masses who support this vote. In this kind of era, all bets are off, and what would have been abnormal just a couple of years ago – MPs openly defying their voters; the middle classes marching for the overthrow of democracy; the police warning us not to get too passionate – can become normal.
There is much to be concerned about in the NPCC's intervention. It speaks to the creep of authoritarianism. To the casual diminution of freedom of thought and speech. To the cavalier demonisation of strong political passion and belief – only in the cardboard, managerial, deadening Third Way era could political intensity be viewed as tantamount to a crime.
There's also the brazen elitism of Hewitt's comments. His plea to people in a 'position of responsibility' to temper their language, lest it cause members of the public to 'behave in a way we wouldn't want them to behave' is a perfect distillation of the essence of censorship. It effectively says, 'Censor yourselves or else you will ignite dangerous passions among the throng' – the eternal justification for censorship. Of course, this extraordinarily haughty view of the masses as being one heated tweet, Daily Mail editorial or UKIP speech away from turning into a deranged mob is likewise promoted by many people in politics today, especially people on the left. Perhaps that's why they said nothing about the NPCC's intervention – they utterly agree with its implicit depiction of ordinary people as a febrile swarm.
Indeed, the NPCC's comments didn't come out of the blue – they follow, and build upon, the political elite's censorious concern about Brexit-related language and passion. For two years, members of the political and media classes have wrung their hands over the 'dangerous' language used by Brexiteers. (They sometimes try to appear balanced by saying, 'All sides must calm down', but we're not dumb – we know it's the Brexit side they're fearful of.) If newspapers call anti-Brexit MPs 'saboteurs', they go mad. If anyone utters the word 'traitor', they panic. If you say 'enemy of democracy', they accuse you of being a goose-stepping authoritarian come to destroy our democratic fabric. Which is hilariously rich coming from people who have made preventing the enactment of the largest vote in history their life's work. As I said in my speech at the Leave Means Leave rally outside parliament a couple of weeks ago: 'If you don't want to be called an enemy of democracy, stop behaving like one.'
This panicked obsession with the heated language used by some Brexiteers sums up the authoritarianism of the Remainer elite's subversion of the democratic will. Their Brexit language fear is historically illiterate, forgetting, or wilfully ignoring, that some of the most important battles for press freedom in UK history have involved ordinary people and radical reporters agitating for the right to call politicians, princes, bishops and bosses 'scoundrels' and 'liars' and 'charlatans' and 'perverts'. It is not unimportant that in the political tumult of the 1640s – when England experienced a civil war between parliamentarians and monarchists – the machine of 'Tudor-Stuart censorship' was mostly targeted at people and pamphlets who propagated 'libels, conspiracies and hate speech' – because rude and intemperate language have long been a key part of public displeasure with the political establishment (1). The elite's agitation with Brexit-hot speech also speaks to their keenness to demonise dissent; to paint public anger as hateful and poisonous and a threat to the social order; to protect themselves and their anti-democratic mission from the judgement and wrath of ordinary people.
We can't let them get away with this. The only way in which the public can stand up against the betrayal of our vote and the effective disenfranchisement of 17.4million people is by speaking and organising and protesting, as passionately as we please. They're taking away our democratic rights; we can't also let them muzzle our anger at being treated in such a demeaning and elitist way.
Brendan O'Neill is editor of spiked and host of the spiked podcast, The Brendan O'Neill Show. Subscribe to the podcast here. And find Brendan on Instagram: @burntoakboy
Watch Brendan O'Neill's speech at the March to Leave below:
Picture by: Getty.
(1) Censorship and Cultural Sensibility: The Regulation of Language in Tudor-Stuart England, Debora Shuger, University of Pennsylvania Press, 2006.
To enquire about republishing spiked's content, a right to reply or to request a correction, please contact the managing editor, Viv Regan.