The war on No Deal is a war on democracy
The political elite's hysterical hatred of No Deal is a cover for their contempt for Brexit itself.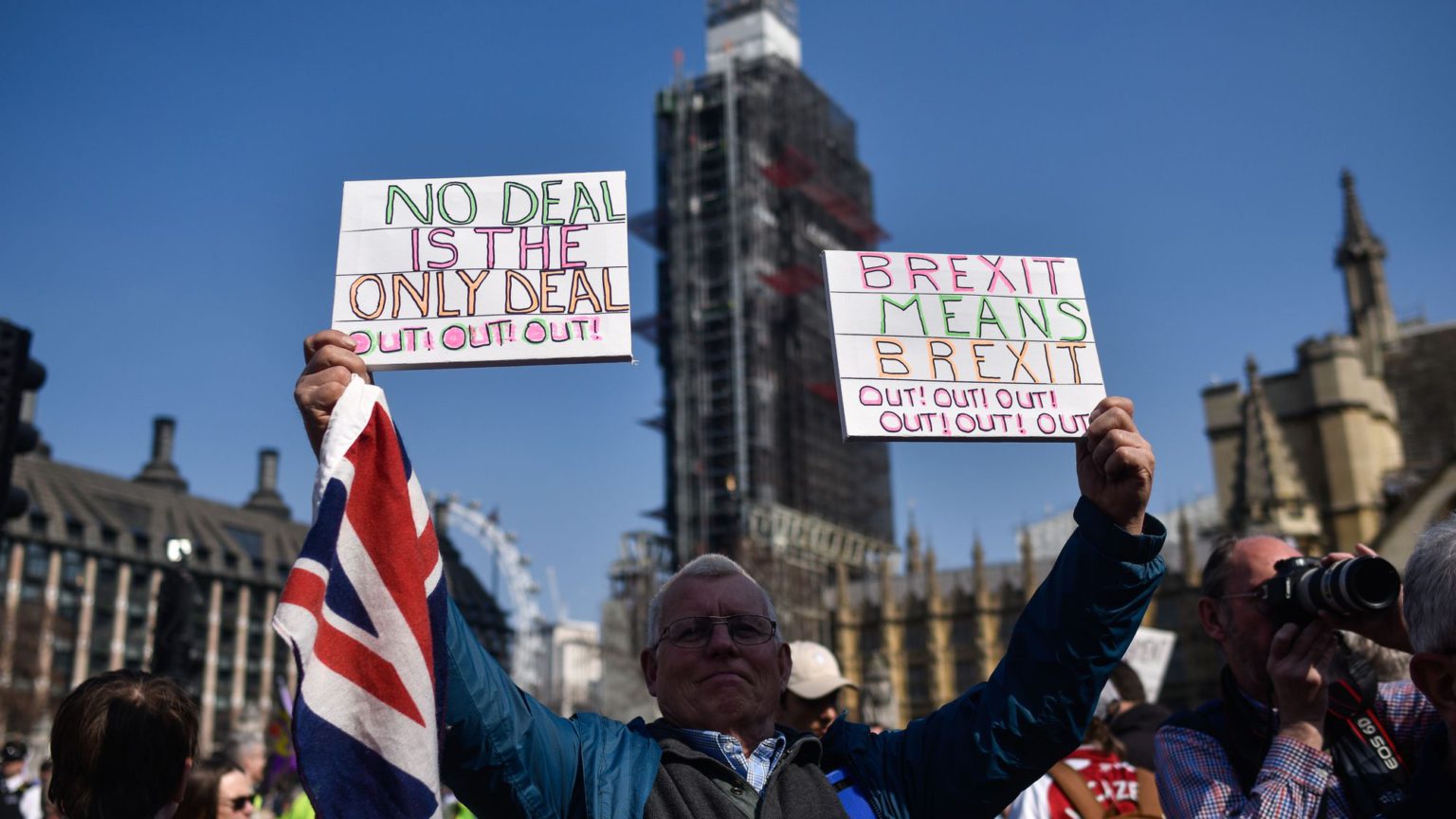 So there goes Brexit. Voted for by 17,410,742 people, voted down by 313 MPs. Backed by the largest number of British voters ever to back anything, seen off by a gaggle of MPs who hate what we voted for. Make no mistake: this is what last night's slim win for Yvette Cooper's amendment means. It means the only remaining policy option that resembles Brexit – leaving the EU without a deal – has been legally obliterated. If the House of Lords now gives the nod to the Cooper legislation – and being a hotbed of Brexitphobic elitism, there's no reason it wouldn't – and if the EU agrees to a further extension to the Article 50 process – which it might well do – then Brexit as we knew it is finished.
It can feel difficult sometimes to grasp the gravity of the situation we face: the largest democratic vote in the history of this nation is being betrayed before our very eyes. Ignore the crowing Brexit-blocking MPs who say that the victory of the Cooper idea simply means that a 'catastrophic' No Deal Brexit will no longer be an option, and that brave MPs who are so much cleverer than us pig-ignorant plebs have saved Britain from the 'cliff edge' of 'crashing out', etc etc. These Orwellian euphemisms are simply a disguise for what the political elite's war on No Deal represents – a war on Brexit. When you hear MPs saying 'We have to prevent No Deal', what they really mean is: 'We have to prevent Brexit.' And preventing Brexit of course means preventing democracy, disenfranchising millions, overturning 100 years of a democratic contract that defined modern Britain. This is the end of an era.
There's still an 'if' to the elite's final blow against the mass democratic vote to leave the EU. The Cooper rule would force PM Theresa May to ask the EU for an extension to Article 50 beyond the current end date – 12 April – precisely in order to remove No Deal as an option. The 'if' is whether the EU agrees to all of this. It is in its interests to do so, though, because the removal of No Deal is not only a historically traitorous blow to Britons' democratic will – it will also hugely embolden the EU in the 'negotiations' over Brexit. Removing one's ability to walk away from talks instantly weakens one's own side and boosts the other. The EU now knows – if it didn't already – that the morally emaciated leaders of the UK will take anything. A bad deal? Hit us with it. We'll accept. The removal of No Deal is a green light to yet more EU neocolonial bullying of our supposedly sovereign nation.
The potential end of No Deal tells us two very important things. First, that there is a colossal, unbridgeable gap between public opinion and elite opinion. It is hard to think of any other time in recent decades when the disconnect between us and them was as profound as it is right now. Just this week, a YouGov poll found that large numbers of people think that if a Brexit deal is not sorted by 12 April and the EU refuses to extend the deadline, then we should leave with No Deal. Forty-four per cent think we should leave without a deal, vs 42 per cent who think we should remain in the EU. The breakdown by regions is even more striking. Only in London is there a majority for remaining in these circumstances; in the south (outside of London), the Midlands and the north, more are in favour of leaving with No Deal. Especially in the Midlands, where 49 per cent favour No Deal vs 38 per cent favouring Remain. That the political class can talk about No Deal as the maddest, most dangerous thing ever, and plot for its destruction, while vast numbers of citizens are warming to No Deal speaks to a chasm-sized difference in political worldviews. It speaks to two Britains: theirs and ours. It also confirms something all democrats know: the crowd is far wiser and more reasoned than cut-off, easily panicked elites.
And the second thing the war on No Deal / Brexit / democracy confirms is that we are ruled by liars. There is no other way to put it. They're liars, charlatans, betrayers. These are people who promised to respect the referendum result. Who were returned to parliament on manifestos that said we would leave the Single Market and the Customs Union. Who said they would not block Brexit. Yvette Cooper herself, author of this latest reactionary assault on democracy, put out an election leaflet in which she expressly said she would not block Brexit; now she is at the forefront of blocking Brexit. The true mystery in British politics right now is how MPs are getting away with it. How they can be so brazenly anti-democratic and anti-people and not face serious repercussions. Those repercussions will now have to come at the ballot box. The political class needs to be ousted, with haste, and replaced by people who know what democracy means and who do not look upon the public as uneducated scum whose votes can be overridden at will.
To enquire about republishing spiked's content, a right to reply or to request a correction, please contact the managing editor, Viv Regan.