No, we are not becoming a nation of Remainers
The British Social Attitudes survey actually shows that Brits are more cagey about the EU than ever before.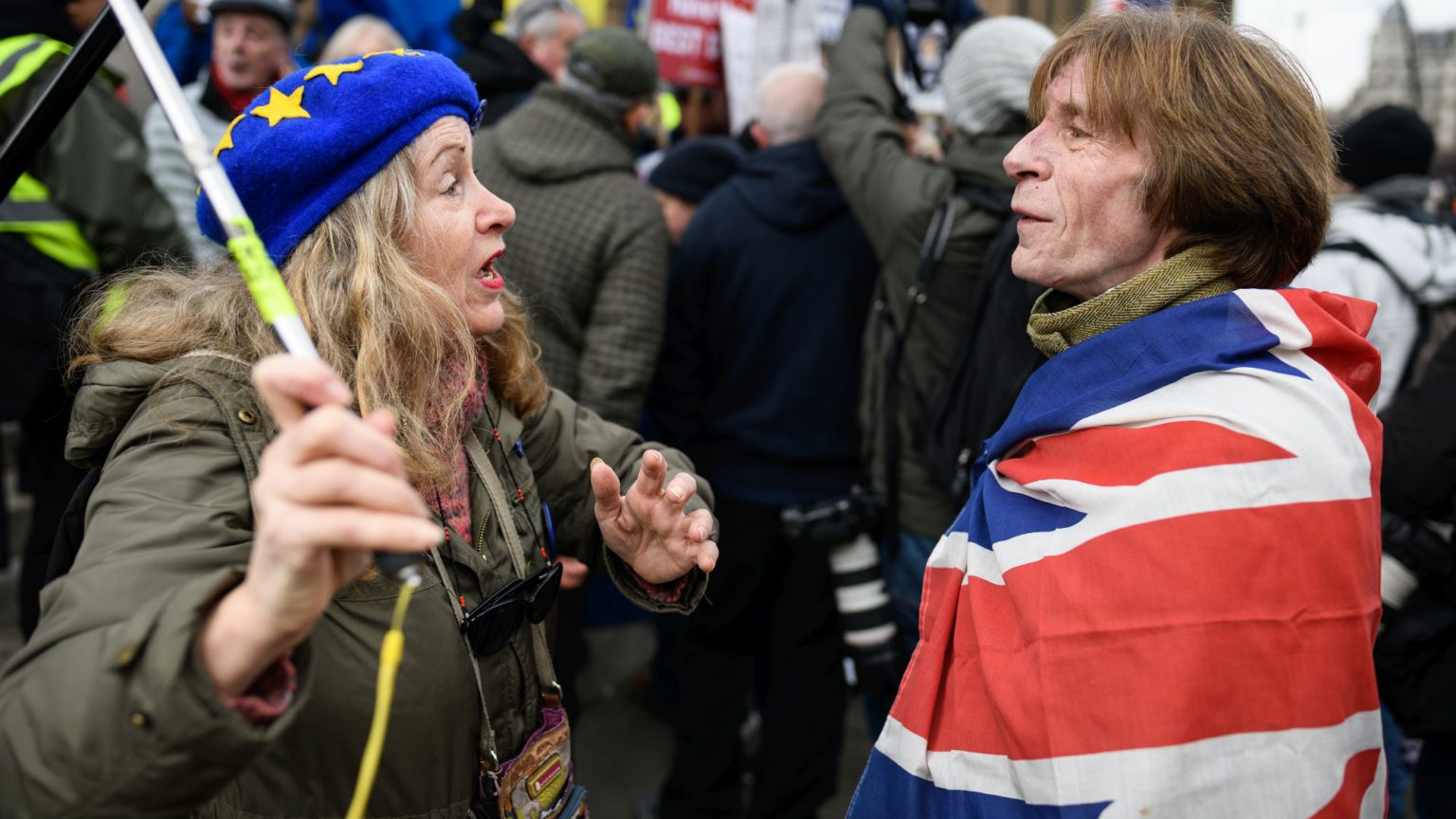 Honesty is in short supply right now. We have MPs who voted to hold a referendum on the UK's membership of the EU, who voted to trigger Article 50, and who then stood in a General Election pledging to honour the result of the referendum, now doing all they can either to stop Brexit entirely or to dilute it beyond all recognition. We have campaigners demanding a second referendum in the name of democracy and, at the same time, arguing that a No Deal Brexit should not even be on the ballot paper. It seems that Remainers in parliament, the media, the civil service and academia will stop at nothing to end what they see as 'Brexit madness'. Anything that might delegitimise the Leave vote or suggest the public has had a change of heart is frantically promoted.
So it was this week, when commentators and campaigners got all excited over the release of new data from the National Centre for Social Research suggesting that 'only seven per cent of Brits think that the UK government has been handling the negotiations well', and that almost as many Leave voters as Remain voters believe the government is handling Brexit badly. This, together with an early release from the British Social Attitudes (BSA) survey claiming that 55 per cent of the public would back Remain in a second referendum, had campaigners and commentators delirious with excitement. Apparently, this is proof that the will of the people has shifted and we are now just waiting for an opportunity to demonstrate our repentance.
Surely the real surprise is that pollsters managed to find so many people who think the government has been handling negotiations well. That people can reasonably think Brexit has been handled badly, yet still be committed to leaving the EU, seems unimaginable to many Remain commentators. It's amazing that after three years in which Leavers have been routinely besmirched as racist and bigoted, after daily Brexit scare stories about people dying from lack of medication or children being left stranded in schools, still only 55 per cent of those polled said they would back remaining in the EU. The real story here, as the BSA survey makes clear, is 'the relative stability of public attitudes towards the EU'.
Of course, opinion polls are notoriously inaccurate. Most pollsters didn't come anywhere near to predicting the outcome of the 2017 General Election and, right up to the eve of the referendum, polls consistently predicted a Remain victory. The 55 per cent for Remain now being talked up is not too far from where the polls were at at the beginning of June 2016. And we all know how that turned out. The problems with polls are well rehearsed: pollsters don't always speak to a representative sample of voters, people don't always tell the truth to people wielding a clipboard, and weighted results don't always take into account the likelihood of people actually voting.
But the BSA is worth taking seriously. The survey has been carried out every year since 1983. Over 90,000 people have taken part so far. It is useful for tracking longitudinal shifts in people's views rather than just providing a one-off snapshot of public opinion. As such, it can show how attitudes towards the EU are different today compared to a time before Brexit and Article 50 entered our national vocabulary. The latest release tells a far more sophisticated and interesting story than Remain-fuelled headlines suggest. Looking further back than just the past 12 months shows us that the British public today is 'much more doubtful about being part of the EU than it had been just 10 years previously'.
The BSA report shows that Britain is more divided in its attitudes towards leaving the EU now than it was before the referendum. Today, we are more polarised by age, educational level and social class. Over the past 12 months, support for leaving the EU has held steady among those over the age of 55 but has dropped slightly for younger age groups. As many as 43 per cent of those without qualifications now support leaving the EU whereas only 18 per cent of graduates do – a gap of 25 points. In 2015, the same gap was only 16 points. The survey shows that 'the link between social background and attitudes towards membership of the EU is stronger than it was before the referendum'. This is important: those now looking to overturn the result of the referendum need to be absolutely clear about who it is they will be disenfranchising.
People today are far more likely to identify as a Leaver or a Remainer than they are with a political party. The BSA survey shows that only eight per cent of the public identify as a strong supporter of a political party compared to 40 per cent who say they are a very strong Remainer or Leaver. This is remarkable as neither label existed even a few years ago. The Remain/Leave divide gets to the heart of the real political divisions in society today. Forget left or right, Labour or Conservative – the truth is that 'people from different social backgrounds, and people with different attitudes, values and identities, now disagree more sharply with each other about whether or not [we] should leave the EU'.
This new sense of identity seems to be even more entrenched among Remainers. As many as half of those who describe themselves as Remainers say they have a very strong attachment to this position compared to 41 per cent of Leavers. This makes sense: Remainers see their views reflected in parliament and in the broadcast media. They are able to be openly hostile and prejudiced towards the other half of the population, yet, at the same time, they believe themselves to hold the moral high ground.
The BSA survey also shows us that voters have become more volatile in their views. We are less likely to vote for the same party in two consecutive General Elections. Right now, support for leaving the EU is almost three times as high among those who identify as Conservative as it is among those who identify as Labour voters. This might be because Leave voters see the Conservatives as being most likely to make Brexit happen, while Remainers see their best chance of staying in the EU as lying with the Labour Party. But it also shows that both political parties have become detached from their traditional constituencies. Labour is now a party predominantly for the younger, university-educated middle class.
The report's authors conclude that: 'The debate about Brexit has come to represent much more than an argument about the practical consequences of leaving the EU; rather, it has created two camps with quite different perspectives on Britain and its place in the world.' Whatever happens in parliament or in Brussels in the next few weeks, it is this new landscape, one that bears no relationship to our existing political parties or, even more fundamentally, to our system of representative democracy, that needs to be reckoned with.
Joanna Williams is associate editor at spiked. Her new book, Women vs Feminism: Why We All Need Liberating from the Gender Wars, is out now.
To enquire about republishing spiked's content, a right to reply or to request a correction, please contact the managing editor, Viv Regan.