A petition against the people
The petition to revoke Article 50 is a terrifying spectacle.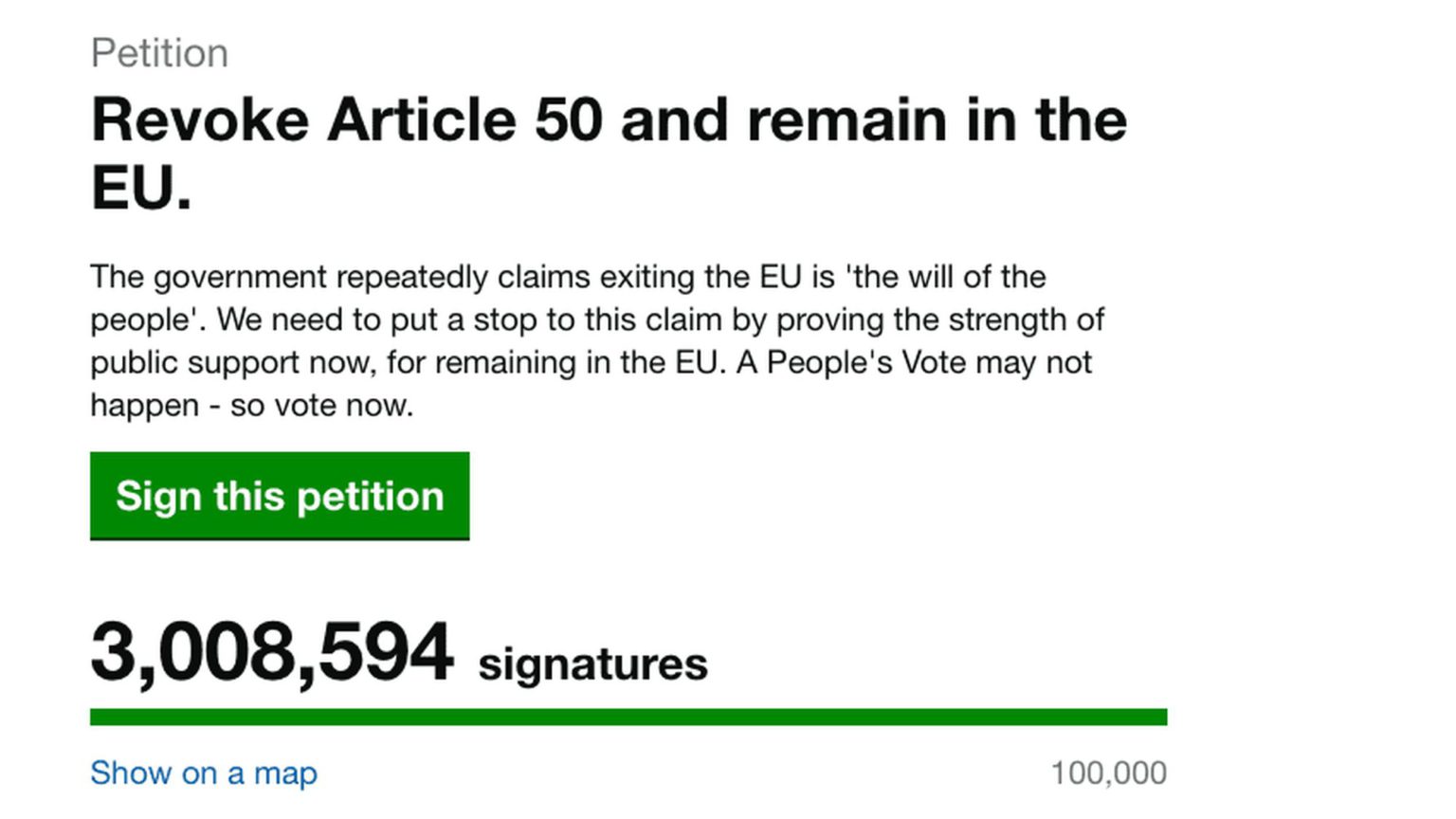 I'm not going to lie: it scares me that three million of my fellow citizens would sign a petition calling for the cancellation of the largest democratic vote in UK history. Just a year after we celebrated the hundredth anniversary of working-class men and some women getting the vote, there is now a serious effort to overthrow something that was voted for by eight million women and millions of working-class people: Brexit. 'Revoke Article 50 and remain in the EU', says the three-million-strong petition on the parliament website. This is an explicit cry to defy the public, to thwart democracy, to disenfranchise once more those people who were enfranchised 100 years ago. It is a petition against the people.
Many Brexiteers are pointing out that people who aren't resident in the UK have signed the petition, which is not allowed on parliamentary petitions. Others are wondering if some people might have found a way to sign twice. Some say it's just an online petition and therefore it carries no serious weight, certainly in comparison with an actual vote. This criticism is certainly true. Three million people clicking some buttons on their phones is nothing in comparison with 17.4million people traipsing to polling stations, patiently waiting in line, and weathering the insults and threats of virtually the entire establishment in order to vote for Brexit. The former is an expression of virtual anger (and there's nothing wrong with that: I have signed many online petitions) while the latter was a real-world, flesh-and-blood statement of democratic intent. Anyone who thinks this petition does anything whatsoever to weaken the vote for Brexit is living in cloud cuckoo land.
And yet, despite all these arguments, we have to reckon with the incredibly discomfiting fact that a significant number of people in the UK would like to see democracy overthrown. Make no mistake: that's what we're dealing with here. 'The government repeatedly claims exiting the EU is "the will of the people". We need to put a stop to this claim', the petition says. It calls on the government to revoke Article 50 and simply 'remain in the EU'. Three million people have signed this. Three million. They have signed a petition that mocks the people's will and calls on the government to override it. This is an invitation to tyranny. It is a plea with the government to rule by diktat rather than by democratic consent. It is chilling that so many Britons, so many of our fellow citizens, would petition for the destruction of democratic rights that our forebears fought and died for.
Who are these signatories? Where does their sense of entitlement come from? Hard as I try, I cannot get my head around the colossal sense of entitlement it must require to agitate for the overturning of a democratic vote simply because one doesn't like the outcome. Where does such arrogance come from? What is its source? Celebs and comedians and luvvies have been at the forefront of promoting the petition. I bet many of these people went to the cinema to watch Suffragette in 2015 and Peterloo last year. They may even have shed a tear over these movies about women's struggle for the right to vote and the bloody massacre in St Peter's Field of working-class people who wanted the right to vote. And yet here they are openly demanding the obliteration of the votes of millions of women and working-class people. Where does such cognitive dissonance come from? Is it a function of a blinkering sense of entitlement? These are disturbing questions; no doubt the answers are even more so.
Things are getting serious. Commitment to the democratic ideal has withered so badly that three million people are petitioning against democracy itself. Well, some people. The petition's heat map shows there are huge numbers of signatories from London, Edinburgh, Brighton and other cities, and significantly fewer from the north east and north west of England, from South Wales and North Wales, and from much of the Midlands. A class breakdown of signatories would be fascinating. Petitions are a central part of the democratic process. For centuries people have petitioned kings and lords and presidents for more rights, more say, more democracy. How tragic that now, in 21st-century Britain, a petition is being made for the disenfranchisement of the public. Everyone who has signed this petition should be ashamed of themselves.
Brendan O'Neill is editor of spiked and host of the spiked podcast, The Brendan O'Neill Show. Subscribe to the podcast here. And find Brendan on Instagram: @burntoakboy
Watch the latest episode of The Brendan O'Neill Show below:
Picture by: UK Parliament.
To enquire about republishing spiked's content, a right to reply or to request a correction, please contact the managing editor, Viv Regan.