When 'delayed' means betrayed
The vote to extend Article 50 is a victory for the 'Bugger Brexit' Party.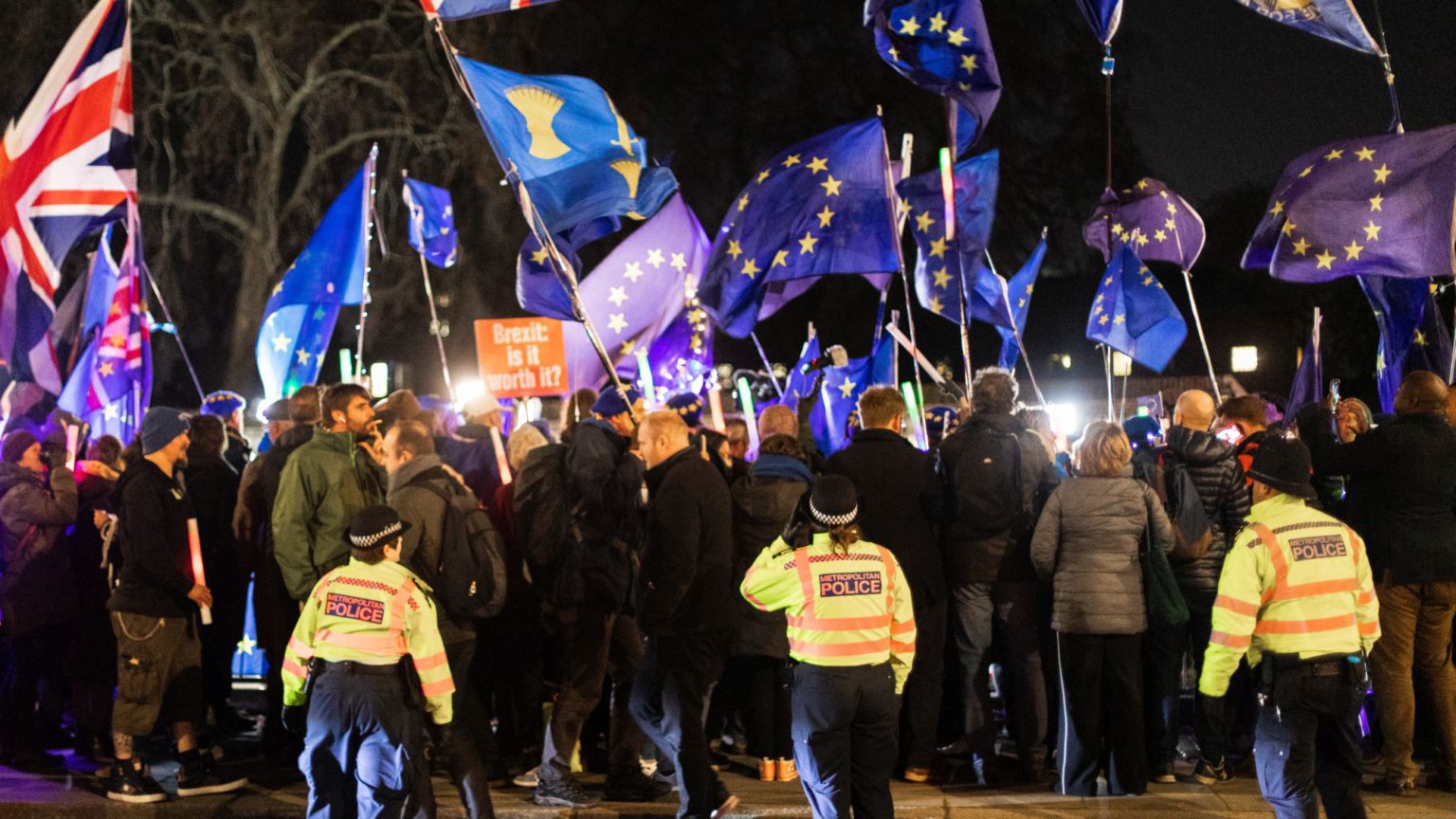 British MPs have backed prime minister Theresa May's motion to delay Brexit. If the EU agrees, it means the UK will not leave on 29 March as planned. Instead we will not quit the EU until 'at least the end of June'. Or if the Remainer majority in parliament has its way, as the old song says, 'Until the 12th of Never'.
Look up 'delay' in a thesaurus and you will find its synonyms include not only 'hold back' and 'stall', but also 'shelve'. Most appropriately in this case, delay can mean the same as 'bugger'. The vote to seek to shelve withdrawal is another parliamentary win for the 'Bugger Brexit' Party.
The motion to seek an extension to Article 50, passed overwhelmingly by 413 votes to 202, adds one more lie to the pile marked Brexit betrayals.
In the June 2016 EU referendum, let us never let them forget, 17.4million people voted Leave – the largest popular mandate for anything in British political history. In the June 2017 General Election, both the Tory and Labour parties stood on manifestoes pledging to honour that result and deliver Brexit. For the past two years, May's Conservative government has sworn that the UK would leave on 29 March.
Now we know that the only things these parties intend to leave behind are their empty promises to the electorate.
Let's be clear – in current circumstances, Brexit delayed means Brexit betrayed. Her May-jesty will try for a third time to get her (non-)Withdrawal Agreement through parliament next week. If she succeeds, the prime minister will ask the EU to agree to a 'short, technical extension' to Article 50 to enable her to pass all the necessary legislation. If she fails, then a much longer delay is likely.
In other words, extending Article 50 is code for imposing a stark choice. Either we get stuck with May's version of Remain-by-another-name, which would leave us subject to EU rules, or Brexit gets delayed for so long that we are left with outright Remain.
There will be nothing 'technical' about a Brexit delay. It is a political act of sabotage. To understand what is happening, we need only look at the enthusiasm with which hardcore Remainers have embraced the notion of what fossilised Tory Europhile Ken Clarke called a 'good, long delay'.
European Council president Donald Tusk wants a longer extension than three months, tweeting that he would ask the 27 EU member states 'to be open to a long extension if the UK finds it necessary to rethink its Brexit strategy'. That is, the Euro elites will delay Brexit long enough for the revolting Brits to come to our senses and abandon it altogether. The Times reports that 'EU leaders could demand that Britain hold a second referendum as a condition for a longer extension'. Democracy apparently means so little that it is now up to the EU to demand what we vote for.
The vote to delay / bugger Brexit is a betrayal of the major parties' promises, but not of their principles. This, after all, is what the overwhelming Remainer majority of MPs wanted all along. Behind all the divisions and parties-within-parties revealed by this week's parliamentary shenanigans, there remains a clear anti-Brexit majority among MPs, aided and abetted by conniving Speaker John Bercow, and bugger whether their constituents backed it or not.
The final resolution remains uncertain. All options are still technically on the table; the UK remains legally committed to leaving on 29 March unless and until the law is changed. However, things look grim for a meaningful exit; some Tory Brexiteers and the DUP are making vague noises about using Article 62 of the Vienna Convention (oh yes, that old chestnut!) as an excuse for backing May's deal next week, while Labour's arch-Remainer buzzards are circling.
But however its planned betrayal of Brexit pans out, the political class cannot delay its own day of reckoning forever. The naked contempt politicians have displayed for voters and popular democracy will not go unrewarded. The Leave revolt has let the democratic genie out of the bottle, and it will not easily be shoved back in.
If Remainers get their long extension, for a start, it should mean that the UK has to hold Euro elections in May. See Brendan O'Neill's podcast interview with Nigel Farage for a hint at the fun the latter's newly registered Brexit Party could have with those.
The chaos surrounding this week's vote to delay and betray Brexit is a microcosm of the dire state of official UK politics. It confirms that both major zombie parties are deeply divided, and that May's government does not have authority within its own cabinet room, never mind in the country at large. The old political order is falling apart under the pressures of trying to contain the democratic revolt for Brexit.
To enquire about republishing spiked's content, a right to reply or to request a correction, please contact the managing editor, Viv Regan.