Trump: a 21st-century Manchurian Candidate?
These wild Russia conspiracy theories reveal the depths of the elite's distress.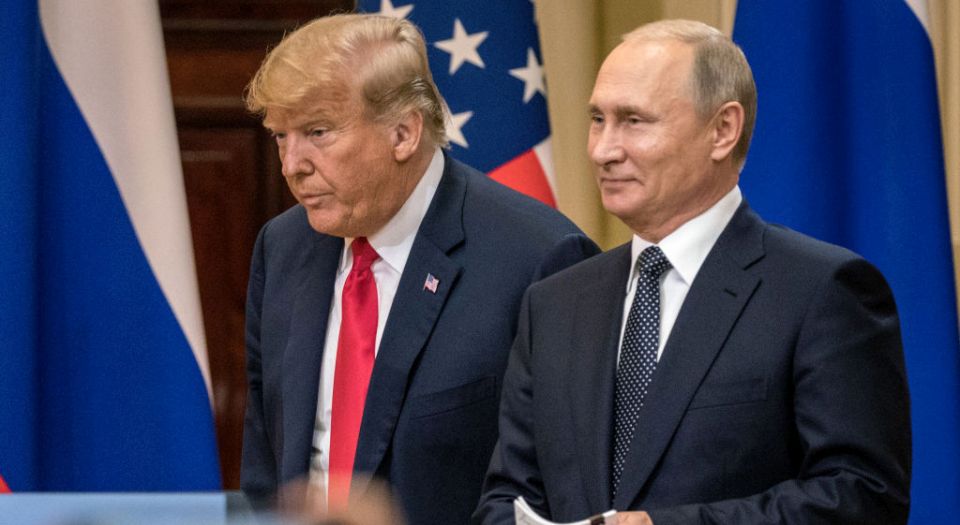 This weekend, the scale of the US elite's descent into Trump-Russia conspiracism was made startlingly clear.
The New York Times published a report seemingly ripped straight from the pages of Richard Condon's McCarthy-era satire, The Manchurian Candidate. It claimed that FBI officials were so alarmed by President Trump's dismissal of James Comey as FBI director in May 2017 – which Trump himself suggested was down to Comey's handling of the FBI inquiry into Russian interference in the 2016 election – that they suspected Trump of being a Russian agent. That's right, the FBI suspected – and possibly still do suspect – the President of the United States of working on behalf of the Russian state.
Up next was the Washington Post, which winked and nudged at the Moscow agent in the White House, claiming that Trump, against all precedent, took possession of his interpreter's notes after his confab with Vladimir Putin in Helsinki last July. Presumably, because they would reveal the extent of Russian spies' hypnotic influence over him.
All of this fuels the fantasies of those who believe Trump's election victory was somehow engineered, over decades, by Russia. Or, as the Washington Post put it, 'If Trump isn't actually a Russian agent, he is doing a pretty good imitation of one'.
Do they know how crazy this all sounds? This is not to suggest certain politicians, broadsheet journalists and their social-media recyclers are actually afflicted with some sort of clinical condition. Rather, it's to point out, as Richard Hofstadter did in his classic 1961 essay, 'The paranoid style in American politics', that their mode of political expression, their way of thinking about Trump's presidency, exhibits all the traits of paranoia.
Yet, as Tom Slater pointed out in his 2016 piece, 'The (new) paranoid style in American politics', there are differences, too. Hofstadter's essay, written, like The Manchurian Candidate, in the afterglow of Senator McCarthy's anti-Communist witch-hunt, saw this angry, paranoid style of politics as a US phenomenon, a way in which the American right framed their political defeats in terms of the infiltration of US political and cultural life by Communist agents. By contrast, today's paranoid style operates on both sides of the Atlantic. Indeed, it seems to involve the same Russian-backed, transatlantic network of villains, all intent, for unclear reasons, on undermining the institutions of American and European public life via Trump, Brexit and the populist revolts across Europe.
But, like the paranoid style of the 1950s and 1960s, the paranoid style today serves a similar function: explaining, and explaining away, the political shifts and convulsions of the past couple of years in terms of an unbelievably effective conspiracy, orchestrated, in this case, by Moscow and its Western embassies, facilitated by ambassadors like Sergey Kislyak, and middlemen like Julian Assange, and enacted by agents such as Steve Bannon, Arron Banks, Nigel Farage and, of course, The Donald himself.
As Hofstadter noted, the paranoid style is not groundless. It is built on grains of truth. So it is today. Leading figures in Trump's election campaign, including Donald Trump Jr, Jared Kushner and Paul Manafort, did have contact with Russian representatives – the so-called Trump Tower meeting – and they no doubt did talk of digging up dirt on Hillary Clinton. Meanwhile, the Clinton campaign, through the Democratic National Committee, commissioned Fusion GPS and ex-MI6 agent Christopher Steele to source a damning, dirty dossier on Trump, complete with an unproven tale of blackmail, prostitutes and pee.
Moreover, the FBI's Mueller Inquiry, launched in the aftermath of allegations of Russian interference in the 2016 presidential election, has unearthed criminal wrongdoing in Trump's camp: his lawyer, Michael Cohen, was sentenced to three years in prison for campaign-finance and fraud crimes, while his campaign chief, Paul Manafort, was convicted of financial fraud. But what it has not proven is that Trump is a Russian stooge, or that Russia decisively influenced the 2016 vote.
In lieu of proof, there is detail, and lots of it – names, meetings, transactions, all weaved together on the paranoiac's whiteboard. He met them there. They had a boozy lunch with him here. He works for them. They did this for him. And so on into the impenetrable night of the conspiracy theorist's diary-like mind. As Slater, following Hofstadter, points out, the paranoid style is essentially pedantic, a determined attempt to create an utterly coherent narrative of itemised cause and effect so closed that it can convince its authors that they, alone, see the truth. And yet, of course, it proves nothing.
But the absence of proof is not a wake-up call for the paranoid. It is merely evidence of just how clever and powerful the conspirators are. And this is one of the key elements of the paranoid style: the implicit attribution of superhuman powers to the agents of our alleged destruction. So, just as in previous incarnations of the paranoid political mindset, when Masons seemed almost demonic, and later, Communists were presented as cunning, supremely committed and backed by the vast apparatus of the Comintern, so today's Russian agents seem able to elude the amassed surveillance capacities of Western states at the same time as they are supposedly shaping the destinies of entire nations. They are all-powerful, and all-determining.
How else to explain the obsession among certain journalists with digital data technologies? These tools are hardly frightening in themselves, but in the paranoid mind an algorithm that allows political campaigners to target specific voter demographics with the odd campaign ad becomes a 'psychological warfare tool'. Or as Craig Ungar, author of House of Trump, House of Putin, put it: 'There's a new kind of war going on… and the weapons are information and data and social media and financial institutions.'
This is another aspect of the paranoid political imagination: it transforms mundane political exchange and conflict into something almost millenarian, an end-of-days war between good and evil, waged ferociously but out of ordinary people's sight. The paranoid see themselves, and therefore us, on the edge of, if not the apocalypse, then at least a world-historical transformation, a rupture between two eras – the death of the old order and the victory of a new, Russia-inspired one.
Today's paranoid mode of expression allows for this in terms of the idea of 'post-truth', and with it 'fake news'. These concepts suggest that we are being pushed into a new era by Putin and his foreign agents and assets, in which, as one journalist put it, 'faith in the sanctity of fact and expert knowledge' is shattered. In its place is the 'age of anger', to reference one popular book title – an age in which 'feeling has taken over the world', to reference another. Ours is an era in which emotions and passions, no matter how nasty, are supposedly permitted to reign over reason, fact and sound technocratic governance. Others go further, and talk darkly of the imminent end of the West – of the death of democracy and the return of fascism.
Given the apocalyptic frame in which they see his presidency, it is little wonder, then, that certain elite anti-Trumpists write and speak with such rage and intolerance, such one-eyed conviction. They are not simply opposed to Trump's policy on Mexican migrants or his decision to withdraw troops from Syria. They are at war. A war against Putin and the Russian state mafia, a war against those who imperil the cornerstones of Western public life. They really do see themselves as the implacable heroes fighting Russian-backed evildoers.
It makes for a bewildering spectacle. Long-time members of the political and cultural elite, who now feel besieged and discombobulated by the popular rejection of their worldview, are giving free rein to the wildest, conspiratorial fantasies about the president of the United States.
Tim Black is a spiked columnist.
Picture by: Getty.
To enquire about republishing spiked's content, a right to reply or to request a correction, please contact the managing editor, Viv Regan.