'Trump is a Russian plant': birtherism for liberals
The idea that Trump is in Putin's pocket is a feverish conspiracy theory.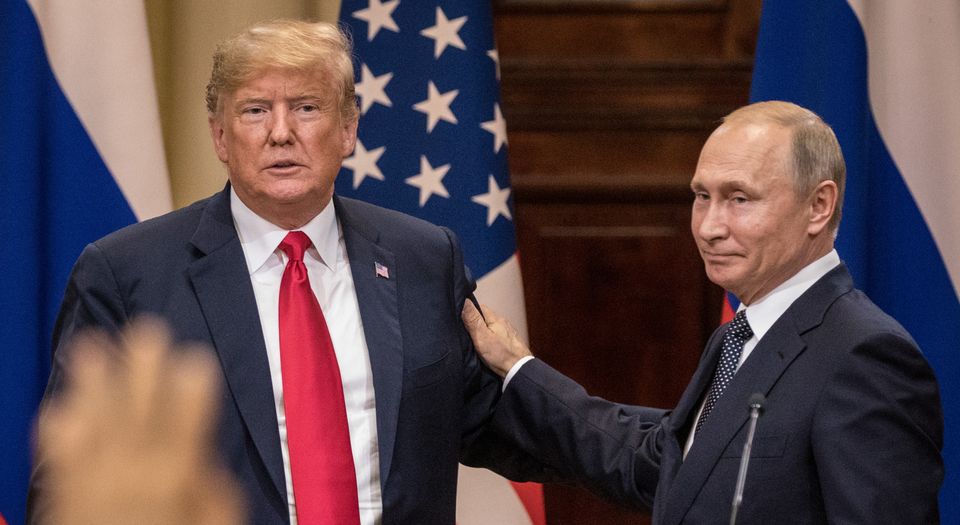 The cultural and political set has lost its mind. That's the most striking thing to come out of Donald Trump's press conference with Vladimir Putin in Helsinki yesterday. Not Trump's refusal to believe the US intelligence agencies that Russia tried to interfere with the 2016 election, by hacking into the emails of the Democratic National Committee and the Clinton presidential campaign. This we already knew. Trump said as much after he met Putin on the sidelines of the Asia-Pacific summit in November. No, what was far more surprising, and worrying, was the readiness of not just Cold Warrior Republicans but also supposedly level-headed liberals to say that Trump's performance proves he is 'treasonous', a 'traitor', a Russian plant, an unabashed colluder with Vlad in the downfall of American democracy. It was nothing short of hysterical.
There's no doubting that Helsinki was remarkable, and further proof of Trump's vanity. At the afternoon press conference, following two hours of private talks between the two leaders, Trump effectively sided with Putin over his own intelligence agencies and Justice Department, which had indicted 12 Russian intelligence officers for hacking into Democrats' emails just days before the summit. Putin also admitted that he had wanted Trump to win the election, because of his pledge to reset relations with Russia. It is hard to think of a recent precedent. But did Trump's performance constitute 'treason', as former former CIA director John Brennan and the entirety of DC Twitter allege? Did it suggest that Trump is an 'asset of Russian intelligence', as one New York Times columnist pondered? Of course not. And it's dangerous to suggest otherwise.
The gap between what happened at that press conference and the histrionics on Twitter yesterday was remarkable. You'd be forgiven for thinking Trump dropped his FSB fob on the rug on his way out. When asked about Russian meddling, Trump said 'I have great confidence in my intelligence people, but I will tell you that President Putin was extremely strong and powerful in his denial today', repeating what he has been saying for months. Yesterday, as ever, the reason for Trump's denials are obvious: not that he is in Putin's pocket, or that he's being blackmailed by the Kremlin, as some still allege, but that he thinks even conceding that Russian elements might have tried to meddle in 2016, however unsuccessfully, would call his victory into question. It stems from his insecurity, his narcissism, but also the commitment of many Democrats to use any whiff of Russian interference to do just that.
The hottakes on Twitter told a very different story. Esquire's Ryan Lizza tweeted, 'The president of the United States openly colluded with Putin to undermine our democracy'. 'I'm calling this treason. Point. Blank. Period. TREASON', wrote the NYT's Charles Blow. The caps say it all. These spittle-flecked claims are the product of conspiratorial thinking. Not even the intelligence agencies (who are suddenly entirely trustworthy in liberals' eyes) are claiming that there is proof that Trump colluded with Russia. But yesterday even the much-derided theory that the Kremlin is blackmailing Trump with a tape of him cavorting with urinating prostitutes in a Moscow hotel room in 2013 made a comeback. In response to a question about whether he had such 'kompromat' on The Donald, Putin said that he didn't even know Trump was in Moscow in 2013. 'A non sequitur', declared the Guardian's Luke Harding. 'Conclusion: there is a tape.'
This is madness – dot-connecting and wild claims of McCarthyite intensity. And it is incredibly revealing. For all the coastal-elite talk of Trump ushering in an age of fake news, post-truth and mudslinging, in which faith in democratic institutions is being undermined and once important principles are being compromised by partisan prejudice and weaponised bullshit, this is precisely what some liberals are doing with the Russia issue. They are peddling hyperbole and dodgy theories to try to undermine a democratically elected president. And in doing so, many Trump-hysterics on the liberal-left are becoming the very thing they once claimed to hate. Where once they derided Republicans for clutching to Cold War thinking, where once they decried wingnut conservative conspiracy theories about Obama being a Muslim Brotherhood plant who wasn't born in the US, now they're insisting Trump is a Moscow-controlled Manchurian candidate, without a shred of evidence. Whatever else we learned yesterday, one thing is now clear: the 'Trump is a traitor' claim is birtherism for liberals.
Tom Slater is deputy editor at spiked. Follow him on Twitter: @Tom_Slater_
Picture by: Getty
To enquire about republishing spiked's content, a right to reply or to request a correction, please contact the managing editor, Viv Regan.