The truth about Trump's child-migrant policy
It is wrong, cynical and harsh – but it isn't Nazism.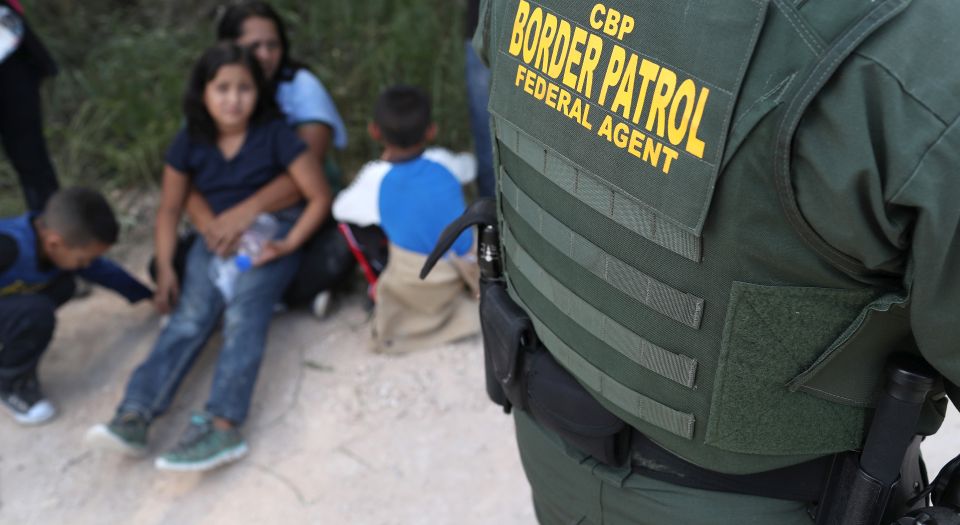 The Trump administration's practice of separating children from their parents who cross the Mexico border illegally has led to an outcry of moral condemnation. The news is filled with heart-rending stories, like the New York Times piece on a Guatemalan mother who was deported without her eight-year-old son. The Trump team's policy has been roundly denounced as cruel and inhumane from a wide array of opponents: from a phalanx of First Ladies – Rosalynn Carter, Laura Bush, Michelle Obama (and even maybe Melania) – to the evangelist Franklin Graham and establishment Republicans like Mitt Romney.
Trump's new 'zero tolerance' policy is wrongheaded and excessively harsh. Not because separating a child and parent is always immoral – after all, if a parent is convicted of a serious crime, we would not expect the child to join the adult in jail. But given that splitting up parents and their kids is an extreme step with potentially devastating consequences for the child, it is an act that should not be taken routinely. Migrants who enter the US illegally for the first time are committing a misdemeanour, not a felony, and that shouldn't rise to the punishment of being deprived of your kid. Moreover, in immigration cases there is a greater risk that the bureaucracy may fail to reunite the parent and child, which should make separation a last resort.
Trump's policy is bad enough on its own, but some critics feel the need to embellish. Joe Scarborough, of MSNBC, called the administration's tactics 'just like the Nazis', and many other TV commentators joined him in using the 'Nazi' word. But, of course, no immigrants are being marched off to death camps today, and such cheap comparisons are a deep insult to the memory of the Nazis' victims.
The more outraged of opponents have also accused the Trump team of holding 'kids in cages'. A photo of a crying toddler seemingly trapped in a detention-centre cage went viral on social media. Politifact later concluded that the boy wasn't an immigrant: the photo was taken at a pro-immigration rally and the 'cage' was actually a fence. The Washington Post and National Public Radio – hardly fans of Trump – sent reporters to temporary children's shelters in search of cages, but could not find any.
Some critics seem to believe that the only way to press for an end to Trump's policy is to turn up the moral outrage to extreme levels, even if it means exaggerating or misrepresenting what is actually happening. There are many problems with immigration policy in the US (and the West generally), and a major one is that political leaders have avoided a thorough public debate on the topic. Responding with over-wrought emotionalism, as many of Trump's critics do today, is not a call for a reasoned debate, and it distorts what discussion does occur.
While Trump's 'zero tolerance' policy does represent a departure, an honest account has to admit prior administrations have struggled with illegal immigration, and that there are no easy answers. In 2014, a surge in families and unaccompanied minors coming from Central America led Obama officials to expand the confinement of immigrant families, and adopt a new policy of keeping families together in detention centres. Activists decried the holding of kids in facilities considered jail-like, but there was no wider opposition or outrage.
Jeh Johnson, then secretary of homeland security, warned Latin Americans that children arriving illegally would be deported, and, when opening a new detention facility, called it an 'effective deterrent' – a concept that Trump officials like John Kelly are now criticised for advocating.
In 2015, a federal judge ruled that the 1997 'Flores settlement', which limits the holding of children to 20 days, applied to family-detention centres, and ordered the Obama White House to stop detaining asylum-seeking Central American mothers and children. Not able to keep families together, Obama, in his last year in office, adopted a 'catch and release' approach: asylum-claiming families were now (even if not meeting the criteria for asylum) released into the country until a future court date. The vast majority did not appear at these hearings, and thus it became, in the words of Trump's attorney general Jeff Sessions, 'a declaration of open borders for family units'.
Indeed, the catch-and-release policy appears to have incentivised more Latin American adults to send or bring children with them to the US. Sessions says the number of children surged from 15,000 in 2014 to 75,000 four years later. The New York Times said in April: 'Some migrants have admitted they brought their children… because they believed it would cause authorities to release them from custody sooner.' It added: 'Others have admitted to posing falsely with children who are not their own, and Border Patrol officials say that such instances of fraud are increasing.'
So Trump inherited a challenging situation from Obama. Does that mean his hands were tied, as he has claimed, because 'the Democrats forced that law upon our nation' and forced him to adopt zero tolerance and family separation? No, that's false. It was his choice to pursue his new hardline approach, and he, not the Democrats, is responsible for family break-ups and the political backlash.
Trump has also blamed Congress for the mess he's in, imploring it to 'CHANGE THE LAWS!' in one tweet. Here there is a grain of truth. Congress has been delinquent in taking up immigration generally, and, in response to the latest crisis, the two houses could, if they could get their act together, pass laws that would provide for such things as family detention centres and expedited hearings. More fundamentally, it is a problem that so much of US immigration policy today is dictated by the pen of the president – whether that president is Obama or Trump – rather than the broader representatives of the people in Congress.
But congressional inaction doesn't absolve Trump, either. The White House made no case to Congress, or the wider public, for an alternative approach before implementing zero tolerance and family separation. In fact, some in the cabinet, like Kelly and Steven Miller, positioned the policy of family separation as a good thing, because of the deterrent effect, and did not see a need for an alternative. Even now, after the uproar, Trump is using the detained kids' sad situation as a bargaining tool, to try to wrest concessions from Congress for his preferred immigration goals, like building a wall. This, as many have pointed out, treats immigrant children like hostages.
There is much at stake with immigration policy today, for both American citizens and those wishing to enter the country. Immigration is a critical issue across the West, not just in the US, as Angela Merkel and Theresa May can attest. Expressions of moral outrage over Trump are not helpful in advancing this much-needed debate; they may yield short-term political gain for Trump's opponents, but they leave big questions regarding the openness of borders and national sovereignty unresolved. In the absence of policy specifics, emotion-only criticisms of Trump sound like a plea to go back to the recent past, when mass migration wasn't such a contested issue. But that's not possible.
To enquire about republishing spiked's content, a right to reply or to request a correction, please contact the managing editor, Viv Regan.