Trump and his 'best people'
You can only defeat Donald Trump in the court of public opinion.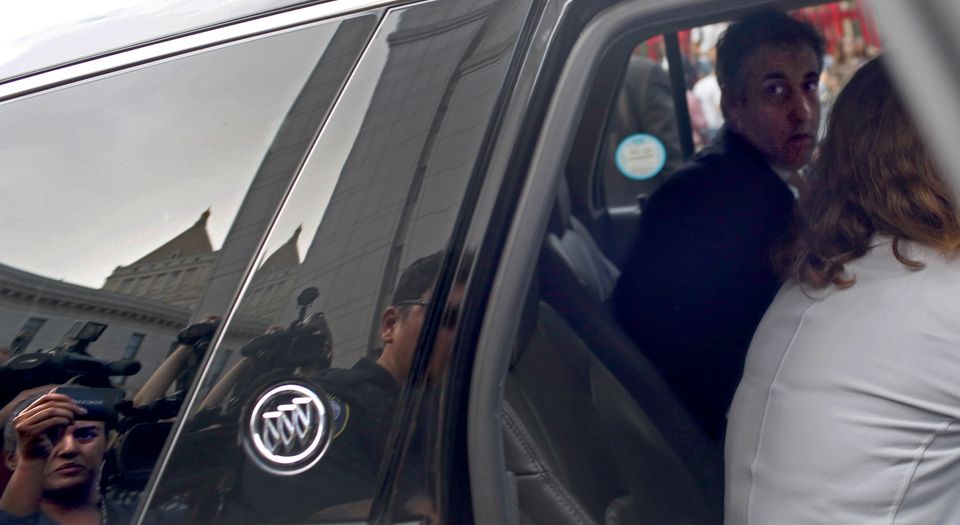 Since his election in November 2016, Donald Trump's political opponents have been searching for a reason to have him removed from office. Yesterday's big news – that two of his closest advisers will be going down for crimes – is the biggest threat to Trump to emerge, but it is not at all clear whether these latest events will spell doom for his presidency.
On Tuesday, Trump's former campaign manager, Paul Manafort, was convicted by a jury of eight counts of personal financial fraud. Then, in a one-two punch to Trump, his former personal lawyer, Michael Cohen, pled guilty to breaking campaign-finance laws, among other criminal charges. As a candidate, Donald Trump claimed that he hired only 'the best people'. But, with the addition of Manafort and Cohen, the list of the Trump appointees who have pled guilty to, or been convicted of, crimes continues to grow, and the long arm of the law gets closer to nabbing Trump himself.
If yesterday's news was limited to the Manafort case, the Trump team could have pretty easily waved it away. Manafort ran the Trump election campaign for just three months, and none of the guilty charges has anything to do with him being associated with Trump.
Indeed, the Manafort case is a prime example of the dangers of 'mission creep' that come with appointing a special counsel. Manafort's was the first case brought to trial as part of special counsel Robert Mueller's investigation into Russian meddling in the 2016 election. But while much of the media got excited over salacious details of Manafort's opulent lifestyle that were revealed during the trial, they failed to ask: what does this have to do with Russia? As we now know, absolutely nothing. Mueller threw charges at Manafort, hoping that he could convince him to cooperate and spill the beans about any Trump ties to Russia, but Manafort hasn't said a word (nor has any evidence from any other source emerged to support the heated claims of Trump colluding with Russia).
The charges that Cohen pled guilty to also have nothing to do with Russia, but they represent a much more serious risk to Trump than the Manafort conviction. Cohen, Trump's 'fix-it guy', said he paid money to two women who alleged affairs with Trump – $130,000 to adult film actress Stormy Daniels and $150,000 to Playboy model Karen McDougal – to buy their silence before the election. Most damaging for Trump is that Cohen implicated him in a federal crime, saying that these payments were at the direction of 'the candidate', referring to Trump. As Lanny Davis, Cohen's lawyer, put it, 'If those payments were a crime for Michael Cohen, then why wouldn't they be a crime for Donald Trump?'.
Many are now calling Trump, in the language used to describe Nixon during Watergate, 'an unindicted co-conspirator'. Maybe. But the law is murky, and there are many examples of prior presidential campaigns violating federal election laws without charges or felony convictions. More to the point, it still remains unlikely that Mueller will indict Trump, as there is no precedent for indicting a sitting president.
This means that any potential sanction against Trump will most likely come down to a political process – whether or not Congress votes to impeach him. And that is the way it should be decided – in Congress, not in court. It is already a distortion of American politics that the main focus of opposition to Trump for the past 20 months has been judicial, rather than political.
And, as it happens, it is the realm of politics that holds Trump's best chance of evading the ultimate censure. Not because the Republicans in Congress can be counted on to have his back. (My view is that, if any charges against Trump become more clear-cut, most Republicans will jump ship, because these establishment figures have never been fully aligned with Trump, and they much prefer the staid Mike Pence, who would become president if Trump were to be removed from office.) No, Trump's advantage is that the Democrats and other opponents have proved themselves devoid of substantial political counter-arguments, pinning most of their hopes to topple him on Russia collusion charges and claiming the election result was illegitimate.
Meanwhile, as Democrats dream of an electoral do-over, Trump goes full steam ahead in promoting his favourite political issues and boasting about his supposed accomplishments. That is precisely what he did last night in his rally among supporters in West Virginia: while the media were breathlessly reporting the Manafort and Cohen cases, Trump reinforced his messages of immigration restriction and public safety by highlighting the murder of Iowa student Mollie Tibbetts, whose alleged killer is in the country illegally. It wouldn't surprise if most of his base (and possibly beyond) are more interested in the Tibbetts story than Trump's crooked associates.
It seems likely that there are more revelations regarding Trump and his associates yet to be disclosed. Mueller's work may continue for months to come (Kenneth Starr's investigation of Bill Clinton went on for more than two years). But, amid all the breaking news from the courtrooms and special-counsel investigations, we shouldn't lose sight of the bigger picture: even if Trump were to fall, that doesn't mean that the political establishment of either the Republican or Democratic Party has an answer for the conditions that gave rise to Trump and the working-class voters who pushed him over the top. Indeed, any attempt to remove Trump would risk making many American people feel their votes have been stolen from them, causing even greater problems of legitimacy for the out-of-touch US political elite.
Sean Collins is a writer based in New York. Visit his blog, The American Situation.
Picture by: Getty
To enquire about republishing spiked's content, a right to reply or to request a correction, please contact the managing editor, Viv Regan.