How we're ruining young minds
The Coddling of the American Mind provides a searing critique of over-protected youth.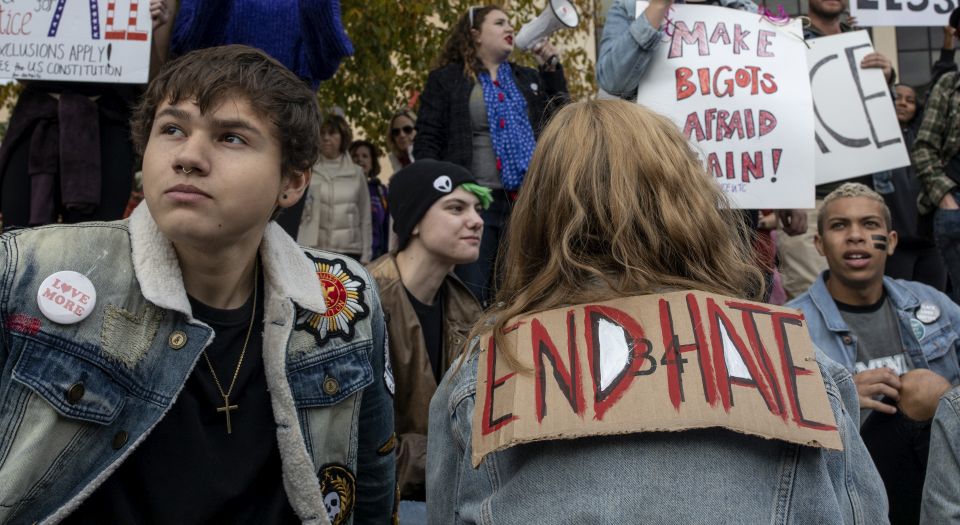 Something very strange is going on on American university campuses. Over the past five years there have been several deeply concerning incidents in which students have tried forcibly to shut down speeches and debates on the grounds that the ideas expressed in those forums were 'harmful' and, absurdly, constituted 'violence'.
In astonishing scenes, academics and public intellectuals have even been hounded off campus by hysterical student mobs, as took place most notably at the colleges Evergreen and Middlebury in 2017. So inhibiting has the climate on campuses become that, this year, a group of academics announced plans to launch The Journal of Controversial Ideas, a project allowing academics the cover of anonymity to discuss contentious research, free of reprisals and institutional reprimands.
In The Coddling of the American Mind, Jonathan Haidt, a professor of moral psychology, and Greg Lukianoff, CEO of the Foundation for Individual Rights in Education (FIRE), have carefully and precisely captured and analysed this disturbing new phenomenon, exploring its origins, the way it operates and how those of us concerned about the future of free expression might challenge it.
They identify several factors that have led students to reject free speech in favour of what Haidt and Lukianoff term a culture of 'safetyism', aided by highly risk-averse university administrators who now play the role of welcome protector on campus. 'Three great untruths' define safetyism, they write: 1) what doesn't kill you makes you weaker; 2) always trust your feelings; and, 3) life is a battle between good people and evil people.
The Coddling of the American Mind argues that students are falling prey to a range of cognitive distortions – 'catastrophising', 'negative framing', 'concept creep', etc – that cause them to misperceive challenging ideas and uncomfortable situations as hostile and threatening to their safety or wellbeing. This is combined with a campus culture that has become highly bureaucratised, where administrators are encouraging, rather than challenging, these distortions, mainly for reasons of short-term expediency, and a fear of bad PR, without considering the long-term impact on intellectual diversity.
Haidt and Lukianoff believe that spiking rates of anxiety and depression among American adolescents may also be a contributing factor. More students than ever before are seeking help for mental-health issues. The Coddling of the American Mind refers to research on so-called 'iGen', the cohort of children born after millennials, from about 1995 onwards, who are characterised by heavy social-media and smartphone usage. This, Haidt and Lukianoff argue, may be linked with the rising levels of anxiety and depression among students.
It is difficult to say whether this is true or not, as there isn't a great deal of data on the subject (which they acknowledge), but given that campus culture began to change significantly from 2013 onwards, when iGen began to arrive at university, there could be something to it. After all, as Haidt and Lukianoff note, it was at this point, after 2013, that previously obscure terms such as 'microaggressions' and 'trigger warnings' came into popular use.
The Coddling of the American Mind nails the language of safetyism. Even though the book is mainly concerned with the situation in the US, it does shed light on what is happening in the UK, too. Just last week, students at King's College London tried to deplatform spiked associate editor Joanna Williams, using the exact language that Haidt and Lukianoff describe. The president of the students' union, Ahad Mahmood, released a statement on Facebook stating that Williams' invitation to speak at King's showed 'a lack of sufficient care for students who might be harmed by her speaking in a King's College London space'.
That is simply censorship couched in therapeutic language, and it has no place in an intellectual environment. Luckily, King's did not cancel Williams' planned talk, which went ahead without disruption. But it is deeply concerning to see thoughtful academics being denounced in this manner, as if they were crazed monsters. And it is equally worrying to see adult students unable to handle robust debate, as if they were scared children.
Indeed Lukianoff and Haidt point out that many students are immature and unprepared for university life. Before they go to college or university, they are coddled by parents and teachers throughout childhood and adolescence. Middle-class children, in particular, do not have much time to themselves anymore, neither at home nor at school. Their lives are scheduled and managed by well-meaning adults who are trying to protect them, but only succeed in preventing them from resolving conflicts and difficult situations on their own – something that is crucial to social and emotional development.
In response to the problem of coddling kids, American writer Lenore Skenazy has promoted the idea of 'free-range kids', which means allowing children and young teens to take risks and explore the world without constant adult supervision. Skenazy herself was labelled 'America's worst mom' after she allowed her nine-year-old son to travel on his own on the New York subway, something that would have been considered completely normal just a few decades ago.
Once again, this is not purely an American experience. spiked columnist Frank Furedi discussed this issue back in 2011, at an Intelligence Squared debate on parenting. He was one of the only people on the panel to point out that it wasn't parental neglect that was stifling middle-class children, but parents and teachers becoming over-involved in kids' lives.
The result, Haidt and Lukianoff argue, is the creation of young people who are 'morally dependent' on authority figures to negotiate challenging situations for them. Hence, when at university or college, these young people now actively seek out these authority figures on campus, usually administrators. And instead of confronting ideas they disagree with in the form of robust debate, students shrink from tough discussions as if they were too fragile, and take refuge in safetyism.
But students are not fragile. They will not break. As The Coddling of the American Mind consistently maintains, they are, in fact, 'antifragile'; what doesn't kill them does make them stronger. Haidt and Lukianoff advocate the approach taken by the University of Chicago, which recently made a strong written commitment to free speech and academic freedom. It is so important that universities, they argue, cultivate the Enlightenment values of reason, critique and debate, rather than pandering to weakness and doing terrible damage to our intellectual culture in the process. Haidt and Lukianoff hope the Chicago model will be replicated elsewhere and will attract students and academics who want to be in an open and rigorous academic environment.
Lucid and well-researched, The Coddling of the American Mind is essential reading for anyone trying to understand just what the heck is going on in university campuses these days.
Candice Holdsworth is the founder and editor of Imagine Athena.
The Coddling of the American Mind: How Good Intentions and Bad Ideas Are Setting Up a Generation for Failure, by Jonathan Haidt and Greg Lukianoff, is published by Allen Lane. (Buy this book from Amazon(UK).)
To enquire about republishing spiked's content, a right to reply or to request a correction, please contact the managing editor, Viv Regan.