How to save Brexit
We are witnessing a historic demoralisation of democracy. We must act.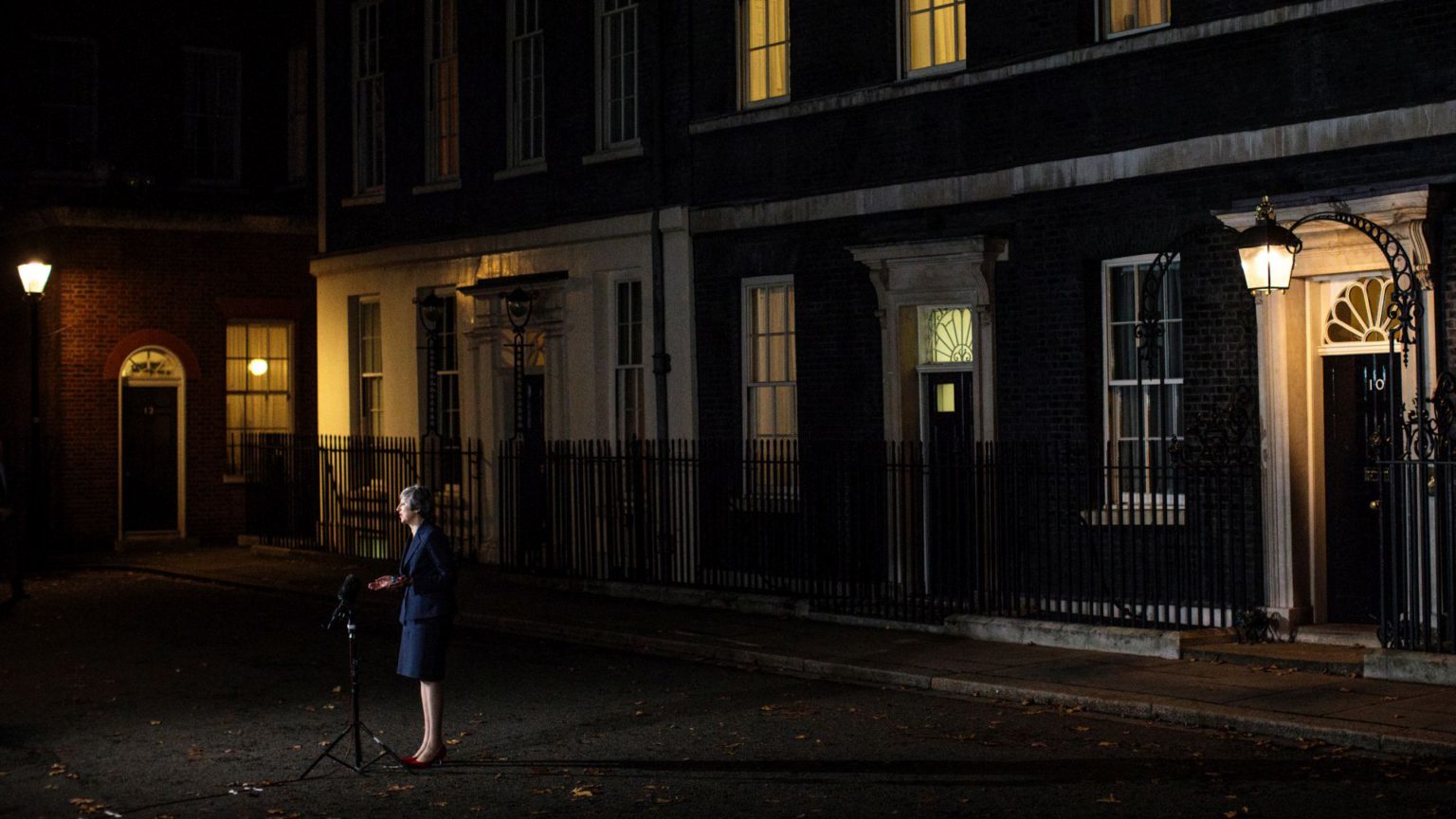 To grasp the magnitude of what has been done to Brexit, consider this: 17.4million Britons voted to take back control from Brussels, and yet according to a leaked memo written by one of the EU's deputy negotiators, Brussels will 'retain all the controls' as part of the deal agreed by Theresa May. As part of May's agreement to keep the whole of the UK inside a 'customs union arrangement' – ie, inside the customs union – Britain must 'align their rules but the EU will retain all the controls', the memo starkly, arrogantly states.
Take this in. The people of Britain demand control – democratic, sovereign control, over borders, over immigration, over trade – and yet May cedes control to the EU. The largest bloc of voters in the entire history of this nation calls for a clean, radical wresting of political sovereignty back from Brussels, and yet May sells off our sovereignty to Brussels. We say, in our confident, teeming millions, 'Leave the EU'; our political leaders say, 'We're staying in it. In its thrall, under its purview, beholden to its controls.'
It is time we reckoned with the enormity of what is happening here. It is time we stepped back from the endless, often turgid talk of backstops, and backstops to backstops, and arrangements, and red lines, and soft Brexit and hard Brexit, and looked at what is being done to Brexit in its proper historical context.
Which is this: not since every British adult finally won the franchise in 1928 has a mass vote been so explicitly and wilfully overthrown. Not since the dawning of democracy in the modern era – that hard-won, difficult dawning – has the British people's voice not only been ignored or side-stepped, but silenced, overturned, shut down. Not since the birth of the democratic era has democracy been treated this cavalierly, and this destructively.
The historical context, away from the bitching between Remainers and Leavers, away from the tortured behind-closed-doors negotiations between May and Michel Barnier, away from the daily doses of broadsheet fearmongering about how awful life in Brexit Britain will be, is that we are witnessing the demoralisation of democracy. The usurping not simply of one vote – the vote for Brexit – but of the ideas and beliefs that underpin democracy itself.
There is controversy over that leaked memo and its insistence that Brussels will 'retain all the controls' as part of the UK's self-co-option into a customs union. 'It doesn't mean what you think', defensive Brussels suits and their Remainer cheerleaders in the UK claim. In truth, it is clear from what we know of May's deal, and what we have watched unfold in recent months, that a final and grotesque betrayal of Brexit is taking place.
So to get around the EU's insistence that Northern Ireland should stay in the Customs Union, and ideally the Single Market too, in order to ensure smooth trade between Northern Ireland and the Republic of Ireland, May came up with the perverse compromise of keeping all of the UK in a 'customs union arrangement'.
Under this arrangement Britain would not enjoy sovereign dominion over our trading with other nations. Worse, while everyone insists this arrangement would be temporary, it seems Britain's ability unilaterally to withdraw from it would be severely limited. Other institutions, notably the European Court of Justice, would have say over when and how we leave. The aim, it would appear, is to keep Britain in a customs union forever. Indeed, the leaked memo says 'the customs union [is] the basis of the future relationship' between the UK and Brussels.
Throughout the democratic era, political parties have reneged on manifesto promises. Politicians have let people down. Promised dawns of plenty and liberty have failed to materialise. That is par for the course in an imperfect democratic system.
But this is something else. This is something worse. For here we have a political class standing in direct opposition to the people's democratic cry. The thing we voted for in a free, fair, mass and historic fashion – the re-energising of British sovereignty and of British democracy – is being flagrantly denied to us by the establishment.
And yet if you kick up a fuss about this, about this overturning both of a vote and of the very principles of democracy, you will be demonised.
Speak of 'betrayal', and they will brand you divisive and hysterical – even though everyone knows this is a betrayal.
Mention the word 'elite', and they'll call you a conspiracy theorist, even a fascist – even though everyone knows there is an elite and that it is working towards weakening the people's will.
Refer to those who have devoted their financial, political and moral resources to the usurping of the largest democratic vote in British history as 'enemies of democracy', and you will be branded a poisonous, libellous troublemaker – even though everyone, including the elitist agitators themselves, knows full well these people are enemies of democracy.
Not content with demeaning our democratic vote, and our democratic rights, they also seek to frustrate our capacity to complain; they also paint as demented our perfectly reasonable anger over the political class's unprecedented war on the democratic will.
What do we do now? How do we respond to this birth of a new era of anti-democracy? To the demoralisation of the demos and all of the terrible consequences that will spring from it, from the collapse of public faith in democratic procedures, to the intensification of elite, 'expert' dominion over public life, to the unwinding of the historic gains of the universalisation of the franchise?
Something needs to happen. Something new, something daring, something radical. This issue, this question, must in some fashion be returned to the people, to those who know the value of national sovereignty and of the historic importance of popular democracy. How this will be done is up for question. It certainly shouldn't be on the Orwellian terms of the 'People's Vote' campaign who only want to return to the people in the hope that we have been so sufficiently demoralised that we will now backtrack on our demand for greater sovereignty and democracy and sheepishly cave and bend to the moral authority of our supposed betters. They want to rerun the referendum. Democrats should reject that but also think of a real, tangible way in which ordinary people can regain authority over the question of leaving the EU, over their demand that Britain should change in a radical way.
CLR James once said that when the history of humankind is written, it won't be the 'ferocity' of the masses that historians will note, but rather their 'moderation and long patience'. How patient Brexit voters have been! We have watched for two years as our vote was attacked, our intellectual capacity was called into question, and our democratic rights were threatened by people more powerful than us. Such patience has been admirable. But it won't do anymore. Something has to give. Something has to change. And now.
Brendan O'Neill is editor of spiked and host of the spiked podcast, The Brendan O'Neill Show. Subscribe to the podcast here. And find Brendan on Instagram: @burntoakboy
To enquire about republishing spiked's content, a right to reply or to request a correction, please contact the managing editor, Viv Regan.