History will not be kind to Raab
The cabinet Brexiteers became apologists for May's betrayal.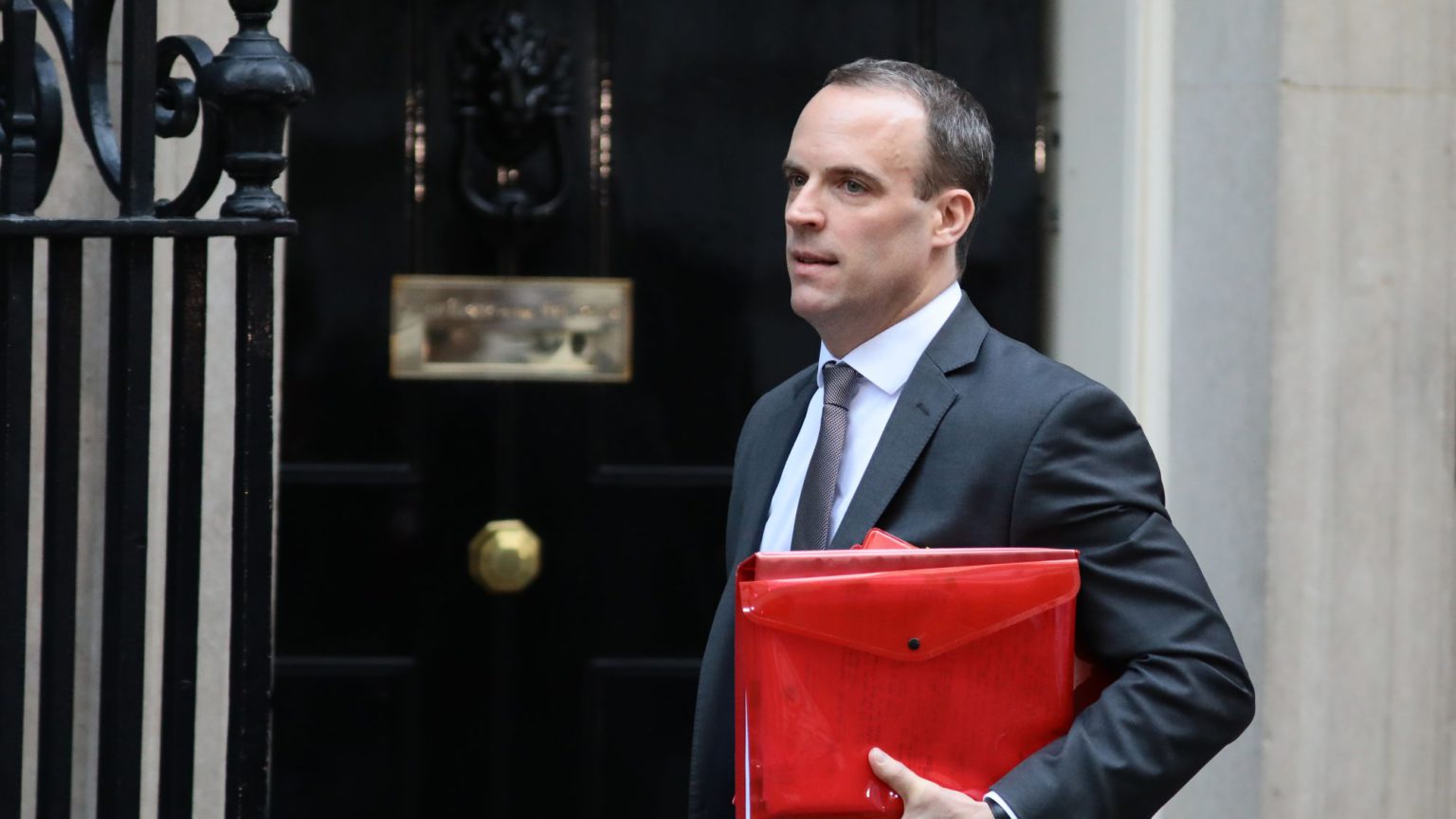 Westminster was rocked today by a slew of resignations over Theresa May's draft Withdrawal Agreement with the European Union. Dominic Raab resigned as Brexit secretary. Esther McVey resigned as work and pensions secretary. Suella Braverman and a number of junior ministers also left their posts.
It is easy to see why. The draft text contains a backstop that would bind us to the EU Customs Union with little chance of escape. These Brexit-supporting ministers have had enough, and grown some backbone, you might think. Only they haven't really. And they deserve zero credit for walking away today – Raab in particular.
In his resignation letter, he says that the so-called backstop would damage the integrity of the United Kingdom by pulling Northern Ireland closer to EU rules, and that the UK-wide arrangement would bind us close to the EU Single Market and Customs Union without us being able to leave unilaterally: 'No democratic nation has ever signed up to be bound by such an extensive regime, imposed externally without any democratic control over the laws to be applied, nor the ability to decide to exit the arrangement.'
He's right. But even though cabinet didn't receive the detail of all this until this week, and we mere citizens were only given access to it last night, it has been clear for months that we were headed for this outcome – for a Remain by another name that might carve up the UK to boot.
The UK agreed to the backstop last December. And even if we put the Withdrawal Agreement aside, Raab became Brexit secretary because his predecessor, David Davis, couldn't support May's Soft Brexit Chequers proposal for trade, which would also leave us bound to the EU's rules and legal regime.
He knew which way the wind was blowing when he took over. We all did. And he also knew that his role had basically been lobotomised. No10 had already taken back control, with the mandarin Olly Robbins leading the negotiations. This was a big part of the reason Davis left: he'd become little more than a Brexiteer beard for May's ongoing undermining of Brexit. Raab happily took that job.
So, no, he is not walking away from the cabinet on principle. He is fleeing a sinking ship, probably with an eye on his future political ambitions. Now the chatter around Westminster is whether Michael Gove, a former leader of the Leave campaign, will take his place – another Tory Brexiteer who has become an apologist for Brexit's slow-motion betrayal.
There is a contingent of Leave-supporting Tory MPs who believe that backing May is the pragmatic thing to do. They have bought her line that if they push for an actual Brexit, they risk getting no Brexit at all. It is a strange, circular argument. But for Raab, Gove et al it has just become a cover for their own capitulation, a way to dress up their cowardice as strategic nous.
Raab deserves no plaudits for doing what he should have done a long time ago. In fact, he and his ilk deserve more scorn than most. May has always been a Remainer. But the Tory Brexiteers in cabinet have effectively become collaborators in the betrayal of a cause they claim to believe in, and a cause 17.4million people voted for in the hopes of rejuvenating British democracy. History will not be kind to them.
Tom Slater is deputy editor at spiked. Follow him on Twitter: @Tom_Slater_
Picture by: Getty
To enquire about republishing spiked's content, a right to reply or to request a correction, please contact the managing editor, Viv Regan.