The crisis of democracy
David Davis's resignation confirms that no party is willing to deliver Brexit.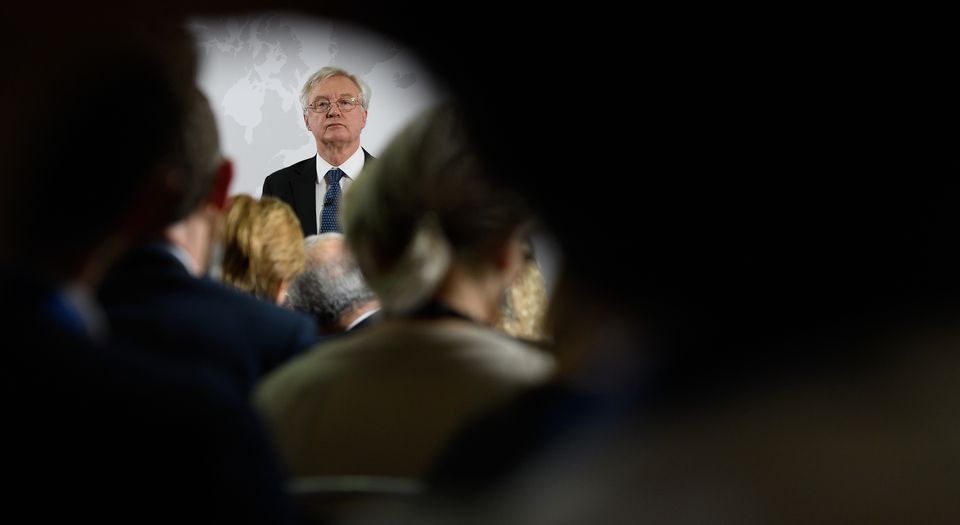 There's really only one thing to say about David Davis's resignation as Brexit secretary: what kept you? His resignation is a positive step forward, in that it might help to unravel Theresa May and her dreadful and anti-democratic Chequers plan that would keep Britain as the vassal-like subject of EU laws and diktats, in defiance of the millions who voted to leave the EU. But its belatedness is a sign of the Tory times, of the stark absence of those 'brave Brexiteers' we were told made up a huge chunk of May's cabinet. That it took so long for a Brexit-leaning minister to resign in the face of May's relentless compromising in recent months, in which Chequers was merely the icing on the rotten cake, confirms that Brexit will not be delivered by a Tory government.
Davis's discovery of a backbone is welcome, of course. And his resignation letter makes some strong points. He says the drift of May's pathological compromising to the Brussels oligarchy means the Conservative government is 'less and less likely' to follow through on its commitment to leave the Single Market and the Customs Union. He's right: May's proposed 'common rule book' on goods, promise to subject Britain to ECJ rulings in these areas and talk of a new customs arrangement would reproduce the democracy-limiting role of those institutions the government promised to leave. Echoing the advice of EU expert Martin Howe, Davis says we would be 'hand[ing] control of large swathes of our economy to the EU'. The opposite of what people voted for, which was to Take Back Control.
Most cuttingly – and importantly, for those of us who believe in democracy – Davis reminds May that the Tory manifesto in the 2017 General Election promised properly to leave the Single Market and Customs Union. And more than 13million voted for the Tories in that election. That is twice that masses of Britons have voted to leave the EU and free Britain from Brussels' law-making – first in the referendum and then in the General Election – and still we don't have a government willing to make good on our democratic demand. May is reneging on her own manifesto as well as the referendum vote.
And Davis points out that May's plans would restrict parliament's ability to unravel Britain from its entanglement with the EU at a future date. This would make the restoration of parliamentary authority demanded by the electorate 'illusory rather than real', he says. He's right. And isn't it remarkable that all those Remainer MPs who said their demand for a 'meaningful vote' on the Brexit deal was about upholding parliamentary democracy are now so quiet on what May is doing? Anyone would think they only wanted their little act of parliamentary democracy so that they could once again outsource parliamentary sovereignty to the EU, whose wise, technocratic counsel they far prefer over the opinions and beliefs of their own people.
So Davis makes good points. But he makes them too late. May, with her civil service doing her Brussels bidding, often over the heads of her own ministers, is now far down the route of selling out on Brexit. And where is Boris Johnson? The failure of this supposed Brexit warrior to resign over May's Remain-by-another-name is a permanent black mark against his claims to be a serious, independently minded politician. And Michael Gove? For those of us who considered Gove one of very few principled, risk-taking politicians in Britain today, it was depressing to witness his media defences of May's plans yesterday. He says her proposal is in keeping with the spirit of Brexit. Either he knows this isn't true and is simply saying it to stay in May's circle, or he really believes it. It's hard to say which would be worse.
But here's the thing, the thing that really demonstrates the seriousness of Britain's political and democratic crisis right now: a Labour government would offer up a 'Brexit' as soft, if not softer, than May's mess of a snivelling, compromising proposal. There is now talk of May falling (though it seems fanciful to believe that any Tory Brexiteer really has the balls to take her on) and there possibly being a General Election. Fine. Bring it on. But let's not kid ourselves that this would repair Brexit, the thing that 17.4million people voted for. Jeremy Corbyn's Labour is as determined as May to keep us in a restrictive customs arrangement and to subject Britain to ECJ law-making.
The gap between the public and the political class is so vast now: we vote for sovereign independence and a democratic revival, and they refuse to, or simply can't, deliver on that. What a dire state British politics is in. The mainstream parties no longer represent the people. They cannot give the demos what the demos wants. Rarely has a political shake-up been as urgent and necessary as it is now. The only solution is new parties, new politics, new everything. We need new democratic parties that will listen to ordinary people, engage with their concerns and their collective wisdom, and take them seriously. Davis probably didn't intend to expose the deep, profound rot in British politics when he belatedly resigned over his party's capitulation to Brussels, but that's what he has helped to do. So we should thank him for that.
Brendan O'Neill is editor of spiked. Find him on Instagram: @burntoakboy
Picture by: Getty
To enquire about republishing spiked's content, a right to reply or to request a correction, please contact the managing editor, Viv Regan.