Why we need some Python spirit
Our absurd cultural climate is ripe for ridicule.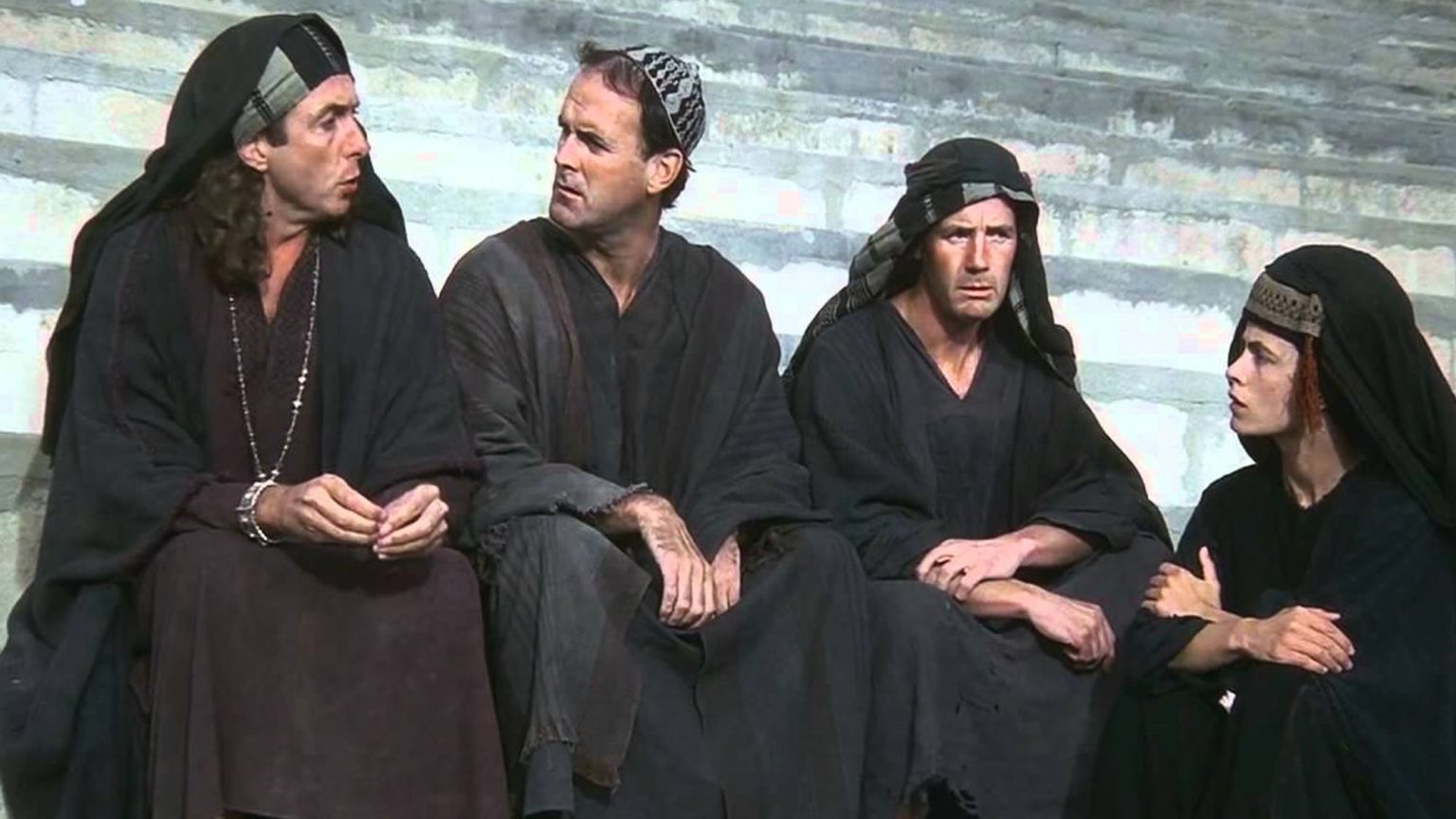 It was George Orwell who pointed out, in an analysis of the goose-step, that it could only flourish in countries where people were afraid enough not to laugh at its silliness. Indeed, it's very absurdity was a demonstration of power: 'Yes, I am ugly, and you daren't laugh at me.'
One could put into the same bracket Caligula's naming of his horse as senator, Colonel Gaddafi's dress sense, or Manchester University Students' Union's recent decision to ban clapping. Power expresses itself when it not only gets away with foolishness but also makes you behave foolishly – nodding along with its asinine choices.
Orwell was optimistic about the UK. The goose-step could not, he guessed, be introduced in Britain, because people would double up in mirth. Yet the powers-that-be – whether at a students' union, government or media level – have been doing some goose-stepping of their own of late. And it seems that the UK is now cowed enough to have lost its sense of humour.
Monty Python wrote one of their best sketches about silly walks, set in a ministry in which bureaucratic idiocy was so ramified that even this eventuality is covered. But calling silly walks by their proper name is out now, and so is Monty Python: the BBC head of comedy recently said they were 'six Oxbridge white blokes' who would never be commissioned today.
Interestingly, Monty Python have been damned at the exact moment that their jokes have become more topical. Look at those writers and artists that an era claims to have no use for and you often see the people we need the most. Their view is simply the most dangerous to those who tyrannise us. Here is a choice snippet of Python, from Life of Brian:
Judith: Why do you want to be Loretta, Stan?
Stan: I want to have babies.
Reg: You want to have babies?!
Stan: It's every man's right to have babies if he wants them.
Reg: But you can't have babies.
Stan: Don't you oppress me.
Reg: I'm not oppressing you, Stan – you haven't got a womb. Where's the fetus going to gestate? You going to keep it in a box?… What's the point of fighting for his right to have babies, when he can't have babies?
Francis: It is symbolic of our struggle against oppression.
Reg: It's symbolic of his struggle against reality.
One makes no comment on the above extract, except that one can see why Monty Python are so out of fashion.
Those at the BBC who damn Python so lightly should ask themselves whose name they are speaking in: whether it makes you laugh or not, Life of Brian is a world export, a byword for healthy irreverence. Plenty of Python's phrases – dead parrot and so on – have passed into common English. Even our current use of the word 'spam' to mean unwanted emails is credited to them in the OED.
They are a big part of how Middle England likes to see itself – as mildly eccentric, commonsensical. The first performance of their 2014 O2 comeback show sold out 16,000 seats in under a minute.
And it's not just Python who are being written out of history. Recently we were treated to the spectacle of another BBC executive – one Cassian Harrison – claiming that, 'There's a mode of programming that involves a presenter, usually white, middle-aged and male, standing on a hill and "telling you like it is"… We all recognise the era of that has passed.' Thus were the careers and glittering programmes of figures like Kenneth Clark, Clive James, Ludovic Kennedy, Melvyn Bragg and David Attenborough tossed in the dustbin of history.
Harrison – a middle-aged white male, incidentally – was arguably doing a kind of silly walk himself. Is he genuinely concerned about our being patronised by white middle-aged men? Because he seems to feel – as the BBC increasingly seems to – that it is the role of the corporation to patronise and re-educate us. Television – particularly the television of the pre-cable age – is part of our shared national psyche, and revisionist attempts to belittle its heroes should be something the BBC pauses before doing.
The moral righteousness of such people makes 'liberal media elite' feel too slick and deodorising a label. They are the humbug junta – smug and hollow – who have hardened into a kind of cultural occupying power. A fitting subject for Monty Python, you might argue – if only they were still in licensed currency.
Robin Ashenden is the founding editor of the Central and Eastern European London Review.
Picture by: YouTube
To enquire about republishing spiked's content, a right to reply or to request a correction, please contact the managing editor, Viv Regan.