Why the West will forgive Saudi Arabia
The Khashoggi killing will not derail a longstanding alliance.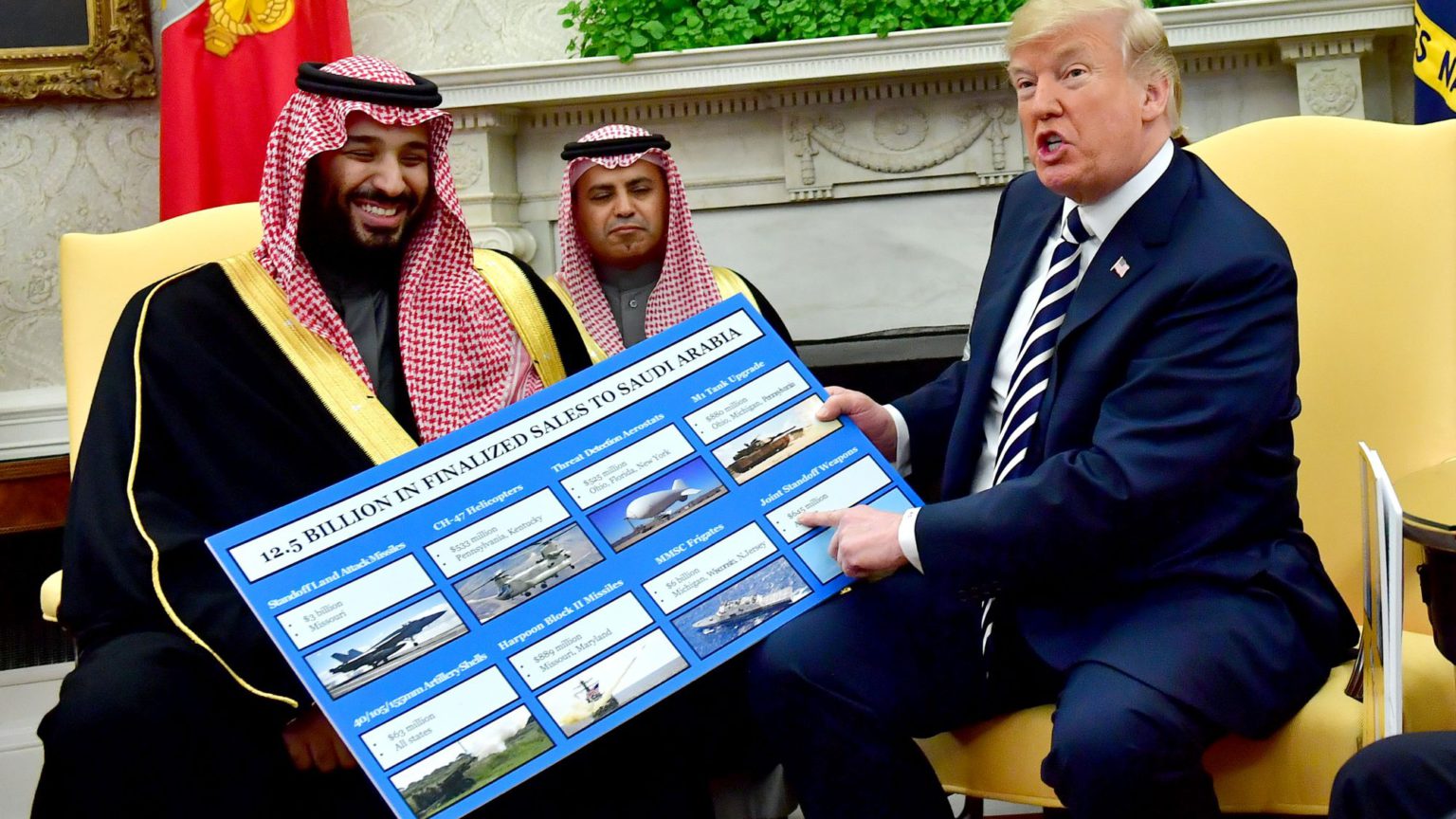 Widespread scepticism continues to greet the Saudi regime's evolving explanation for the disappearance of Jamal Khashoggi, the US-based Saudi journalist last seen entering the Saudi consulate in Turkey nearly three weeks ago.
Initially, Saudi rulers had claimed that Khashoggi left the consulate alive and well. This claim was quickly rejected by Turkish investigators who said Khashoggi not only never left the embassy, but also he had allegedly been tortured, dismembered and disposed of by a team of Saudi agents. On Friday, with Khashoggi still missing, Saudi officials changed tack. He had died in the consulate, an announcement read, following a 'fist fight' that had gone wrong. Donald Trump said the explanation was 'credible'. But critics asked why Khashoggi, who was only there to finalise his divorce, would have been greeted by a team of special-forces officers, intelligence officials, national guards and, er, a forensics expert. And why they might have been carrying a bone saw.
So, on Sunday, Saudi rulers tried another explanation, this time saying Khashoggi had indeed been murdered… by 'rogue' Saudi agents. It was an aberration, they were saying, not an act ordered or approved of by the Saudi regime. It was in this scapegoating spirit that Saudi authorities announced that 18 men had been arrested in connection with the 'cover-up' of Khashoggi's death, and that two senior officials had been sacked. King Salman, the nominal but ill ruler of Saudi Arabia, even put Crown Prince Mohammed bin Salman, Saudi Arabia's de facto leader and the man many believe ordered Khashoggi's killing, in charge of an official review of the Saudi intelligence apparatus. Nothing to see here. Move along.
It remains a difficult story to swallow. But, rest assured, British and American governments are trying to do precisely that. They want to believe that this was not a state-sanctioned execution, that their man, MBS, had nothing to with it. Indeed it was President Donald Trump who, a week ago, first mooted the theory now being regurgitated by the Saudi regime: namely, that it was a bunch of rogue Saudi agents whodunnit. Trump even admitted yesterday that 'I would love if [MBS] wasn't responsible'.
That is not to say that Saudi Arabia, and its young but tarnished heir apparent, is off the hook. Far from it. Op-eds have been booming out criticism of Saudi Arabia, and assorted political leaders in the US and Europe have called for an independent investigation into Khashoggi's death, a cessation of the arms trade, and, in the words of a cross-party collection of British MPs, a condemnation of the Saudi regime's 'reckless and barbaric' behaviour. And Saudi Arabia's grand business conference, nicknamed 'Davos in the Desert', has been, well, deserted by wealthy asset-managing Westerners, and by senior politicians from both the UK and the US.
But these are little more than moralising postures and face-saving gestures. It is a good look to come out against the killing of dissenting journalists. Yet it remains just that – a look.
Beneath the blustering moralising from those now suddenly awake to the not-very-liberal reality of an absolutist monarchy there is little to suggest the West's relationship with Saudi Arabia will fundamentally alter. And why would it? If Western states, and the US in particular, were not prepared to condemn and isolate Saudi Arabia's rulers after their wilful devastation of Yemen, killing an estimated 50,000 Yemenis, and starving many more, then they are not going to end or alter their relationship following the death of 'one journalist', as Trump's asinine son-in-law Jared Kushner crassly put it. Perhaps, in extremis, MBS will be forced to step down. But even then, that will be in order to preserve the economic and military relationship, not end it.
Make no mistake, Western elites are only too comfortable with their moral hypocrisy, casting (and sometimes crushing) some despotic states as evil, terroristic and tyrannical, while clutching others very close, arms deals and investment vehicles in hand. Think, for instance, of then US secretary of state Hillary Clinton declaring Syrian president Bashar al-Assad's rule as 'illegitimate' when he turned his security forces on sections of his own people in 2011. And contrast that with the Western support for Saudi Arabia in 2011, as it sent tanks across the causeway and into neighbouring Bahrain, to put down its own version of the Arab Spring, or the praise that greeted General Sisi's coup d'état in Egypt in 2013, a brutal moment that, in retrospect, marked the end of Egypt's own democratic uprising. It shows that American and European states will pose as moral actors on the world stage when it serves a (usually domestic, authority-bolstering) purpose, but they will happily and determinedly turn a blind eye to the actions and behaviour of those kingdoms and statelets they deem useful.
And make no mistake, Saudi Arabia is useful to Western states. From the British government's support for the Saudi monarchy in the battle with Arab nationalists during the Allies' carve-up of the former Ottoman Empire, after the end of the First World War, to its and America's close partnership with the House of Saud today, Western powers have long seen what became Saudi Arabia in 1927 as a key strategic partner in the Middle East (a few blips in the 1960s and early 1970s aside).
Not because it was a 'good' state, or because it was morally upstanding, let alone liberal or democratic. It has never been any of those things. No, it is the West's key ally because it can be used to shore up the West-imposed order in the Middle East – a role that, after the Iranian Revolution in 1979, which unseated the US-supported Shah, has only become more and more important.
This is why whatever the Saudi regime does, from the ruination of Yemen to its brutal suppression of Shia muslims in its Qatif province, it will continue to be stomached by Western states. And now more so than ever, given not only the unravelling of the Middle East, but also the fact that Trump is set on the demonisation and isolation of the Iranian regime, with the reimposition of sanctions due to kick in in a few weeks' time.
Indeed, such is the animus towards Iran among Trump and his team that the alliance with Saudi Arabia, and the equally autocratic Gulf states it leads, has rarely been more important. Even last week, while US secretary of state Mike Pompeo was jetting in to Riyadh to help MBS magic up a PR strategy for the Khashoggi killing, he was simultaneously condemning Iran's 'malign behaviour' and placing it alongside North Korea in America's top two threats, in a Foreign Affairs op-ed. Such a double standard has a realpolitik logic: the Saudi monarchy may be a heavily militarised, brutal autocracy, and one as oppressive as Iran's, but at least it is our heavily militarised, brutal autocracy.
So the idea that this most absolutist of Gulf monarchies is finally going to get its comeuppance at the hands of the West is naive. And dangerously so. For it is a sentiment that draws on the same moralising impulse that has fuelled too many of the West's brutally incompetent interventions in the Middle East over the past two decades. Yes, the killing of Khashoggi exposes MBS as a ruthless, murderous king-in-waiting, as unwilling to tolerate dissent from his subjects without his borders as within. But if Saudi Arabia is really going to become more liberal, and more democratic, such change cannot be brought about by hypocritical Western states keen to look good to their own publics. It can only come about through those forces, too often suppressed, pushing for change within Saudi Arabia itself.
Tim Black is a spiked columnist.
Picture by: Getty Images.
To enquire about republishing spiked's content, a right to reply or to request a correction, please contact the managing editor, Viv Regan.