It's time for a radical populism
Labour does not speak for ordinary people. Others must.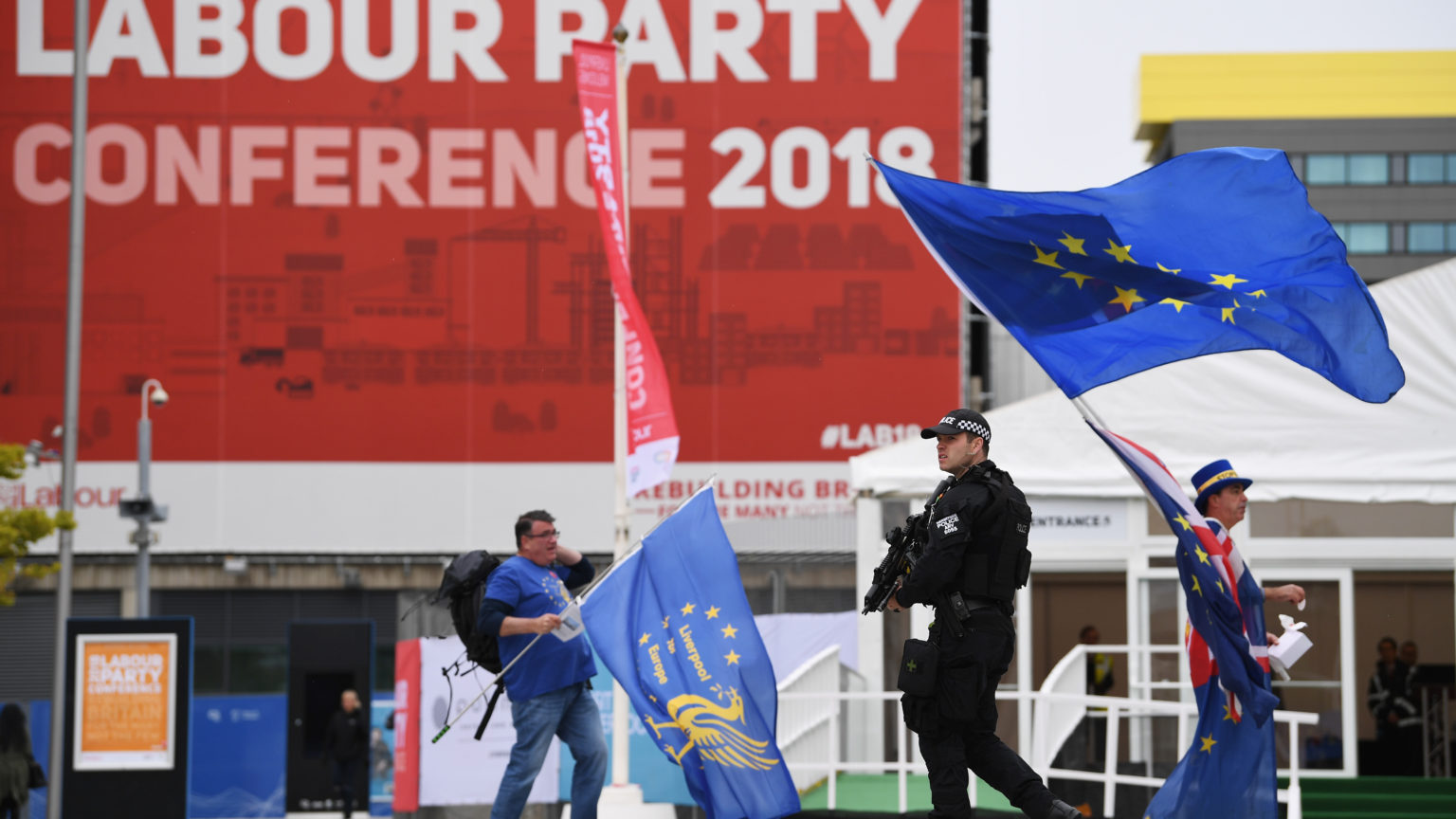 The most interesting thing about this week's UK Labour Party conference is the contradiction at its heart. A contradiction so colossal it overshadows all the speeches and policy proposals and wacky fringe meetings the Daily Mail loves to attend and then moan about in the next day's paper. A contradiction that tells us far more about Labour – and about 21st-century British politics – than any address by Jeremy Corbyn will.
It is the contradiction between the Labour membership's desire to democratise their party and their urge to block the democratisation of British society. Between their call for greater democracy in Labour alongside their determination to stare down ordinary people's demand, via the EU referendum, for greater democracy in the country. This is the unspoken theme of Labour's conference: 'Democracy for me, but not for thee.'
The D-word has been on the tip of many a Corbynista's tongue in recent days. But they don't mean democracy in the public sphere. They mean democracy in Labour.
The supposedly more radical wing of Labour has for months been agitating for greater membership say in who may stand as a Labour MP. Under Corbynistas' preferred system of mandatory reselection, every Labour MP would have to be okayed by his or her local party before standing again in a General Election.
The so-called Blairite wing of Labour thinks this has the makings of a purge. They think the Momentum section of the party, many of whom are new members who joined because they love Jez, would use this mechanism to topple 'moderate' Labour candidates and replace them with 'radical' Labour candidates.
On Monday, conference attendees voted by 65.3 per cent to 34.7 per cent to lower the threshold for reselection. From now on, just 33 per cent of local branch members or local union affiliates will have to agree that a Labour MP should seek reselection by his or her local party before they stand for parliament again. This makes 'Blairites' feel insecure.
If Labour members want to democratise their party, that's their business. Some of the suggestions are actually good ones. It would indeed make for a more energetic and connected party if candidates for parliament had to win the backing of local members.
But what is striking, historically striking, is the extent to which this Corbynista thirst for greater democracy does not extend to the country at large. On the contrary: where they demand the empowerment of Labour members in relation to Labour MPs, they bristle at the empowerment of ordinary voters in relation to the political establishment and the question of how Britain should be governed.
Witness the other big issue that has sprung from Labour's supposedly new radical base at this conference: their desire for a 'People's Vote', which is an Orwellian euphemism for a second referendum. It is time we were honest about what a second referendum in the current conditions of elite hysteria about Brexit would represent: a deeply cynical effort to extract from a populace that has been battered for two years by the politics of fear the supposedly right answer about Britain's relationship with the EU – which of course is that we should stay in.
A huge majority of the members of this supposed party of 'the many' favour a second referendum. A pre-conference poll found 86 per cent want to play the referendum again, to see if we might get the boneheaded plebs to vote correctly this time.
So at this conference, we have the alarming spectacle of supposed radicals demanding democracy for themselves but denying it to others, to the great unwashed. A motion, suggesting that if there isn't a General Election soon then there should be a 'People's Vote', whether on the terms of the Brexit deal or possibly even on whether we should Remain after all, looks set to be adopted. And there you have it: Labour wants democracy for itself, but not for you.
This confirms Labour's cutting of ties with its old working-class support base. In the words of Len McCluskey, general secretary of Unite the Union, 'The majority of Labour Party members don't want Brexit [but] the majority of working-class people do'. This is right. By every indicator, the more working-class a voter is, the more likely he or she is to have voted Brexit. Labour members' hostility to Brexit confirms that the party membership is now even more aloof than it was under Corbynistas' favourite hate figure, Tony Blair.
Indeed, according to a new report published by left-wing think-tank the Fabian Society, Labour's support has 'shifted to the big cities' and away from the party's old 'heartlands'. There is a 'growing hostility' between the party's old and new core voters. Labour, like social-democratic parties across Europe, has gone from being the voice of working people to being an organisation staffed and run by the university-educated middle-class elites in metropolitan hubs. Cultural appropriation, anyone?
It should be clear to everyone that Labour does not speak for working people, and nor does it aspire to. This party is now the property of an emerging new establishment; of a political set defined by 'wokeness' rather than class, by PC rather than populism, and by a belief that clever, 'aware' people who become members of Labour deserve a greater democratic say, but those people out there do not.
This conference has revealed something extraordinary: for all the Corbyn crew's Blairphobic bluster, on the big question of our time – national democracy – these two wings are entirely united. Both moderates and radicals believe that the 17.4million's revolt to take back democratic control from technocratic elites was a destabilising phenomenon. Both want to take back control from us and make political decision-making once more the prerogative of the well-connected.
A bigger question is raised by all this, a question important even to those of us, like spiked, who do not much care what becomes of Labour: who speaks for the working classes today? Who speaks for, and with, those whose values differ so markedly from the values of the new elites? Those who see nationhood as incredibly important because they know it is the guarantor of their democratic rights and their existence as citizens? Those who distrust the technocrats and prefer to trust their own friends, families, communities? Those who said on 23 June 2016, 'We matter. We have ideas and, what's more, our ideas are better than yours'?
At the moment, nobody. And that has to change. We need a new radical populism. A populism that takes both people and ideas seriously. A new politics that is open and also intellectual. A new approach to public life which breathes life back into the radical idea that ordinary people are if anything better than cut-off elites at making wise decisions for the benefit of communities and the country. This new politics will not come from Labour or the Tories. So others will have to tease it out, develop it, and give it some kind of shape. That's what spiked plans to do. Join us for this debate in the months ahead in our new-look magazine.
To enquire about republishing spiked's content, a right to reply or to request a correction, please contact the managing editor, Viv Regan.