Spike Lee v the Klan
BlacKkKlansman is the work of a director who revels in complexity.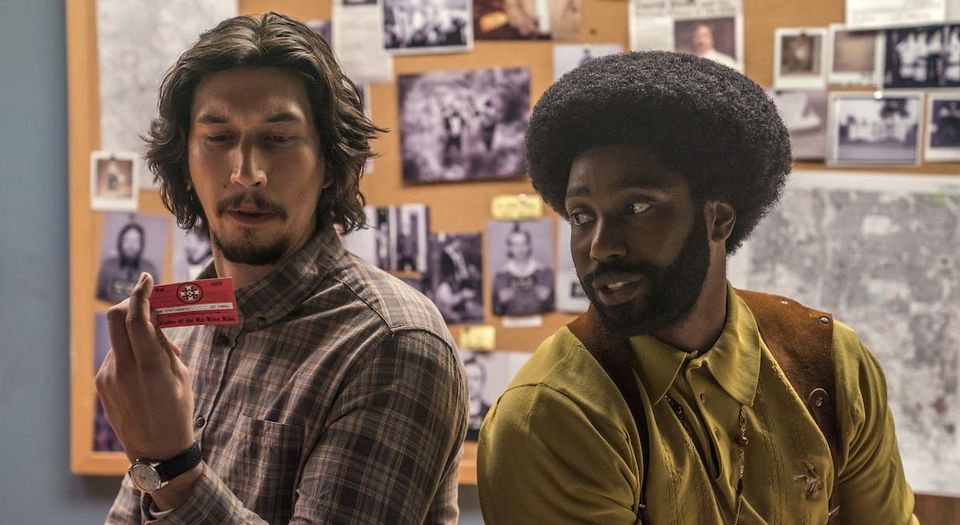 With the huge popularity of Black Panther and the acclaim heaped on Get Out, is black cinema now a central part of our culture? Or is this just another fad? Following the release of Steve McQueen's 12 Years a Slave, writer/director Spike Lee said: 'We've been getting these new black cinema waves every 10 years or so since 1986, when I had She's Gotta Have It and Robert Townsend had Hollywood Shuffle. For me, I just wish it was consistent, and not this feast or famine thing that's been going on.' Perhaps things are changing. Lee himself certainly seems to be riding a wave – he has just released his most acclaimed film in decades.
BlacKkKlansman is the first feature in three years from the iconic director of such greats as Do the Right Thing and Malcolm X. It is based on the astonishing true story of Ron Stallworth, played here by John David Washington (son of Denzel). He was an African-American cop who infiltrated the Ku Klux Klan, becoming a member over the phone and then sending a white cop (Adam Driver) for the face-to-face meetings. The film's aesthetic and rhetoric are classic Lee, but the subject matter speaks to the zeitgeist, to contemporary concerns about the rise again of the KKK and the return of 'white supremacy'.
The film is not a lecture, however. Rather, it is as funny and entertaining as any of the old-school Spike Lee joints. Wisely it doesn't jump straight into the KKK stuff. Instead it starts by depicting Stallworth's isolated position as the only black man in his police department. His first undercover job is at a speech by Kwame Ture, the name adopted by black-power activist Stokely Carmichael, which sets up the film's contrasting of black power with white power. Once the Klan enters the fray, the film works as a slick thriller that is enriched by politics and comedy.
BlacKkKlansman doesn't only deal with recent political history – Lee also brilliantly places his own film within the history of American cinema. The audience is alerted to this from the very start: the film's opening shot is taken from Gone with the Wind. There's a fun scene where Stallworth has a discussion about Blaxploitation films with his love interest Patrice, the president of a radical black students' union. Unaware of Stallworth's profession, she says she admires Cleopatra Jones, a film with a black undercover cop, but she says such an idea panders to a fantasy and could never exist in real life.
Such ironic cinematic references are used to dazzling effect in the film's best sequence, which features a fantastic cameo from Harry Belafonte. As Belafonte's character recalls a horrific lynching to a hushed black students'-union meeting, the scene is intercut with a pompous ceremony initiating new members into the KKK. When Belafonte credits the lynching to the popularity in the early 20th century of The Birth of a Nation, a pro-KKK film, we cut to the new KKK members uproariously enjoying that very movie.
While always proud and powerful, Lee's representation of black identity has also been ambiguous, even contradictory. He famously ended Do the Right Thing with two opposing quotes, one from Malcolm X and one from Martin Luther King. In this new film he gives us a surprisingly positive portrayal of the police: those who want to crowbar the movie into the Black Lives Matter narrative should pay close attention to this fact. Though some of the cops are portrayed as racists, it is ultimately the police who secure racial justice in Lee's telling of this true story. Stallworth can only achieve his goal with help from white cops.
Lee's weakest creative decision is to end the film with footage from the Charlottesville Unite the Right rally last year. Perhaps he doesn't trust us to draw our own conclusions from his work, and so he clumsily tries to make our conclusions for us. The Charlottesville footage is powerful, but grossly in contrast to the lighter tone of the rest of the film.
The film's Blaxploitation conversation is apt, since BlacKkKlansman has the feel of a Blaxploitation movie. It is not as far from Tarantino's Django Unchained — a film Lee despises — as Lee might like to think. And yet, overall, the film displays a new maturity in Lee's craft as director, and yet it also possesses the vibrancy and playfulness of his earlier, great movies. Those who complain BlacKkKlansman is not radical enough, or that it fails to treat its subject matter with sufficient gravity, are missing the point — as well as a sense of humour.
Christian Butler is a spiked columnist. Follow him on Twitter: @CPAButler
Watch the trailer for BlacKkKlansman:
To enquire about republishing spiked's content, a right to reply or to request a correction, please contact the managing editor, Viv Regan.