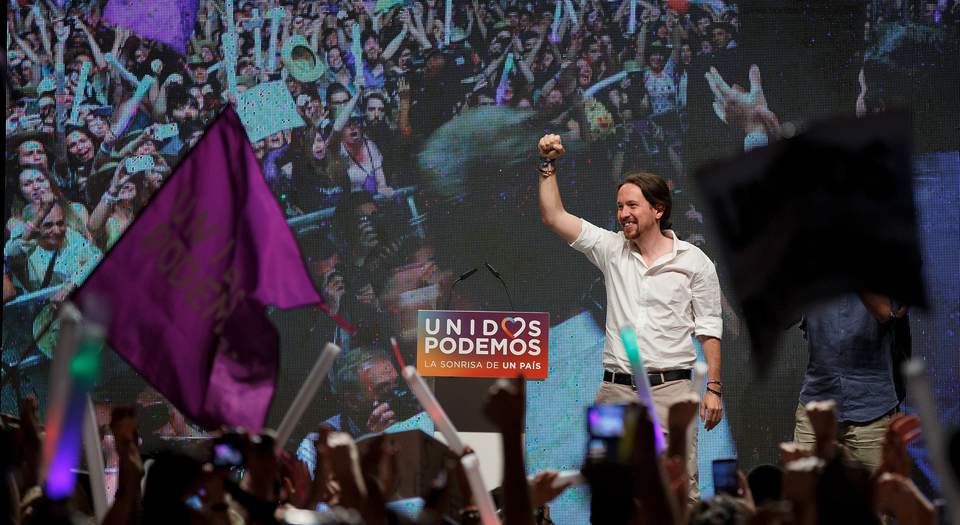 Long-read
Whither Podemos?
On the rise and fall of Spain's left-wing populists.
In 2015, Podemos, then a fledgling Spanish political movement, was being hailed at home and abroad as a new form of left populism. Fronted by Pablo Iglesias, a young-ish political theorist well-versed in arcane theories of hegemony and anti-capitalist discourse, Podemos simultaneously seemed to be inspiring a mass movement. It felt radical. And it seemed popular.
Since then, however, Podemos's star has waned. In Spain itself, its support has fallen away; outside of Spain, it no longer commands fawning op-eds, or admiring glances from the self-styled left. What happened? How did a political grouping with so much momentum seem to lose its way? And what of its future in Spanish politics?
To answer these questions, the spiked review spoke with the Spanish journalist and writer Miguel Murado.
spiked review: Three years ago, it looked as if Podemos was going to become a dominant force in Spanish politics. What are the main reasons for Podemos's struggles since then?
Miguel Murado: What happened was that in 2015 and then in 2016, there were two elections, because the first one did not produce a clear result. And it was felt that in the first election, Podemos, winning just 20 per cent of the vote and just over five million ballots, had underperformed, that the pre-election polling had in fact inflated support for Podemos. It still won seats in parliament but it was a performance that fell short of what had been expected.
Then, in the second election, Podemos made a strategic mistake. It thought it could overcome the Socialist Party (PSOE), and become the second political party in Spain and therefore the alternative to the conservative People's Party (PP). To that end, Podemos allied itself with the traditional far left in Spain. Podemos is far left as well, but it was new far left, and it was now allying itself with the traditional Spanish far left, known as the United Left (IU), which comes from the Communist Party. And as a result of this alliance, Podemos actually lost one million votes.
It was a mistake because it went against Podemos's populist strategy. What allowed Podemos to grow so rapidly was precisely its populism, that it didn't define itself in terms of right or left. Even though its leaders are far left, Podemos avoided all the signs and symbols of the left. Even its name, which means 'Yes, we can' is very abstract. All of this was intended to pick up votes from across society, right and left. And it did pick up votes on the right – not many, but some. But by uniting itself with the remnants of the Communist Party, it gave away the leadership's far-left pretensions and drove away many more conservative supporters.
At the same time, Podemos also lost votes from the left, too. Many old Communist supporters didn't like this alliance with Podemos, because they saw it as politically ambiguous, as not sufficiently revolutionary.
These strategic mistakes were the principal reason, then, for Podemos's loss of momentum.
review: Is there also a problem with the nature of Podemos's leadership? Many hoped it would become a form of left populism, yet its leadership seems almost a little aloof from those it hoped to rally to its cause?
Murado: Podemos has this contradiction at its heart. It presents itself as a grassroots organisation, which harks back to the so-called Indignados movement of 2011. But the truth is that it is not really a grassroots movement. It is very elitist. It was created from the top down by a small group of people in academia. Intellectuals from small pockets of the far-left, anti-capitalist groups, Corriente Roje and so on. And these groups are very, very small and really only exist on university campuses.
So even though Podemos promotes this idea of grassroots democracy, within the party (and it's not really a party — it has a very complex structure), there is no democracy. This is partly because it cannot really have internal democracy because of its complex structure, its alliances with local and regional forces, and so on.
Moreover, there is this Communist tradition still cherished by the leadership. And part of that seems to be the conviction that to be a successful populist party, you need to have a recognisable leader — in this case, Pablo Iglesias. This meant that in the first election in which Podemos participated, the European Parliament election of 2014, the face of Iglesias was on the ballot paper. And from this point, we have seen the development of a cult of personality around him.
Initially it worked, but now it is becoming a liability. The fact that Iglesias and the ruling clique are now so famous is actually driving away some members and activists because they don't like it. For instance, there was what one might call a scandal involving Iglesias and his partner, Irene Montero, (who, incidentally, is Podemos's second in command). They moved to an expensive house in the countryside. It wasn't exactly luxurious, but it was the type of bourgeois thing Iglesias and comrades had hitherto criticised. Such was the crisis generated by this house in the country, that there had to be a referendum within Podemso to decide whether Iglesias and Montero had to resign or not. Of course the result was never really in doubt, because the less-than-transparent vote was posed in terms of whether one was loyal or otherwise to the leaders.
review: Is there a sense, then, that Podemos is now almost part of the political establishment, with its leaders now embracing, as you put it, a bourgeois lifestyle?
Murado: Yes, I would say that this is what many people in Podemos are starting to think. Partly this is inevitable. If you take part in the system then you become part of the system. The elections in which Podemos was successful – the 2014 local elections – allowed it to take control of most of the main cities in Spain – Barcelona, Valencia, Zaragoza – and once you rule a city, you have to make decisions, you make mistakes, and you compromise. And many people in Podemos now feel betrayed. The history of Podemos, and it's a short history, is one of proliferating splinter groups and constant purges of members and activists. The splits and purges are so constant that they don't make the news anymore. And this is because of the difficulty of bringing together Podemos's far-left aims with its populist strategy of trying to appeal to everybody.
review: Given its far-left credentials, to what extent is Podemos opposed to the EU?
Murado: Initially, it was opposed to many aspects of the EU, when that was fashionable, when Spain itself was under the the harsh control of the EU and its institutions of economic governance. But that was a brief moment. Spain is a very pro-EU country, partly because it has benefited enormously from membership. But also for socio-cultural reasons in that the EU represents what came after Francoism.
But, as I say, there was this brief moment, at the height of the economic crisis in 2013, when Greece was on the edge, and at that point Podemos was anti-EU. But it has forgotten all that now. Indeed, after Brexit, after Viktor Orban in Hungary, after the migrant crisis, it is very fashionable in Spain to be pro-EU, so Podemos is also now very pro-EU.
review: Has the rise of Ciudadanos (Citizens) affected Podemos? Has it eaten into its potential support base?
Murado: Not really, because while it is also a populist party, it appeals to a very different section of Spanish society. Technically, it's a centrist party in terms of its politics, but it is mainly an anti-Catalan, Spanish nationalist party. It opposes separatism, even the very idea of a federal state, of autonomous regions. So it has become popular among those who feel that former prime minister and PP leader, Mariano Rajoy, was too soft on Spain's regional nationalism. Also it is an anti-corruption party, which it is easy to be when you don't have power, because you can't really be corrupted. That again is an asset that made them grow very quickly. But now the Ciudadanos have been preempted by the socialists, who have retaken power on an anti-corruption ticket, and have done so without an election. So, for the time being, Ciudadanos's hopes have been crushed. They have a difficult future now, I think.
review: It does look as if Spanish politics is returning to its post-Franco, traditional form, ruled by the duopoly of the PSOE and the PP. But do you think, despite appearances, that there has been a fundamental shift in Spanish politics?
Murado: It may look as if we are returning to the two-party system. But it's a mirage. The socialists may be in political power, but that power doesn't correspond to the socialists' actual power in society. The PSOE only has 83 seats in a 360-seat parliament. It is only because of pure chance that the socialists are in power. Now they're in power, of course, they may be able to aid their chances at the next election. But I don't think they will win it with a majority. So they will have to rely on either the Ciudadanos or Podemos. The political landscape has irrevocably changed now. Clear electoral majorities will be a thing of the past.
On the other side, the PP is in tatters. It has lost power, and seems unable to figure out what sort of party it wants to be. It has an internal crisis now, because its new leader, Pablo Cassado, is now embroiled in a corruption case for allegedly falsifying his academic title.
So Spanish politics, as represented by the Spanish parliament, is extraordinarily fragmented now. And it looks like it will remain so for the foreseeable future.
Miguel Murado is a writer and journalist. He has written more than 20 books in Galician and Spanish, three of which have been translated into English: A Bestiary of Discontent (1993); Ash Wednesday (1998); Soundcheck (2015).
Picture by: Getty Images.
No paywall. No subscriptions.
spiked is free for all.
Donate today to keep us fighting.
Donate online
To enquire about republishing spiked's content, a right to reply or to request a correction, please contact the managing editor, Viv Regan.