The alt-right comes to South Africa
The cynical politicisation of attacks on white farmers is helping no one.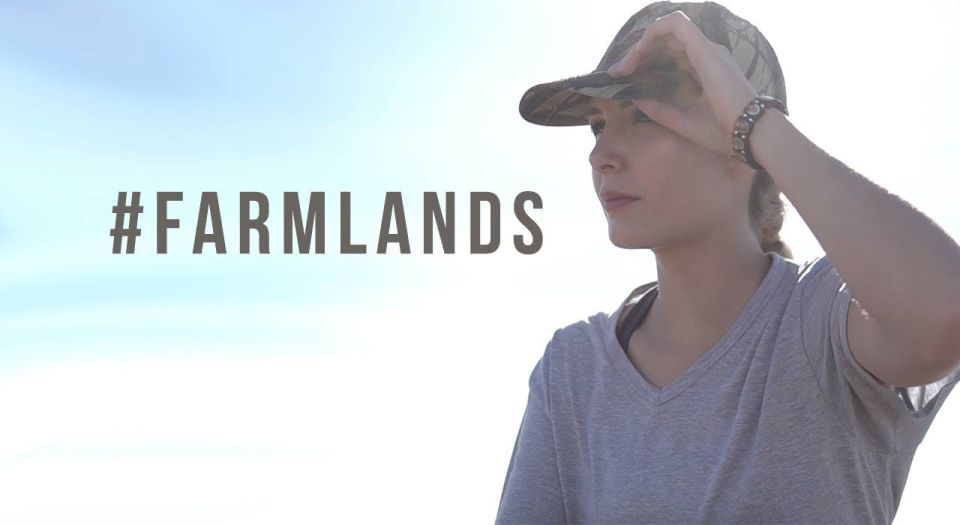 Lauren Southern, a young Canadian activist-cum-journalist much loved by the so-called 'alt-right' for her contrarian reportage and cosplay ability, slipped quietly into South Africa last year, a country whose comparatively peaceful post-1994 story has meant international attention has been infrequent.
Southern's general topics of coverage include immigration, gun rights, and online culture. Yet there she was, in our humble country, to investigate the crisis of 'farm attacks'. These incidents, broadly stated, are robberies and murders directed at isolated farmers, often involving brutal torture and sexual abuse, that have been a political concern for sections of the white Afrikaner South African populace over the past two to three decades. Southern's arrival, however, has meant our national dirty laundry has now been washed in the hyper-partisan global culture-war discourse raging on social media most days.
A week into her visit, the introduction of a bill in parliament by the ruling majority African National Congress, aiming to accelerate land reform by doing away with the 'willing buyer, willing seller' principle, put paid to any hopes of her investigation passing by as just another brief Twitterstorm. Controversial British columnist Katie Hopkins soon followed and also promptly jumped on the Boer-bandwagon. Her visit proved to the South African general public that Southern was no isolated incident, and quite quickly South Africa was aflame with online Sturm und Drang on a scale last seen in the wake of Nelson Mandela's death, or the announcement of the national rugby team.
Right-wing Dutch politicians shared farm-murder statistics on Twitter. Afrikaner activists appeared in interviews with Stefan Molyneux, the original alt-right figurehead. Southern joined Molyneux for a discussion of the situation. Pro-Boer marches were held in several countries, from Belgium to Australia. Ryan Fournier, chairman of Students for Trump and frequent Fox News guest, tweeted: 'What the "president" of South Africa is doing is just as bad as what Assad is doing.' Thousands of people signed a petition addressed to Trump asking that white refugees be allowed into America, with Ann Coulter adding that 'we are witnessing a straight-out genocide in South Africa'.
A veritable legion of new-school culture-war celebrities had rallied to the perceived aid of the white Africans, and predictably, scores of morally outraged intersectionalists (or whatever they're called now) launched into a long, collective screech about systemic racism and propaganda.
When Peter Dutton, Australian minister for home affairs, announced that he was considering fast-tracking humanitarian passports for white South African farmers, the latest new left exploded in a violent embolism of self-righteousness, and the situation went truly viral, fuelled by the Australian nanny state's many progressive crusaders. Think-pieces on structural racism and intersectionality abounded. Outrage was plentiful as the 24-hour news cycle did what it does best – drive digital traffic to the detriment of reason. The South African government issued a statement denying that any farmers were being persecuted or in danger, and called for Dutton to retract his statements. Ironically, many of those calling for whites to fuck off to Australia suddenly became enraged by the prospect of their dreams being realised. Australian lefties rallied and held counter marches. The smug cloud generated a level of dogmatic stupidity rivalled only by that of their counterparts on the right. The process reached a climax with the appearance of AfriForum (an activist group for minority rights in South Africa) on Tucker Carlson's Fox News show , ensuring that the Afrikaner fate was now almost irrevocably tied into that of the American new right.
It happened in the blink of an eye. South Africa had gone viral. The alt-right had descended and laid claim. The alt-left had reacted. South Africa was suddenly in the heart of the maelstrom. Long-time South African conspiracy theorists went from fringe players to hashtagging the gods of the alt-right world with confidence, pleading with the global powers to reveal the horrors that the 'MSM' refused to touch. The support of the global media, seen in an outsider country like South Africa as a legitimation of any discourse (in the kind of neo-lcolonial brainwashed manner that only outsider countries have), has allowed idiots on both sides of the divide to thicken their voices. Partisan outlets cover the issue along the partisan divide, ensuring that any denial or criticism is assured of being refuted purely by virtue of its political alignment. It is a vicious circle of enabling and denial.
There is, without any shade of doubt, a crisis in relation to farm attacks in South Africa. What is in dispute are the scope and shades of this issue. It is troubling, however, that like the words 'oppression' and 'fascist', the concept of 'genocide' has been so cheapened. The plight of the white farmer is not one of genocide, but rather one of supreme frustration at a lack of political representation and power in the face of violence that all too often is targeted at them. It is imperative to frame this discussion properly. As with the 2016 American elections and Brexit, the crux of the matter lies in the left's smug denigration of a significant part of the population's concerns, a lesson it would appear the South African intelligentsia has refused to learn – and now that the South African right has the attention of the global right, the situation has become a gross parody, a microcosm of the global culture wars played out on the southernmost tip of the African continent.
The facts of the matter are in a state of perpetual dispute, with various groups laying claim to various interpretations to back their agenda. Perhaps facts would be easier to determine if the discourse was not so incredibly charged and polarised. Essentially, the competing claims are as follows: South African farmers are being systematically exterminated and subject to a targeted campaign of terror based on racial hate. The opposing claim is that there is absolutely no problem, and that even if there was, 'crime affects everyone equally'. As with all things, the truth may be found somewhere in the middle.
The international crime of 'genocide' is an incredibly specific term. Often confused with the broader concept of crimes against humanity, what is important to note about both concepts is that they require a stringently applied element of coordination and overarching power directed by a group, generally the state, capable of inflicting widespread and systematic persecution (or whichever form the crime might take, be it genocide or forced deportation). It is precisely the loss of state protection that elevates group violence to a crime of international concern – otherwise it would be mere mass murder. In this regard, it cannot be said that a powerful group has conspired and is actively working within a system designed to persecute white farmers. There is perhaps a legal case to make for the neglect of the South African state to protect its citizens adequately against unusual threats, but in the absence of any proof of coordination, in strictly legal terms, a genocide or crime against humanity is not taking place.
And yet how does one then square the persistent, uncondemned, highly specific calls to violence against 'boers', 'whites', and farmers? From political rallies to hit hip-hop songs, slogans, lifted from the days of struggle against an actual oppressive regime, are now deemed justifiable. 'Kill the boer' or 'one settler, one bullet' must be 'seen in context', their defenders say. But it takes mental gymnastics of a kind only a postmodernist can perform to argue these acts are not threatening.
Afrikaners have a right to feel marginalised. Both their language and religion are no longer central to institutions. They have limited political representation. They are taxed heavily, and disproportionately, to fund social programmes that are then bankrupted by a corrupt leadership, and from which they themselves see little to no service delivery. And they are shunned by English progressives and the black masses alike. Justified or not, debatable or not, as issues like affirmative action and struggle songs are, it is a Sisyphean task to ask of any normal, average, run-of-the-mill Afrikaner to take all of this with a smile on his or her face.
Yet, Afrikaners will struggle to make their case with any kind of legitimacy should they continue in their courtship of the new, globalised online right. In the middle of the Southern/Molyneux discussion, at around 13:40, Southern says the following about the South African government: 'This is the government if social-justice warriors were in charge.' Any South African with a passing interest in our country's uniquely diverse political system would balk at this. Trying to convince a proud polygamist and alleged rapist like Jacob Zuma that women are equal to men would be akin to expecting Putin to condone homosexuality. Many of Southern's fans, by virtue of wilful ignorance or happenstance, would fail to realise that this is an effort to force this story into the alt-right's narrative by hook or by crook. South Africa is very, very far from its biggest political debates revolving around who can piss in which toilet. We have actual issues to address.
We live in an age where some of the most viewed videos on YouTube are think-pieces on the subtextual racism of animated children's movies, and news publications have dropped all pretence of objectivity and literally just publish primers on how to win arguments on gun rights. South Africa now has its own budding alt-right online culture among kids that were supposed to grow up in the new South Africa, who should have been able to assert their rights as Afrikaners within the framework of a uniquely diverse country. Instead, they are adherents to a global tribe built on irreverence and meme culture, a tribe often from countries where persons have much less to worry about – and certainly not about being shot in bed on their farmstead.
Southern's crusade, though welcomed by many on the 'right' (for want of a better term) in South Africa, has prevented the international community from gaining a clear picture of the situation. Her supporters and her culture-war critics obscure rather than clarify the issue. Why does a search of 'Lauren Southern South Africa' bring up results on the first page from a blog called 'critiquing feminism'? What on Earth is the link between land restitution and feminism? Why are such disparate causes sheered with the same razor and appropriated globally by one or the other? How have we lost the middle ground?
With Southern's full-length documentary on farm attacks and land expropriation currently being crowdfunded, it seems that the world is set to grow ever more polarised, for ever more inane reasons. AfriForum's appearance on Fox News has cemented this likelihood. Some days after AfriForum's return from America, CEO Kallie Kriel was asked whether he believes Apartheid was a crime against humanity. Kriel replied that he did not consider Apartheid a crime against humanity, before adding that it was of course wrong. And in the subsequent sound and fury, we see the rub – one side chose to hear only the first part of his answer, and the other chose only to seize the moment to point out what the benefits of Apartheid were for blacks, a debate long retired from the public eye in South Africa. The modern media cycle and outrage culture has managed to recycle decades-old debates, freshly dug up for a new, global audience who seems to think that politics plays out the same way in every country on earth. And whether it's Southern or the Guardian who push the narrative, we have to find a way to stop the proliferation of this kind of unthinking merging of us-versus-them in the West, before it dooms us all to a civilisation-wide suicide by inaction.
Karl Kemp is a journalist. Visit his website here, and follow him on Twitter: @karlkemp8
To enquire about republishing spiked's content, a right to reply or to request a correction, please contact the managing editor, Viv Regan.