Monarchy and feminism: a perfect marriage
Meghan Markle epitomises the elitist turn of feminism.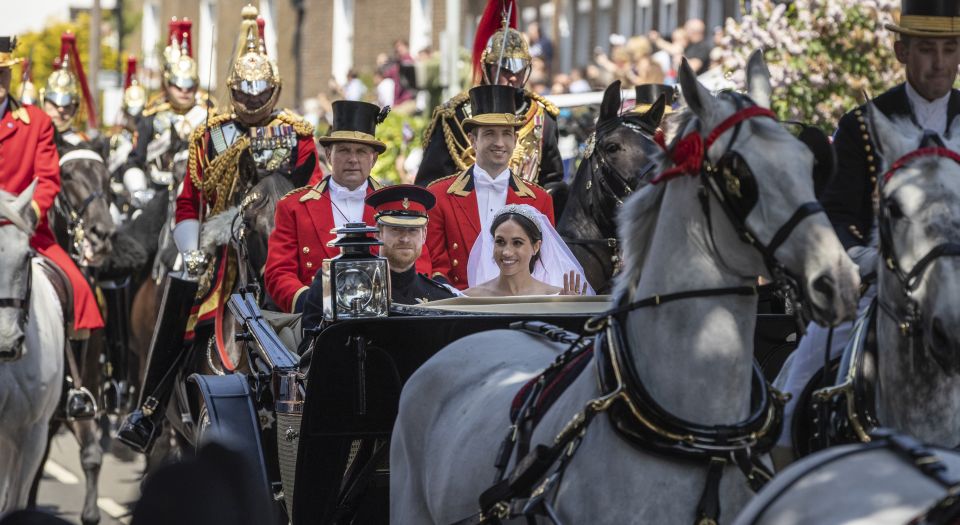 The sun shone, the nation tuned in, and Harry and Meghan got married. The cake has been eaten (lemon and elderflower, £50,000) and the dresses packed away (Givenchy for the main event, £387,000, and Stella McCartney for the evening, 'at least six figures'). Yet still Meghan is making headlines thanks to an update to the royal website. We now know that the newly titled Duchess of Sussex has 'a lifelong commitment to causes such as social justice and women's empowerment'. Following the most self-consciously politically correct royal wedding ever, this is hardly a surprise.
The wedding might have been praised as 'a rousing celebration of blackness', but in the days since it has been all about the feminism. Meghan was already known as a feminist and now, for any doubters, the royal profile provides official confirmation that nothing's changed. It highlights a quote from a speech she gave at the UN on International Women's Day in 2015: 'I am proud to be a woman and a feminist.' And with that one little sentence, headlines were made and commentators swooned.
Praise for Meghan has been fulsome. Her 'insistence on breaking with tradition' is credited with single-handedly 'shaking up the royal family'. She is being presented as a social-justice warrior and a champion of women and progressive causes. We're told she vows to continue the feminist fight and she's a leader in the fight for feminism and gender equality. To have a feminist at the heart of the royal family is, apparently, a historic moment for women's rights. With all the talk of fighting and making history, it would be easy to get the impression Meghan was a militant revolutionary rather than a former actress turned duchess. She 'sets feminist hearts aflutter': how thrilling!
We badly need a reality check. The monarchy is an exclusive, elitist institution. It is a historical relic that bypasses democracy entirely and insists that power and wealth are handed down as a birthright. Royalty was patrician and privileged long before Meghan came along, and despite an injection of glossy, multicultural glamour, this has not changed. Bold declarations of feminist intent do not show that the monarchy has changed: instead, they show how much feminism has changed.
Once, campaigns for women's rights posed a challenge to the status quo. They threatened the establishment and promised to overthrow tradition. The demand for women's suffrage was a powerful movement to increase women's rights and to expand the number of people who could have a say in how the country was run. The outcome was more a more democratic society. Later, members of the women's liberation movement argued for childcare, access to abortion and equal pay. They wanted women to be able to participate in society as autonomous adults, equal to men.
Today, feminism is the opposite of all of these things. It doesn't call for an expansion of democracy, but for democracy to be tamed. All-women shortlists and quotas for women on company boards deny people a free choice in appointing anyone they choose. They move us away from seeing gender as an irrelevance and treating people as equals. Instead, we're told that women need to be afforded special privileges. In the past few weeks we've had calls for the banning of sexist adverts and the criminalisation of street harassment. Rather than calling for women to be recognised as adults, today's feminism insists women are treated like children.
The only question campaigners and commentators have so far raised about Meghan's feminism is whether she'll get away with it. Is it realistic to think she can be both a feminist and a royal? Of course it is. Feminism today poses no threat to the establishment. Feminism is the establishment. Feminism is now concerned with enforcing etiquette, telling boorish men how to behave, and calling for censorship and regulations. It is elitist and condescending – a perfect match for the monarchy. Today's younger royals reveal all about mental-health troubles and want us to know that despite wealth and privilege, they suffer too. Again, a perfect match for a feminism that allows rich celebrities to swap stories of disadvantage.
No one should be surprised that Meghan is a feminist. Every well-connected, high-profile woman today is. The cost for a woman of not being publicly out as a feminist is outrage and ostracism. In declaring herself a proud feminist, Meghan shows herself to be just like every other wealthy, privileged woman today.
Where Meghan differs from other women is that she has given up her own career for marriage. Today, over 70 per cent of all women and 90 per cent of female graduates are employed. Yet on the royal website, details of Meghan's acting career – presumably earned through her own merit and tenacity – are given only a cursory nod. Instead of the feisty professional, we have Meghan the social-justice activist. We are told that, age 11, Meghan petitioned a soap manufacturer to change what she considered to be a sexist advertisement. She was successful and the company replaced the word 'women' with 'people'. How precociously feminist! But in the telling, Meghan the ambitious woman is replaced by Meghan the feminist girl.
Commentators have rushed to applaud Meghan for being a good role model for young women. She has been described as 'an icon for new generation of young women' because she shows that you can be beautiful and a feminist, too. Meghan has been praised for making feminism attractive and in the process showing that feminism is for everyone. But bedecked in designer clothes and jewels, and waited on by all the staff she'll ever need, Meghan now has little in common with anyone except other members of the Hollywood elite or the royal family.
Harry and Meghan's wedding was a spectacle. It had glamour and celebrity by the bucketload and only a curmudgeon could deny it was fun to watch. But now it's over. Let's put the preaching away with the bunting. Spare us lessons from the Duchess Feminist.
To enquire about republishing spiked's content, a right to reply or to request a correction, please contact the managing editor, Viv Regan.