'This is America': a masterclass in ambiguity
Donald Glover's viral hit is vague enough to suit everyone's politics.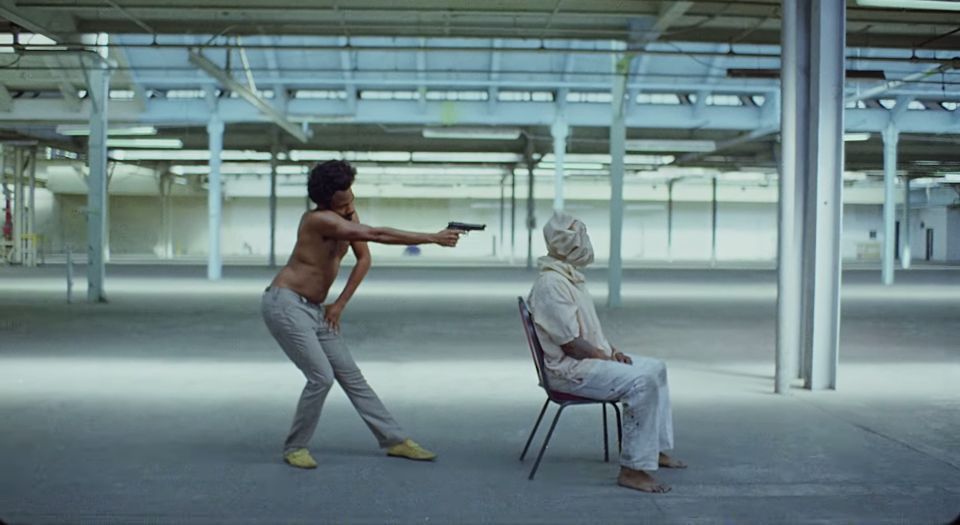 'This Is America', a gory music video by Donald Glover (aka Childish Gambino), in which he shoots random black people and dances around manically, has been met with universal praise. The viral sensation, which received 10million views in 24 hours, has, we're told, perfectly tapped into the zeitgeist with its blunt satire of gun rights, police brutality, social-media detachment, or all of the above, depending on which hot take you read. The video has sparked endless discussion about the meaning of its symbolic imagery, with avid viewers poring over its background details for clues.
Donald Glover first made his name as an actor and comedy writer, but has also found success in music as Childish Gambino. Since the mixed reviews that greeted his debut album, Camp, Glover has improved as a musician. He had a slow-burn hit with 'Redbone' in 2016, and his last album, Awaken, My Love!, was nominated for Album of the Year at the Grammys. Building on the success of his hit TV show, Atlanta, which he writes and stars in, the viral success of 'This is America' has led people to tip 2018 as the year of Donald Glover.
The main focus of the discussion is the video, directed by Hiro Murai, rather than the track, which is purposefully repetitive and vague in the tune and the lyrics: 'This is America / Don't catch you slippin' up / Look at how I'm livin' now / Police be trippin' now.' The video largely relies on blunt violence – Glover, shirtless, dances around a hangar and brutally shoots people – to give it its punch, and that's hardly unprecedented. But it seems this dense and abstract video is a perfect fit for this age in which commentators are always on the lookout for works of woke pop-culture genius.
'This is America' is so open to interpretation anyone can crowbar in their pet politics, even when it barely makes sense to do so. Many suggest the video is about the police brutality of Trump's America, even though Glover is the one doing the killing and the problem of police brutality long preceded the current president. At the end of the video, Glover runs from a mob. It's a nod, some say, to the doom that greets innocent black people – even though Glover, again, has spent the entire video mercilessly killing other black people. Some even claim the video touches on the issue of cultural appropriation, and yet the entire cast is black.
In the background of the video, young people, with cloth wrapped around their mouths, film the ensuing violence on their phones. Some commentators claim this represents black youths who are metaphorically muzzled by the police using viral videos of police brutality to raise awareness. Others read it as an indictment of those who stand back and film violence on their phones rather than do something about it – or of a society that is too distracted by entertainment to deal with its injustices. (Surely, then, this viral video is part of the problem?)
We're told 'This is America' could spark the conversation America 'needs to have' about gun rights, police brutality or whatever issue it is that the critic you're reading cares about. And yet they just point to conversations that are already being had. It seems pop culture today isn't so much praised for breaking ground as it is for reaffirming pretty mainstream views. That Glover's video is being held up as a kind of antidote to the pro-Trump comments of his hero Kanye West – who he jibed at in a recent Saturday Night Live skit, which was tweeted positively by Mr West himself – shows that what is demanded now is not bravery; it's conformity. So much so that even oblique works like this are swiftly mangled into one or more simplistic narratives.
Whatever Glover might have actually intended to say with this video, that's the sort of deadening 'conversation' this viral hit has sparked.
Christian Butler is a spiked columnist. Follow him on Twitter: @CPAButler.
Picture: YouTube
To enquire about republishing spiked's content, a right to reply or to request a correction, please contact the managing editor, Viv Regan.