The Day for Freedom was not a far-right rally
But it did show what happens when the left abandons free speech.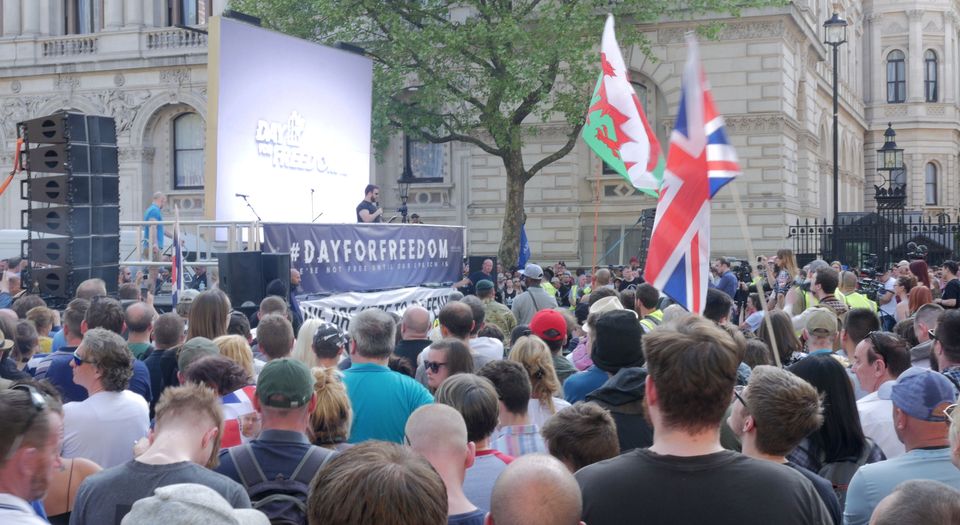 If you want to know why the left keeps losing, look no further than the fallout from last Sunday's 'Day for Freedom' march in London. The event was publicised as a protest against the ongoing erosion of free speech in the UK, most notably through the increasingly draconian application of hate-speech laws. The man behind the march was Tommy Robinson, former leader of the EDL, who took umbrage at being permanently banned from Twitter for his incendiary remarks about Islam. Before long, a number of prominent right-wing activists offered their support, and even without mainstream media coverage the attendance figures were in the thousands.
How is it that the principle of free speech, the bedrock of any democratic society, has been claimed by the right? Inevitably, right-wing media outlets such as Breitbart have declared the 'Day for Freedom' to be their victory. To an extent, they have a point. In recent years, the left has not only failed to defend freedom of expression, but has been actively hostile to it. Moreover, prominent left-wing voices have continually sought to broaden the scope of terms such as 'far right' and 'alt-right' to incorporate as many of their ideological opponents as possible. I can think of no strategy less likely to persuade and more likely to engender widespread resentment.
Consider the headlines. 'Thousands descend on capital for far-right rally', proclaimed the Evening Standard. 'Thousands of far-right protesters march in London in support of "free speech"', said the Guardian. Admittedly, the headline was later amended – by Tuesday it read 'Thousands march in "free speech" protest led by right-wing figures' – but this instinct to smear an entire crowd on the basis of a minority contingent is telling. It is precisely the kind of disingenuous tactic that has bolstered Robinson's appeal. Free speech is now routinely weaponised for partisan ends, and misrepresentation in the media is a major contributory factor.
Free speech is not a far-right value; it represents the antithesis of authoritarianism. Disturbing scenes in Warsaw last November, when neo-Nazis chanted 'Pure Poland, white Poland!' within a crowd of 60,000 marchers, should remind us of the important distinctions between the right and the far-right. By any objective standards, the 'Day for Freedom' was hardly comparable, and yet it is being taken as evidence of a fascist resurgence in the UK. One commentator argued that 'far from being an innocent defence of Enlightenment values, the protest seemed more a Trojan horse for the ideas of the far right to insert themselves into the political mainstream'.
Genuine fascists will welcome this narrative, because it enables them to claim a level of support that they do not have. Although quick to mention appearances by right-wing figures such as Tommy Robinson, Anne Marie Waters and Milo Yiannopoulos, the article above conspicuously omitted reference to Markus Meechan's explicitly non-partisan speech. Also known by his YouTube name Count Dankula, Meechan was recently fined £800 for a joke video in which he taught his girlfriend's dog to do a Nazi salute. One would have thought that his robust denunciation of white supremacy and Nazism, greeted as it was by huge cheers from the crowd, would have been worthy of comment.
Such misrepresentation might be well-intentioned, but it does nothing to challenge the far right. In spite of reports, the crowd represented a diverse mix of ages, ethnicities, and political affiliations, a point that even some of Robinson's staunchest critics were compelled to accept. For those of us who care deeply about the principle of religious freedom, it was troubling to see so many of the speakers exploit this opportunity to attack Islam in such generalised and un-nuanced terms. The promiscuous deployment of epithets such as 'racist', typically against those who have reservations about immigration, has permitted unsophisticated reactionaries to claim the moral high ground. This is what happens when mudslinging is substituted for serious debate.
Perhaps sensing its own failings and in need of a scapegoat, the liberal-left has turned its ire against Vanity Von Glow, a Labour-voting drag queen who performed at the event. 'I accepted the request not because I couldn't wait to stand in a line-up with people whose politics I supported', she later posted on Facebook, 'but because I felt I would be a hypocrite to only champion free speech when it suits my own ideological ends'. For taking this principled stand, and for recognising that progress can only be made through dialogue, she has been lambasted by prominent LGBT activists with the result that many of her professional bookings have now been cancelled. Predictably, the venues in question have judged Von Glow as guilty by association. 'While like everyone she has the right to freedom of speech', wrote one venue, 'her alignment with such an event calls into question her motives… she will no longer be booked'.
The 'Day for Freedom' was not a far-right rally. It was a symptom of the left's failure to uphold the principle of free speech. Nobody is denying the possibility that unpleasant far-right fringe groups may manipulate such causes to assume a veneer of respectability, but in ceding this ideological territory to the likes of Tommy Robinson we do ourselves no favours. That free speech is now routinely perceived as a far-right cause is an ominous development, one that any true liberal must resist.
Andrew Doyle is a stand-up comedian and spiked columnist. He is the co-writer of Jonathan Pie: Back to the Studio, a new live show currently touring the UK. He is also the co-founder of Comedy Unleashed, London's free-thinking comedy club. Follow Andrew on Twitter: @andrewdoyle_com
To enquire about republishing spiked's content, a right to reply or to request a correction, please contact the managing editor, Viv Regan.