Treating Kanye like an Uncle Tom
The reaction to his pro-Trump remarks has been deeply condescending.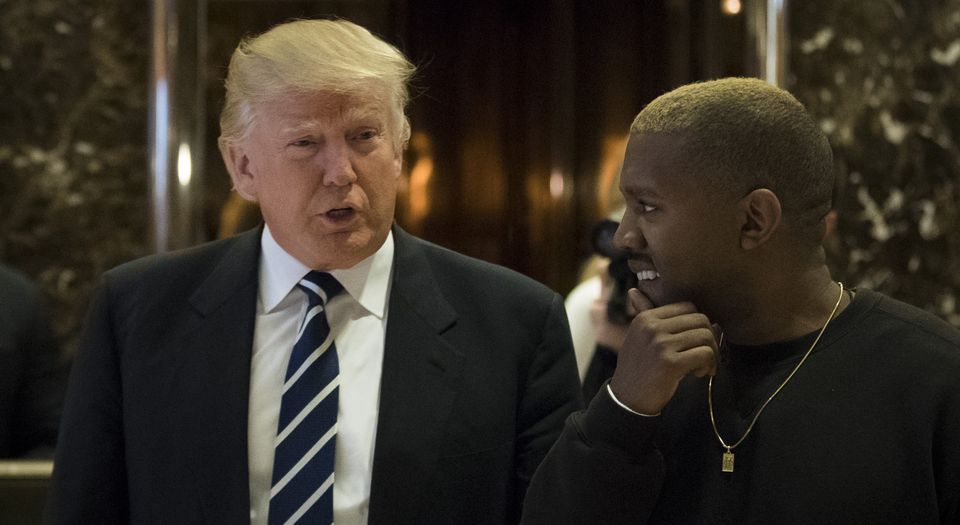 Even stranger than the sight of Kanye West cosying up to Donald Trump on Twitter, and having his pro-Trump tweets deemed 'very cool' by POTUS, has been the excessive outrage that greeted it. And which now greets any pop star who deviates from the narrow political mindset of the cultural establishment. Where once pop figures embodied rebellion, otherness and individuality, today they are expected to conform.
After an extended hiatus away from social media, West has been constantly tweeting for the past week-and-a-half. At first he shared inane inspirational aphorisms and pictures of his shoes. Then he raised some eyebrows by stating: 'I love the way Candace Owens thinks.' Owens is the controversial black conservative known for being pro-Trump and scathingly anti-Black Lives Matter. Note that he said he likes the way she thinks, rather than what she thinks.
When he was then quoted by a radio personality as saying that he loves Trump, he shared a picture of himself wearing a 'Make America Great Again' hat and calling Trump his 'brother', even though, he pointed out, he doesn't agree with everything Trump does. This all echoes one of his trademark rants, at a concert in 2016, where he claimed that he didn't vote in the election but if he had he would have voted for Trump. 'That don't mean that I don't think that Black Lives Matter. That don't mean I don't think that I'm a believer in women's rights. That don't mean I don't believe in gay marriage', he said. His pro-Trump remarks came in spite of the fact that he had given thousands of dollars to Hillary Clinton's election campaign.
In any case, the response to West's recent comments has been swift and predictable. Even though it seems he appreciates Trump for his personality rather than his policies, the Washington Post nonetheless declared him an 'alt-right darling' who has found a 'sense of purpose' in the far right. Rolling Stone called his vague comments 'a real threat'. He has gone 'full-on alt-right', it said, and is aligning himself with the Charlottesville white supremacists. Insultingly, some claim his rumoured mental-health problems are the only rational explanation for his appreciation of Trump.
Alongside all this inevitable outrage, delighted conservatives and online culture warriors, hardly known for their interest in rap music, took West's rambling statements as a pledge of allegiance to their battle with the thoughtpolice. Alex Jones invited West to appear on InfoWars, which of course was held up as further proof that West is alt-right – guilt by association.
Many of the critics of Kanye have been deeply patronising. They've denied his agency, claiming he is being used by privileged white politicians. White journalists suggest that this Uncle Tom couldn't possibly understand the plight of black America like they do, because he's a rich celebrity 'cloistered in a world of wealth, away from the realities of racism'. Of course, if you're a multi-gazillionaire superstar who adheres to the correct ideology – like Jay-Z or Beyoncé – no one will question you for being detached from the average African-American.
What this all reveals is how obsessed political commentators are with the ramblings of entertainers. Just last month, Candace Owens made a video for PragerU entitled, 'Dear Celebrities: No One Cares What You Think'. She talked about the insignificance of celebrities' political opinions. And yet after a single shout-out from Kanye, she tweeted: 'Please take a meeting with me. I tell every single person that everything that I have been inspired to do was written in your music. I am my own biggest fan, because you made it okay. I need you to help wake up the black community.'
It is deeply condescending to say an entire community needs to be 'woken up', and even worse to say that the best way to do this is through celebrity endorsement. People are perfectly capable of considering policies without the aid of some rapper's tweets. After all, it was Trump who got elected even though it was Hillary who had the squadron of celebrity campaigners.
This hysteria over Kanye West's comments doesn't only point to the sorry state of politics – it also shows how pathetic pop culture in general has become. Being outrageous and provocative used to be part of the job description. Now, people in pop, rock and hip-hop are no longer expected to challenge conventional wisdom, but rather to align with the chattering classes they once despised.
Christian Butler is a spiked columnist. Follow him on Twitter: @CPAButler.
Picture: Getty
To enquire about republishing spiked's content, a right to reply or to request a correction, please contact the managing editor, Viv Regan.