The tragic battle over Alfie Evans
It is the doctors and courts who are playing God here.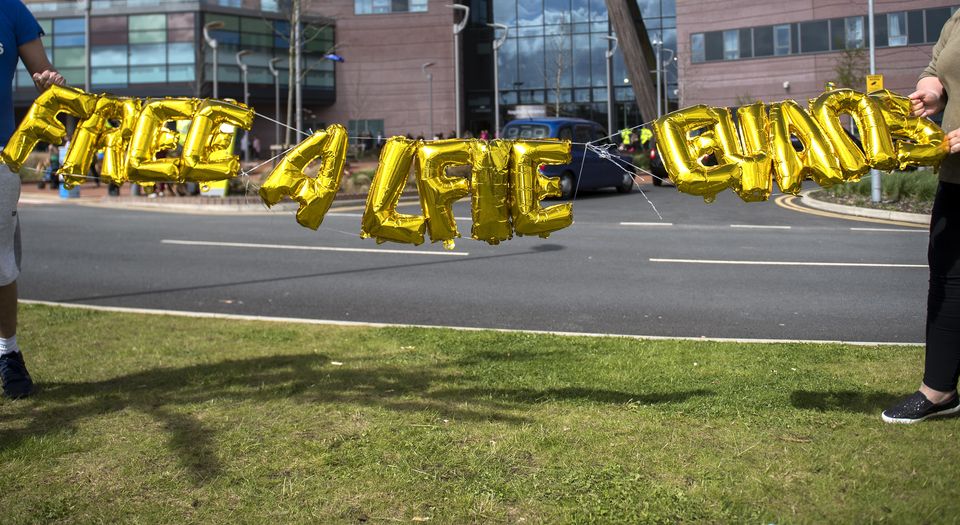 The desperately sad case of Alfie Evans, the critically ill toddler in Alder Hey Hospital in Liverpool who has just had his ventilator turned off, stirs passionate discussion not just in Britain but throughout the world. Across social media, from Poland to Italy to the United States, around office water-coolers and in pubs and coffee shops, a widening gulf separates two sides: do you support the wishes of Alfie's parents or those of the hospital and courts? At root is a conflict and confusion about what human life and living means.
Alfie, born on 9 May 2016, suffered from a series of seizures and developmental concerns. His parents, Tom Evans and Kate James, took their baby to the children's ward in December 2016, where he has remained ever since. Doctors have been unable to identify and properly diagnose what is wrong, but he appears to be suffering from a degenerative neurological condition.
In December 2017, a dispute about Alfie's treatment emerged between his parents and the hospital. The hospital applied to the High Court to withdraw parental rights under the Children Act 1989. On 19 December, the Family Division of the High Court in London began hearings, and on 1 February 2018 lawyers for the hospital told the court that continued treatment for Alfie would be 'unkind and inhumane'. On 20 February, Justice Hayden ruled in favour of the hospital, saying that he accepted doctors' advice that further treatment would be futile. In March, Alfie's parents launched an appeal but lost. The Supreme Court and the European Court of Human Rights both rejected their right to appeal.
Since then, Pope Francis, Republican presidential candidate Mike Huckabee, and everyone short of President Trump has publicly supported the parents. In Poland and Italy, Friends of Alfie societies have attracted tens of thousands of supporters. A Facebook campaign launched by the desperate parents currently boasts more than 250,000 supporters.
On 6 April, after Tom Evans threatened to remove his son from the hospital and police attended to prevent him, a supportive crowd gathered and some people tried to enter the hospital. Since then, the circus-like atmosphere has barely abated. Alfie has been granted Italian citizenship so that he can be transferred to a hospital in Italy, and the pope has apparently assured the family that a medical evacuation helicopter awaits. At the time of writing, Alfie continues to breathe unaided, having had his ventilator removed on 23 April, much to the amazement of his doctors.
There is an 'us and them' flavour to the discussion. His young, working-class parents seem to symbolise the distrust of experts and alienation from medical authority felt by so many today. As Tom said: 'Alder Hey keeps moving the goalposts. They have gone from telling us they would allow transfer if a hospital was found, and putting us through a long process of proving our option was viable, to admitting they would not allow any such transfer.' The roar of approval among supporters – with their Alfie badges and support messages – signals a malaise, a dangerous tendency to see all authorities as hopelessly unjust.
A grotesque snobbery against Alfie's supporters – if not openly against his parents – arose in response to the more vociferous protests. The Times blamed Christian 'fundamentalists', pointing to Christian Concern. The Mirror's Fleet Street Fox went further in attacking the 'so-called Christians' supporting Alfie 'who beggar belief – the ones who claim to be pro-life while threatening the lives of others. And making the most of the limelight is an organisation with a political agenda to outlaw homosexuality, ban abortions, and force transgender people into silence and suicide.'
The attacks on the hospital – and in particular the abuse of staff involved in Alfie's care – are unfair. There is no sign that he has received anything other than the best professional care. They may well be right that it is kinder to switch off the machines keeping him alive. It is unlikely their prognosis will be proved wrong like in the Ashya King case (where a young boy suffering from a brain tumour was taken by his family – illegally – from a British hospital and flown to the Czech Republic where he received experimental treatment. Three years later, he lives, clear of cancer.) But no one knows and they have no duty to ensure that the child dies.
This is not about medical care. The doctors' authority should have ended when they decided that further treatment was futile. Withdrawing treatment is not, as it has been called, 'execution' or 'murder'. It is a medical judgement that medical intervention can be of no further use. Withdrawing treatment, including treatment that enables the patient to breathe, need not have the motive that it kills the patient. But the hospital has gone to court to argue that continued existence 'would not be in Alfie's best interests'. And the courts have agreed.
Who should decide what is in Alfie's best interests once treatment has stopped? Whereas the religious campaigners might deserve some criticism, it is the courts and doctors who have taken on the Godlike authority to rule on this little boy's continued existence.
This poor, wee empty vessel – his brain has been 'wiped out', as Justice Hayden sensitively put it – is little more than a repository for the stubborn hopes and longings of his parents. For the medical authorities and the courts, Alfie is equally only a vessel for virtue-signalling and for ensuring that the case goes by the book. These experts are far more worried about being seen to be correct, to do the 'right thing' in their own terms, than they are about the many years of anguish his parents will suffer, long after Alfie is gone.
Such officious regard for a being that is hardly there – above and beyond the interests of his parents – is captured by Justice Hayden's bizarre juxtaposition, commenting on the Facebook campaign: 'Alfie's brain as we know is almost entirely water. He has no say on whether these photos are taken.' In other words, I must fight for the interests of a being who I believe cannot and never will be able to have any interests.
That doctors and courts feel that they can – and must – play God should alarm us. Discontinuing futile treatment is reasonable; ruling that continued existence is either in or against an individual's best interests sets a dangerous precedent. Not unreasonably, disabled people worry that courts may one day rule that continued existence is not in their best interests.
Alfie's case indicates that the state's assumption of moral responsibility will be fiercely resisted. Medical authority can only work through a bond of trust between doctor and patients and their representatives. That is gone in Alder Hey.
Kevin Yuill teaches American studies at the University of Sunderland. His book, Assisted Suicide: The Liberal, Humanist Case Against Legalisation, is published by Palgrave Macmillan. (Buy this book from Amazon (UK).)
To enquire about republishing spiked's content, a right to reply or to request a correction, please contact the managing editor, Viv Regan.