Making a mockery of the suffragists
Many of those cheering the Millicent Fawcett statue don't really believe in democracy.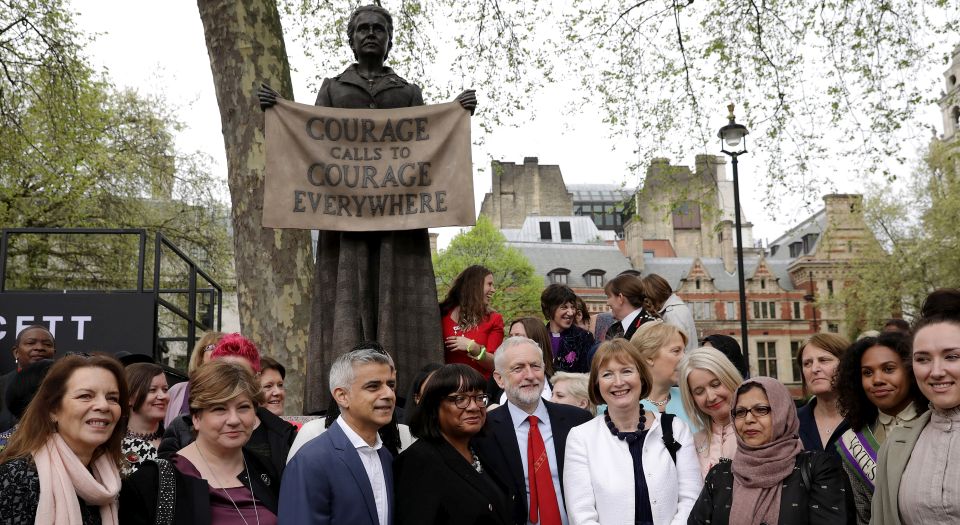 Yesterday, the first statue of a woman in London's Parliament Square was unveiled. Gillian Wearing's sculpture of the suffragist Millicent Fawcett now stands in the company of Winston Churchill, Nelson Mandela and Abraham Lincoln.
I went to the ceremony. The police had shut off roads around Westminster in anticipation of large crowds that never materialised. It seems the excitement whipped up on social by Caroline Criado Perez – the feminist campaigner who started the petition for the Fawcett statue – didn't translate into many women taking an hour off work so that they could witness this supposedly historic event.
There were some nice moments. A suffragist choir sang a few songs. The ceremony ended with a performance from members of the musical Sylvia (the only time Sylvia Pankhurst was mentioned). But even this was a little limp: a microphone breaking down just as a woman was singing about women's right to be heard was somewhat unfortunate.
I really didn't want to be cynical about the event. After all, who could have a problem with commemorating an interesting historical figure? So what if Fawcett was perhaps the safest, most beige member of the women's suffrage movement? Nobody wants to be a scrooge about public art.
But then the speeches started and my resistance to cynicism wavered badly. Every person who spoke, from the London mayor Sadiq Khan to the PM Theresa May, fawned over Criado Perez. This wasn't a celebration of Fawcett: it was the greatest PR stunt and act of self-promotion a feminist has ever pulled off. In her speech, Criado Perez talked about how she had been on a run with her dog through Parliament Square – as you do – when she noticed all the statues were of men. She was so overwhelmed by her need to enact social change that she had to stop running and set up a petition there and then, while standing outside Buckingham Palace. What a saint. Caroline, your tireless fight for social-media followers is an inspiration to women everywhere.
That wasn't the worst part. Both Khan and Criado Perez talked about democracy in their speeches. That this statue is facing the houses of parliament is a symbol of how important democracy is, they gushed. Who do they think they are kidding? Do they expect us to believe that people like them who have spent the past year demeaning and trying to undermine the largest democratic vote in British history – the vote for Brexit – are champions of democracy? Care about voters? Are glad ordinary people can make big political decisions? Come off it!
Just three days ago Criado Perez was cheering an individual who threatened to sue the government to overturn Brexit. And Khan won't shut up about the need to avoid an 'extreme' or 'hard' Brexit – which really means avoiding Brexit, the thing 17.4million people voted for.
The damp-squib ceremony was a perfect display of the political establishment's twisted understanding of democracy. Labour leader Jeremy Corbyn and other MPs were in the front row clapping along to the Fawcett-inspired speeches. Labour loves democracy so much that it is currently agitating for Britain to stay in a customs union, thus undermining voters' demand that we take back control over decisions about trade, law and borders. Lord Finkelstein, whom Criado Perez personally thanked for helping her get Fawcett erected, has voted 'not content' on every debate about the EU withdrawal bill in the House of Lords and supports his fellow Lords in pressuring parliament to 'rethink' the customs union.
May also sounded hollow when she cited Fawcett's words, 'Courage calls to courage everywhere'. There is nothing courageous about erecting a statue to a middle-class woman who argued for cautious and gradual political change to the sound of half-hearted applause from a crowd of middle-class journalists and MPs who are scared of political change.
Real courage in 2018 means standing up for real democracy, something that Millicent Fawcett's modern-day fans aren't too fond of. Forget statues and commemorations. If we want to understand the value of what Fawcett and other women were fighting for – the right of citizens to have a say in politics – we need to defend Brexit.
Ella Whelan is a spiked columnist. Her new book, What Women Want: Fun, Freedom and an End to Feminism, is published by Connor Court. Buy it on Amazon UK and Amazon US.
To enquire about republishing spiked's content, a right to reply or to request a correction, please contact the managing editor, Viv Regan.