They think we're all Enochs now
Demands to ban Powell's 'Rivers of Blood' speech are the latest insult to Leave voters.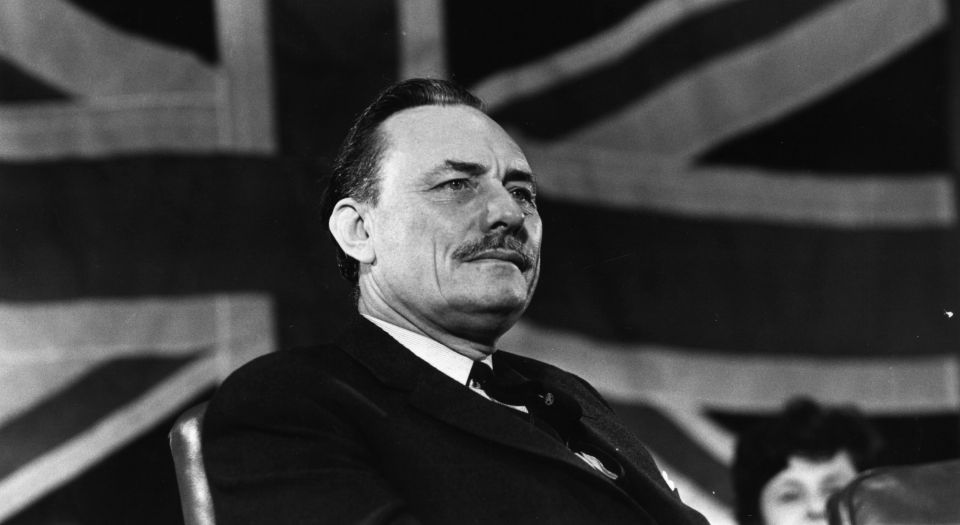 Here are the news headlines. There were no reports of race riots, pogroms or waves of hate crimes across Britain on Saturday night, as the BBC broadcast a radio show marking the 50th anniversary of Enoch Powell's infamously anti-immigration 'Rivers of Blood' speech. In other news, the US, UK and France have bombed Syria…
Why all the overblown fuss about the BBC Radio 4 programme that broadcast the full text of Powell's 1968 speech for the first time? To judge by the political denunciations and demands for a ban and the many 'what next – Hitler's Mein Kampf as Book at Bedtime?'-type tweets, one might imagine that the BBC had cleared the primetime schedules to give the late Powell the full Nuremburg Rally treatment.
In fact, the radio programme, '50 Years On: Rivers of Blood', presented by BBC media editor Amol Rajan, was tucked away in the quiet Saturday evening Archive on 4 slot, where few might have noticed if not for all the calls for it to be taken off air. Far from giving us the full Enoch, the speech was cut up into chunks read by an actor and interspersed with critical commentary that went on rather longer than Powell.
But then, the ruckus over this programme really had little to do with Enoch and the anti-immigrant politics of 1968. The pre-emptive backlash was more about Brexit, and the anti-working-class politics of 2018. The essential message of the protests was that if the demos today heard Powell's words from 50 years ago, they might go straight out to attack Britain's immigrant or ethnic-minority communities and turn the Thames or the Tees into real-life rivers of blood. They think we are all Enochs now.
Ironically, it is these leading Remainers who sound more like modern-day Enochs, echoing a PC version of his warnings about a coming race war caused by anti-immigrant feeling. If Powell's rhetoric was overdone back then, theirs is ridiculous today.
The Remainer elites in the political and media classes believe that millions of Leave-voting proles are basically a xenophobic mob, an anti-immigrant pogrom waiting to happen. Why else, after all, would so many have refused to follow the establishment's instructions to vote Remain in June 2016? Branding 17.4million Leave voters as ignorant racists, manipulated by the 'dog-whistle politics' of populist demagogues, is an easy way to try to explain away the pro-EU elites' humiliating defeat.
After the referendum result, as spiked reported at the time, the UK authorities largely invented a huge increase in hate crimes in an attempt to prove their point about racist Leavers. Now they are so desperate to discredit Brexit that they suggest an extract from a half-century-old speech could somehow 'normalise racism' and presumably convince the British plebs that it's all right to drive their Pakistani or Polish neighbours into the sea.
No surprises, then, that one of the loudest critics of the BBC's Powell retrospective was Lord Adonis, the Labour peer, unelected ex-government minister and Remainer-maniac. Indulging his wild fantasy about the Remain-leaning BBC really being a secret Leave propaganda machine, Adonis bleated on Twitter that the 'BBC is broadcasting Enoch Powell's repugnant racist "Rivers of Blood" speech this Saturday but won't report today's anti-Brexit marches'.
Lord Adonis of Brussels then made headlines by writing to Ofcom, the broadcasting regulator, to demand that the quango ban the BBC from broadcasting 'the worst incitement to racial violence by a public figure in modern Britain'. Ofcom had reluctantly to point out to the ban-happy Labour peer that it can only censure broadcasters after a programme has been shown, not censor them beforehand. And thank goodness for that.
Campaigners today often seek to No Platform speakers they accuse of racism, sexism, Islamophobia, transphobia or holding any other 'offensive' view, largely because they fear that others less sophisticated than themselves might be swayed by the x-phobics. This nonsense takes the No Platform crusade further, seeking to censor even the ghost of a right-wing politician who died 20 years ago. No Platform would have been no answer to racism even back in 1968, confusing banning an idea with defeating it. Today's fashion for No Platforming everything that is not to your taste is far more dangerous than broadcasting a dissected old Enoch Powell speech.
In fact, a glance back at the 'Rivers of Blood' speech shows how much Britain has changed for the better in 50 years. Back then British politics was infused with racism from the top down, with both Tory and Labour governments passing laws to discriminate against black immigrants. True, the British establishment preferred its racism dressed up in more polite language than Enoch; the Labour government's Race Relations Act was passed shortly after Powell's speech, while Conservative opposition leader Ted Heath sacked Powell from the Tory front bench. Nevertheless, retrospective analyses suggested that Powell's anti-immigrant stance played a part in Heath's surprise victory two years later in the 1970 General Election.
By contrast, Britain today is a far more open, tolerant society than in 1968, when I was growing up in Surrey suburbs where racism was not so much acceptable as obligatory. No matter what Adonis and Co might claim, the Leave victory was not a call to kick out immigrants any more than it was a vote for UKIP's Nigel Farage to become prime minister. It was a demand for more sovereignty and democracy, to 'take back control' from the elites both in the EU and at home.
When London dockers famously struck and marched in support of the sacked Powell (yes, there were still thousands of working dockers in London – that's how long ago it was), one carried a placard declaring 'Enoch here, Enoch there, We want Enoch everywhere'. That might sum up the outlook of those who would No Platform Powell today, because they imagine an army of 'Enochs everywhere' waiting to strike at a word from their dead leader.
The danger in 2018 is not that we 'normalise racism'. It is that we allow the elites to normalise the anti-democratic view of the people as a racist mob, and to normalise the authoritarian notion that censorship – even No Platforming a ghost – is more civilised and tolerant than free speech.
Mick Hume is spiked's editor-at-large. His new book, Revolting! How the Establishment is Undermining Democracy – and What They're Afraid of, is published by William Collins. Buy it here.
To enquire about republishing spiked's content, a right to reply or to request a correction, please contact the managing editor, Viv Regan.