Is it now a thoughtcrime to hate Islam?
Why you shouldn't be cheering the jailing of Britain First's leaders.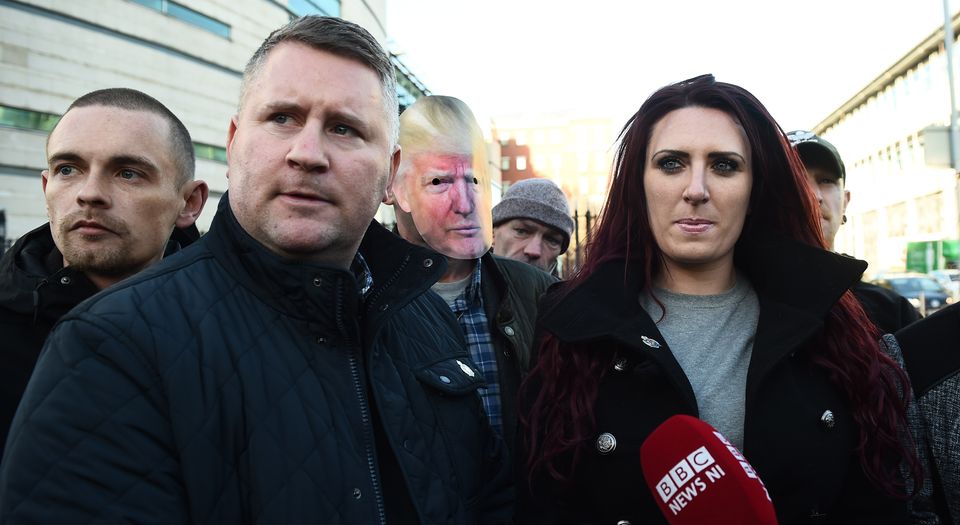 Is it a crime now to be hostile to the Muslim faith? Reading some of the media reporting of the jailing yesterday of Britain First leaders Jayda Fransen and Paul Golding for religiously aggravated harassment, it would seem so. Fransen and Golding were sentenced to 36 weeks and 18 weeks respectively at Folkestone Magistrates' Court for a leafleting and online-video campaign in which, among other things, they yelled at Muslims going about their daily business in Kent, wrongly accused some people of being suspects in a Kent gang-rape case involving Muslim migrants, and caused distress to young people, young Muslims, who witnessed their behaviour. Horrible. Media reports inform us that they have now been imprisoned because, in the words of the judge, 'they "demonstrated hostility" to Muslims and the Muslim faith'.
Demonstrated hostility to the Muslim faith? Our response to that should be: so what? In a free country, you should be perfectly at liberty to 'demonstrate hostility' to the Muslim faith. And any other religion, or creed, or god, or ideology. Indeed, the right not to believe, the right to blaspheme, the right to 'demonstrate hostility' to religion, are hard-won liberties. People died for this. The fact that the media this morning – including the Telegraph, the Guardian and the BBC – are all using the exact same formulation of 'demonstrated hostility to Muslims and the Muslim faith' to describe why Fransen and Golding are going to jail, and the fact that this isn't ringing any alarm bells in public discussion, is a terrifying indicator of how thoroughly we now accept that people's views on religion ought to be a matter for state control and possibly state repression.
The judge's actual words were that Fransen and Golding had 'demonstrated hostility' to 'people of the Muslim faith' in their harassing, obsessive campaign around that Kent rape case. That is, to Muslims. But it is not surprising in the least that the media have reported this as 'hostility to the Muslim faith', nor that much of the media think it is acceptable to punish people for demonstrating such hostility, because the trial absolutely was concerned with Fransen's and Golding's views on Islam. That is clear from the fact that they were convicted of 'religiously aggravated harassment'. That is, they weren't merely punished for harassing people. They were also punished for what they were thinking as they harassed these people, in essence for what they believe: that Islam is bad and Muslims are dangerous. They weren't only punished for what they did but also for what they thought. There's a word for that: thoughtcrime.
Few will shed tears over Fransen and Golding. Britain First is an odious group. Its loathing of Muslims is bizarre and obsessive and highly prejudiced. But here's the question, the question that cuts to the heart of whether or not we want to live in a free society: shouldn't people have the right to loathe Islam? And, a more difficult question, even Muslims? So long as we are talking about thought, about belief, about what happens in the mind, shouldn't there be no state interference whatsoever? Isn't that what freedom, at its very root, fundamentally, is about – that while sometimes our behaviour must be punished, our ideas never should be? Law should punish individuals for what they do, not what they think. Fransen and Golding deserved to be taken to court and convicted for what they did: you cannot harass people, you cannot cause people alarm and distress as they go about their daily lives. But the existence of a law that can punish harassment more harshly if it is 'religiously aggravated', if it is motivated by 'hostility to the Muslim faith', is an illiberal outrage. And the use of this law against Fransen and Golding is nothing to celebrate. They should have been charged with plain harassment; their views on religion are none of the state's business.
Fransen and Golding, like others found guilty under laws that allow for the more harsh treatment of certain offences when they are judged to have been religiously or racially motivated, are possibly partly in jail because of their beliefs. Because they think Islam is stupid, and a threat, and pro-rape, and other things that many, many people will disagree with but which we can surely recognise as beliefs. Many observers seem not to realise that the more they ringfence Islam from criticism or ridicule, the more they treat criticism of this faith as a species of 'phobia', the more they nod as people are partly convicted on the basis of blasphemous thoughts they had while committing an offence, the more they will boost groups like Britain First. Some people are drawn to groups like this because they pose as speaking freely on religious matters, because they say: 'No one else will take on Islam but we will.' The strange, myopic demonisation of thought and speech in relation to Islam allows the likes of Britain First to present themselves as sanctuaries of 'open' and 'brave' discussion. Social cowardice boosts these nasty outfits; censorship is their friend, their sole source of moral authority, their chief recruiter.
There is a dark irony to what happened yesterday. Fransen and Golding are referred to by many as far right and extremist, and there is little doubt that is true. But I would say that having laws that in some situations allow for the punishment of thought is more extreme, and more worrying.
Brendan O'Neill is editor of spiked. Follow him on Instagram: @burntoakboy
Picture by: Getty
To enquire about republishing spiked's content, a right to reply or to request a correction, please contact the managing editor, Viv Regan.