The myth of the NRA's dark money
Republicans fear the anger of the public, not the NRA.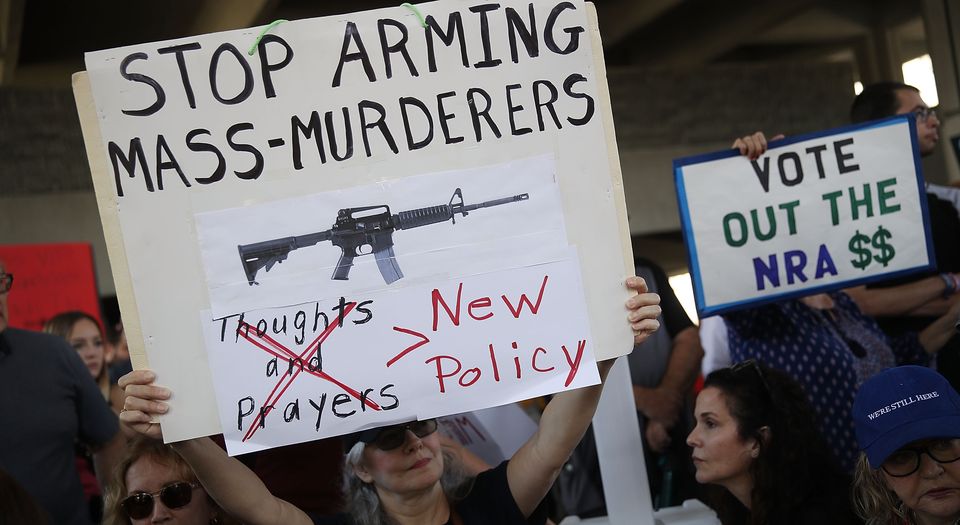 Whenever there is a horrific mass shooting in the US, the question of why Americans don't push for gun control is raised. It is pointed out that polling suggests most voters, across both parties, would be comfortable with more 'enhanced background checks'. Yet many Americans still vote for candidates that oppose such measures, and politicians remain unresponsive to the public's concerns.
The reason for this? The Republican Party has been bought off by the National Rifle Association (NRA), we are told. After the Las Vegas shooting, Jimmy Kimmel claimed that the NRA had the Republican Party's 'balls in a money clip'. Following last week's school shooting in Florida, a New York Times editorial argued that the NRA and its 'congressional servants have been an unyielding obstacle to sensible reform'. The NYT talks of the lobby having a 'stranglehold on our elected officials'.
The idea here is that the Republican Party's professed belief in gun ownership – its attempt to position itself in the American tradition of an armed citizenry – is all a cynical ploy to get NRA funding. Campaign dollars, not the Bill of Rights, are key. Republican politicians are apparently just shilling to the highest bidder. What's more, the NRA is painted as the voice of gun manufacturers, rather than gun owners.
But none of this makes any sense. While it is true that political lobbying and corporate donations have a serious impact on US politics, the NRA accounts for relatively little of it. Despite its all-powerful image, it fails to crack the list of the Top 50 spenders on federal lobbying. Homebuilders, pharmaceutical companies and Amazon all spend more.
According to Politifact, the NRA has spent $203million on political activities since 1998. This may sound like a lot, but it pales into insignificance in comparison to the more than $1 billion spent by the financial industry in 2016 alone. As a recent CNBC comment piece points out, the 'financial industry employs only about six million people in total'. By contrast, roughly one in three Americans owns a firearm.
With gun owners accounting for around 30 per cent of the population, it is only logical that a lobby purporting to represent their interests would play some political role. It just isn't true that it is the NRA's money that allows it to buy the votes of politicians. It composes a tiny fraction of overall political spending or funding – nowhere near enough to blanket purchase politicians' loyalty for every vote on guns in the House and Senate.
At the same time, it is not as if pro-gun-control groups don't spend money to pursue their goals. Billionaire former mayor of New York Michael Bloomberg has attempted to counter the NRA with his own money. The mogul started, in 2014, a lobby group called Everytown for Gun Safety. The group's goal, notes Vox writer Jeff Stein, is clear: 'Get gun control passed by erasing Republicans' financial incentives to stick by the NRA.' It hasn't, however, worked out like that. Despite Bloomberg and his lobby group's deep pockets, most Republican lawmakers have not decided to jump ship. Gun reform remains elusive.
So why do so many voters keep electing officials that won't introduce the 'enhanced background checks' that apparently everyone wants? Because it's not that simple. While voters may tell pollsters that they would not mind increased background checks for purchasing guns, that doesn't automatically translate into voting for 'gun control' candidates.
That is partly because not everyone votes for candidates due to their position on guns. But it is also because many voters who support enhanced checks, while still seeing themselves as supporting gun rights, are also likely to view candidates who support the former suspiciously.
Right now, enhanced background checks are the primary proposals on the table – there is no major politician at present explicitly calling for the seizure of citizens' guns. Since the 2008 Heller ruling of the Supreme Court, which upheld the right to bear arms, most anti-gun politicians have at least had to coach their calls for 'reform' in talk of their sincere respect for the Second Amendment and the rights of gun owners.
But such talk often seems like little more than lip service. Who among those advocating for enhanced background checks would really stop there, and declare America's supposed gun problem solved? One victory for the gun-control lobby opens up the field of vision for another. It is not entirely irrational for the pro-gun side to wonder where it will all end.
Tom Bailey is a spiked columnist. Follow him on Twitter: @tBaileyBailey
To enquire about republishing spiked's content, a right to reply or to request a correction, please contact the managing editor, Viv Regan.