Our cultural highs and lows of 2017
spiked writers on the best and the worst of this year's art and culture.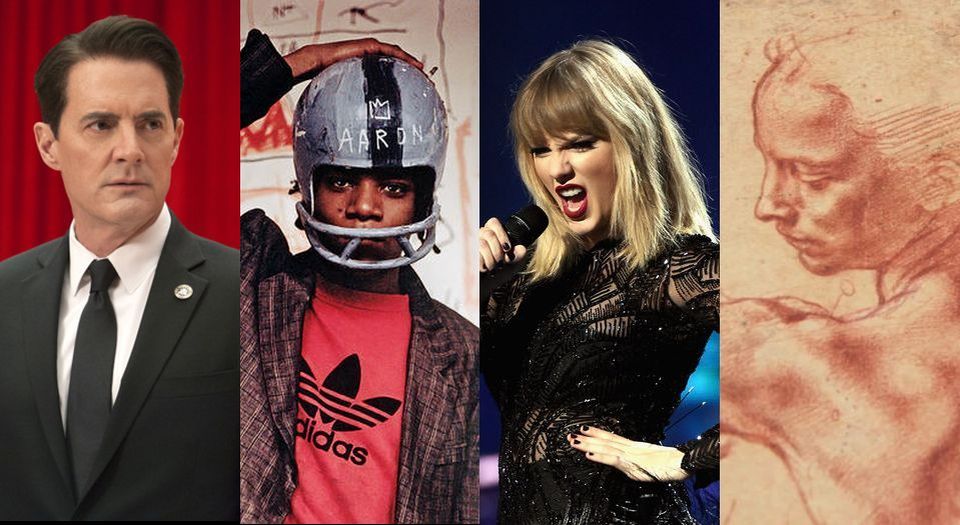 Tom Slater chooses…
High: Basquiat: Boom for Real, Barbican Centre
I went in a sceptic and came out a convert. From the sprawling portraits to the scrappy, fag-stained collages, the works collected here reveal a fizzing, creative mind unlike any other. Basquiat is lauded for being untutored and intuitive. But there's more to his work than pomo primitivism or creativity for its own sake. He obsessed over everything from jazz to anatomy, from New York street life to ancient history. Street art looking at the stars.
Low: Eminem's anti-Trump freestyle
When a BET freestyle is retweeted by Ellen Degeneres, something has gone horribly wrong. It's cool that he hates Trump, so do I. But in this he took aim not just at the Orange One, but at the millions who voted for him, bashing the white-trash deplorables he once stuck up for against sneering liberals. In any case, the bars are terrible: 'You don't got the fuckin' nuts like an empty asylum.' Slim Shady is dead.
Tom Slater is deputy editor at spiked.
---
Andrew Doyle chooses…
High: A Ghost Story, by David Lowery
This film is audacious in so many ways. Casey Affleck's character dies in the first 10 minutes and spends the rest of the film shrouded in a white sheet with eyeholes. The conceit could so easily have been laughable, but very quickly we begin to invest in Affleck's ghost as he observes his wife throughout her mourning process. Against all the odds, it's a powerful and genuinely moving piece of work.
Low: Alien: Covenant, by Ridley Scott
Ridley Scott's original Alien was a brilliant slow-burning horror with Freudian overtones. James Cameron's Aliens was an exhilarating war film which bettered its predecessor. This latest instalment – the sequel to a prequel – is a deeply pretentious, lumbering affair stuffed with vapid exposition and drawn-out set pieces. It's by far the worst of the franchise. At least Alien vs Predator was fun.
Andrew Doyle is a stand-up comedian and spiked columnist.
---
Emily Dinsmore chooses…
High: Reputation, by Taylor Swift
Taylor Swift batting away the haters with the release of her latest album made my year. Her transition from country-girl-next-door to stratospheric superstar has been remarkable. It's no wonder she has amassed such an adoring fanbase. Keep slaying, Tay.
Low: Taylor's anti-Trump haters
My cultural low was the reaction to Swift. Apparently young women should know their place. They can't just be in love with life, they must express anti-Trump views. If they don't, they must be publicly shamed. Swifties like me don't buy this politicisation of pop culture. We don't love Taylor for her political opinions, we love her for her pop music. We choose our politics for ourselves.
Emily Dinsmore works at spiked.
---
Mick Hume chooses…
High: Line of Duty, BBC One
With reborn television continuing to dominate cultural debate, one high this year was series four of the BBC's Line of Duty. As the Sun's TV critic Ally Ross observed, it 'treats the viewers as adults and ignores all the stupid new rules of drama, meaning it's the only show that would ever be brave enough to make an old dinosaur like Superintendent Ted Hastings Line Of Duty's moral compass and turn the obsessively politically correct DCI Roz Huntley into a controlling, ambitious killer'. Whether it is as good as the regular re-runs of Seventies cop classic The Sweeney on ITV4 remains debateable. Special mention goes to series three of BBC Four's Detectorists – giving 'gentle comedy' a good name.
Low: Brexit-bashing 'comedy'
Almost every other BBC and Channel 4 comedy show has attacked Brexit. Even the allegedly dark and dangerous League of Gentlemen revival had Edward and Tubbs vowing to 'take back control' for 'local people' – because Leave voters are parochial psychopaths with tails, geddit? Conformism kills comedy.
Mick Hume is editor-at-large of spiked.
---
Brendan O'Neill chooses…
High: Michelangelo: Divine Draftsman and Designer, Metropolitan Museum of Art, New York
These Michelangelo rooms at the Met have to be seen to be believed. The Met has gathered from across the globe 133 of his drawings, his chalk-and-ink ideas, fading, fragile sketches that somehow survive 500 years on and let us see the cogs of that great brain. He never wanted people to see the labours of his genius — he destroyed most of his sketches so that, in the words of his biographer, 'no one might see the methods with which he tested his imagination, [and] he might appear nothing less than perfect' — but I'm glad the Met has defied his wishes. The Sistine Chapel room is particularly striking: there's a copy of his Sistine painting on the ceiling, and underneath those godly and earthly figures there are the sketches he made of them before he got to work. You feel like you are in a conversation across the centuries, Michelangelo in your ear, on how the Sistine painting came to be. One of the most astonishing rooms of art I've ever seen.
Low: #MeToo censorship
London's supposedly edgy Royal Court theatre pulling Andrea Dunbar's hilarious 1982 play Rita, Sue and Bob Too on the basis that its saucy story of two poor, bored teenage girls having an affair with an older man would 'conflict' with middle-class theatre women's desire to tell their #MeToo stories of harassment was everything that's wrong with these prudish, censorious times. The RC later reversed its decision and said it was shocked to find itself accused of 'censorship'. Someone get these muppets a dictionary for Christmas.
Brendan O'Neill is editor of spiked.
---
Naomi Firsht chooses…
High: John Beasley's MONK'estra
You don't need to be a jazz expert to appreciate what these musicians can do. I saw MONK'estra at Ronnie Scott's in the summer and it was a joy from start to finish. Band leader and pianist John Beasley led the 15-piece band in a celebratory concert inspired by Thelonious Monk's work. Striking the perfect balance between faithful renditions of well-known works and improvisations inspired by Monk, Beasley led the audience through a unique evening of jazz. As the trumpet player rapped, it was clear how much fun the orchestra was having – and it was infectious. See them if you can!
Low: La La Land, by Damien Chazelle
La La Land won six Oscars in 2017 – I can only assume that those who sung the praises of this atrocious excuse for a musical have never seen an MGM classic. Ryan Gosling and Emma Stone might look pretty, but they certainly can't sing or dance. With a totally forgettable musical score, pathetically basic dance routines and a needlessly depressing storyline, Singin' in the Rain this ain't. Watch any five-minute clip of a Gene Kelly dance routine or listen to Judy Garland sing and you'll see how much this movie pales into insignificance next to genuine musical talent. A must-miss.
Naomi First is staff writer at spiked.
---
Wendy Kaminer chooses…
High: The B-Side: Elsa Dorfman's Portrait Photography, by Errol Morris
Errol Morris's intimate portrait of Polaroid portrait photographer Elsa Dorfman is my slightly biased pick for cultural high: Dorfman is a friend, along with her husband, attorney Harvey Silverglate. Morris is similarly biased, having known Dorfman for years, and his affection for her enables their conversation, capturing her charm, decency and idiosyncratic brilliance. They talk in Elsa's studio as she recalls her early years and revisits some portraits of family and friends, including Allen Ginsberg, a close friend until his death. Knowing Elsa is a privilege, but not knowing her can only enhance the pleasure of meeting her in this lovely film.
Low: The war on offensive art
2017 saw numerous efforts to remove and obliterate 'offensive' art. Protesters demanded that the Whitney Museum destroy white artist Dana Schutz's painting of Emmett Till, murdered in 1953 after being falsely accused of whistling at a white woman. Some 9,000 petitioners demanded that the Metropolitan Museum remove a provocative 1938 Balthus portrait of young girl. Both the Whitney and Metropolitan stood by the accused art. But in Minnesota, Native Americans persuaded the Walker Art Center to dismantle a sculpture of a scaffold, which they then destroyed in a ceremonial burning. The artist apologised for having created it. These are only a few examples from 2017; in 2018, more will follow.
Wendy Kaminer is a writer, lawyer and social critic.
---
Ella Whelan chooses…
High: Stranger Things, on Netflix
Fans of the cult classic Twin Peaks will have been glued to Netflix's hit show Stranger Things this year. In today's panicky climate, a show where kids run wild is a welcome change. Offering moments of genuine horror (monsters breaking through walls), as well as a heartbreaking love story between tweenagers, this 1970s-style fantasy has it all.
Low: Mud Muse, by Robert Rauschenberg
Perhaps it didn't help that I was hungover when I was trying to figure out what 8,000 pounds of bubbling muck at MoMA was supposed to mean. It was supposed to gurgle in time to music, I later discovered, but any profound insights were inhibited by the sound of my own stomach gurgling.
Ella Whelan is assistant editor at spiked.
---
Luke Gittos chooses…
High: Call Me By Your Name, by Luca Guadagnino
This is a love story set across one summer in Italy. A young man falls in love with his father's graduate student. It's a brilliant portrayal of what some have called a 'problematic' relationship, largely because the boy is 17 and the man is in his late twenties. But the film is a great tribute to how love can be immune to the rules. The film looks amazing, has wonderful music and has one of the best final shots I have ever seen. I also loved Elmet by Fiona Mozley, a novel which showed what might happen if Cormac McCarthy had set the Border Trilogy in Yorkshire.
Low: The Death of Stalin, by Armando Iannucci
This is my low because of my level of disappointment. I like Armando Iannucci, but this was just not funny. It was not moving. It was not particularly dramatic. It's hard to know what the point of it was. It reminded me of an A-Level drama play some know-it-all might have written to show off about how much they knew about a particular topic, without giving a hoot whether it entertained anyone or not.
Luke Gittos is spiked's law editor.
---
Sean Collins chooses…
High: The Vietnam War, by Ken Burns and Lynn Novick
This 10-part, 18-hour documentary series is challenging and moving, with rarely seen footage and recordings. The first-person perspective from interviewees, from all sides of the conflict, brings out the humanity of all, and makes for absorbing viewing. Burns and Novick do not flinch from the destructiveness and horror of the war, and much of the film is devastatingly sad. But it conveys the hope that we can learn from history.
Low: The petition to remove Thérèse Dreaming at the Met
Some 11,000 people have signed a petition demanding New York's Metropolitan Museum of Art remove from display a 1938 painting by the French artist Balthus. In the painting, a young woman leans backward in a chair, raising one foot and skirt, and exposing her underwear. 'Given the current climate around sexual assault', say the petitioners, 'the Met is romanticising voyeurism and the objectification of children'. The puritanism of #MeToo meets philistinism. Thankfully, the Met is refusing.
Sean Collins is spiked's US correspondent.
---
Christian Butler chooses…
High: Elle, by Paul Verhoeven
Featuring a typically astonishing performance from Isabelle Huppert, this thriller about a businesswoman's complex response to being raped is startling in its deadpan exploration of the darker recesses of sexuality. Verhoeven continues to show how layered, thought-provoking and deeply unsettling thrillers can be.
Low: 'Look What You Made Me Do', by Taylor Swift
As well as being consciously obnoxious, this song is the most half-assed 'badass' reinvention ever, the most inoffensive diss track ever, and the worst Right Said Fred rip off ever.
Christian Butler is a spiked columnist.
---
Fraser Myers chooses…
High: Part 8 of Twin Peaks: The Return, by David Lynch
The eighth episode of Twin Peaks: The Return is among the most captivating, daring and demanding 60 minutes of television ever broadcast. It's David Lynch at his most 'Lynchian', where linear storytelling gives way to an experimental film evoking a new evil unleashed by the first atomic bomb. In a series which eschews straight answers to its many mysteries, we're teased with an origin story which entwines the malevolent spirit of Killer BOB and Laura Palmer, the iconic schoolgirl whose murder set the original groundbreaking series in motion 27 years ago. This was television as high art.
Low: 'Oh, Jeremy Corbyn'
The 'dur dur dur dur dur durr dur' bit of the White Stripes' 'Seven Nation Army' is a six-pint screamer – fun to belt out when boozed up but guaranteed to annoy any innocent bystanders. To hear that same tune (with updated lyrics) day in, day out on the six o'clock news, at televised rallies, or from the mouths of gurning social-media managers at Glasto, left a nation reaching for the hair of the dog. So long as the disciples of St Jeremy continue to bleat out this earsore, it's the many, not the few, who will suffer.
Fraser Myers is a producer at WORLDbytes.
---
Duleep Allirajah chooses…
High: The Vietnam War, by Ken Burns and Lynn Novick
The best TV programme this year was The Vietnam War, an epic series which took a decade to make. Weaving together interviews with 79 participants with graphic war footage, it was masterclass in documentary-making. Another highlight was Puccini's Madama Butterfly at the Royal Opera House, which also has US imperialism as its backdrop. We knew it wouldn't end well but, such was the emotional intensity of Albanian soprano Ermonela Jaho's performance, there wasn't a dry eye in the house.
Low: Black Lake, BBC Four
My cultural nadir was Swedish TV thriller Black Lake, which put paid to the myth that bleak Nordic landscapes plus corpses equals quality drama. Black Lake was grim. But not in a good way
Duleep Allirajah is spiked's sports columnist.
---
Wendy Earle chooses…
High: Beginning, by David Eldridge
At a time when intimate relations are under suspicion, Beginning, a new play by David Eldridge at London's National Theatre, bucked the trend. Set in real time (100 minutes), in the early hours after a party, Danny (played by Sam Troughton) and Laura (Justine Mitchell), both around 40 years old with failed relationships behind them, try to decide whether they want to embark on a relationship. It's alternately funny, excruciating and poignant, with sharply observed dialogue and nuanced performances that illuminate real, flawed individuals.
Low: The rage against Dana Schutz
This year, philistinism and censoriousness in the arts reached new heights. Dana Schutz was charged with 'cultural appropriation' for her painting of Emmett Till, the boy lynched in the 1950s American south. Campaigners called for the painting to be removed from the Whitney Museum in New York, and for Schutz's solo exhibition in Boston to be cancelled. Transgressing cultural boundaries is central to art, and making the arts pay for the wrongs of history solves nothing.
Wendy Earle is convenor of the Institute of Ideas Arts and Society Forum.
---
Neil Davenport chooses…
High: La La Land, by Damien Chazelle.
It might not have matched the Technicolor heights of old Hollywood, but you couldn't fault Damien Chazelle's ambition and storytelling. With the latter, La La Land proved itself pretty radical. By reminding audiences that being young can be transformative and full of possibilities, it went against the fearful and miserabilist tone of the age.
Low: Naked Attraction, Channel 4
This dystopian dating show, in which a clothed person selects a date from six naked people, had all the romance and soul of a rotting mackerel. Dick pics might be popular in certain quarters, but this show only highlighted why they're ill-advised. Nihilistic garbage.
Neil Davenport is a writer based in London.
---
Sabine Beppler-Spahl chooses…
High: La Soirée des proverbes, by Georges Schehadé.
This largely unknown play, written in 1954 by the French-Lebanese author Georges Schehadé, was my discovery of the year. It premiered at Theaterforum Kreuzberg. In this surreal piece, a group of people meet in search of a lost truth. Unable to engage in any meaningful debate, they engage in increasingly absurd conversations. In the end it is through reading that their lives begin to make sense again.
Low: A grim protest
A group of art activists built a replica of Berlin's Holocaust memorial outside the home of an Alternative für Deutschland politician. Instrumentalising the Holocaust can make anyone famous, it seems.
Sabine Beppler-Spahl is spiked's Germany correspondent.
---
Patrick Marmion chooses…
High and low: The Ferryman, by Jez Butterworth
The best show I saw this year was also the worst. The Ferryman is a play about the Troubles coming home to roost in rural Ulster in the 1980s. It's an extraordinary production by Sam Mendes. And yet for all its terrific virtues, with a rich leading performance from William Houston as the tragic hero, it has major problems that brought out the virulent Irish nationalist in me.
Although I'm 100 per cent in favour of cultural appropriation, I'm not comfortable with the English telling the Irish their own stories. The English role in Irish history is too gruesome. Butterworth also tries to spin a tale of romantic Ireland that's reminiscent of The Weir by Conor McPherson or Dancing At Lughnasa by Brian Friel.
For me it fell between stools – it failed to tackle the issues properly and traded in a lot of Irish cliches instead (the old biddy reminiscing about 1916, a sentimental depiction of big families). I think Butterworth knows it, too, which is why he goes for a big melodramatic ending that feels very awkward and contrived. Irish history is not ready for the Waltons treatment. And definitely not by the Brits.
Patrick Marmion is a playwright, journalist and lecturer.
To enquire about republishing spiked's content, a right to reply or to request a correction, please contact the managing editor, Viv Regan.