Red Rebels: the spirit of football past – and future?
The inside story of the FC United of Manchester 'revolution' against the Glazers.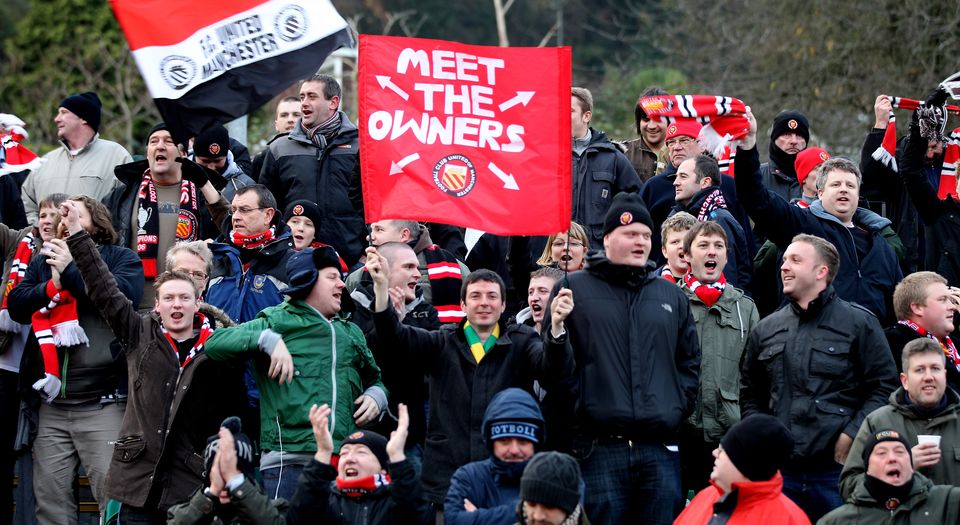 Red Rebels is the stand-out football book of the year. But it's not about the superstar sport previously known as the beautiful game. It is about what happened when diehard Manchester United fans, sick to diehard death of what was being done to 'our club', set up an alternative called FC United of Manchester in 2005.
That club is generally known as FCUM – which can also be read as a mission statement. FCUM was created by fans as a symbol of 'FUCK 'EM' football.
If you want to buy a Christmas book for the United fan who has everything (except a title-winning team, but they come a bit pricey for stocking-fillers), there is no shortage of glossy contenders this year. Understandably, most bathe in the glories of United's past, from Sir Matt Busby: the Definitive Biography (at least until the next one), to Red Glory: Manchester United and Me, by former club chairman and voyeur Martin 'Modesty' Edwards.
Red Rebels is different. It is about a section of United fans, repulsed by the corporate monster the club had become and its debt-laden takeover by the Glazer clan, trying to reinvent the traditional love of football for the 21st century. FCUM's founding 'Punk Football' ethos represents a spirit of football past, and hopefully of football future.
Author John-Paul O'Neill, known to all as JP, was 'obsessed with United' from boyhood, 'mesmerised' on his first trip to Old Trafford by 'the continual hum of the crowd, the fog of smoke hanging over the terraces' – not something younger fans would recognise in today's all-seater, smoke-free and often atmosphere-free stadium. Before long the young JP was a fixture at United games from, as the old Stretford End song says, the banks of the River Irwell to the shores of Sicily.
More recently, JP was editor of Red Issue, the biggest and best United fanzine, for which I was proud to write a column called 'Kicking Against the Pricks – freedom for football!', ridiculing attempts to sanitise the game on and off the pitch. It was in Red Issue that JP first put forward the seemingly lunatic idea of setting up FCUM in response to the looming takeover of United by American chancer Malcolm Glazer, described by a US judge as a 'snake in sheep's clothing'.
There was furious opposition to the prospect of United becoming the private property of Glazer and sons. They planned a heavily leveraged buyout which would mean buying United on credit, then transferring the huge debts on to the club itself – putting at risk the financial future of the richest club in the world. Millions would be sucked out of Old Trafford to pay their interest, while the new owners were left sitting pretty (not a word often used about the gargoyle-like Glazer men).
At the home match against Arsenal in October 2004, protesters closed the Old Trafford megastore operated by Nike, in an optimistic bid to pressurise United's kit sponsor to oppose the takeover. 'It wasn't quite Jesus driving the moneylenders out of the temple', observes O'Neill, 'but the symbolism was there for many of the more traditional fans involved'. Inside the ground the 'mutinous vibe' continued, with an effigy of Glazer hanging from the Stretford End in front of a skull-and-crossbones flag that declared: 'WARNING – USING MUFC MAY RESULT IN SERIOUS DAMAGE TO YOUR HEALTH.'
But it was all in vain. 'On Thursday 12 May [2005] the fight was over' – the Glazers had bought a controlling stake in the club from the Irish Coolmore investors. The proposal by the moderate Shareholders United lobby for fans to buy shares and stop the takeover was exposed as a pipedream: United had been sold for £780million, while most of SU's 30,000 members owned a fiver's worth of shares each.
The Glazer takeover left hardcore United fans divided. O'Neill notes the melodramatic comparisons made with the fall of France to the Nazis in 1940. The club's old leadership would collaborate with the occupying power; most supporters would shrug and carry on as best they could; some would swear to mount resistance from within; and a minority would leave to form FCUM, depicted like DeGaulle's Free French departing for Britain, with cries of 'Traitors!' and 'Judas cunt!' at their backs.
Some of us lifelong United fans never considered joining the 'FCUM Revolution', but we could still empathise with the emotional commitment of those who did. For me, the Glazer buyout was only the latest example of the tension inherent in English football, between the legal fact that the big clubs are privately owned, and the way that fans claim moral ownership of clubs we see as public institutions.
With United, that tension dates to at least 1902, when local brewers bought out the near-bankrupt railwaymen's team of Newton Heath as a vehicle to sell beer, renamed the club Manchester United and soon moved it to Old Trafford. More than a century of financial conniving by the club's owners finally brought us to the nadir of the Glazers. But United has never been 'our' club in the boardroom, and what most fans ultimately care about are results on the pitch, not in the accounts.
Yet you cannot help but warm to the fire and moral fibre of those Red Rebels who set up FCUM as a club to call their own, with each member as co-owner. They faced big hurdles in starting from scratch – where could they play? Against who? – and serious opposition from within Old Trafford.
United manager Sir Alex Ferguson soon lined up behind his new masters. 'They carried on', said the outraged Fergie about anti-Glazer fans in 2006, 'to the degree where they actually thought they should have a say in the running of the football club!'. United figures from former playing legends to leading ex-hooligans denounced the protesters and FCUM. One rare exception was 'King' Eric Cantona, who declared that he shared the FCUM founders' 'passion and their love of the game and their love for the club'. 'To develop this kind of thing, I think it's a bit of a dream, a bit of a utopia. But I like the dreams they have, because it means a lot.' FCUM-supporting veteran United fans repaid le Dieu's faith by appearing as extras in the Ken Loach film, Looking for Eric.
Under the legend 'our club, our rules', the Red Rebels fought on and, remarkably, FCUM started playing just months after the Glazer takeover, in the 10th layer of English football. Taking big away crowds to fill the terraces at tiny grounds in a season-long carnival that one fan recalls as being 'like that very Madchester "second summer of love"', they started to climb through the leagues.
But wintry clouds were already gathering, in the form of a power struggle over exactly whose club it was and whose rules would prevail. The founding principle of 'one member, one vote' was soon being undermined by a bureaucratic clique around chief executive Andy Walsh, known here as 'the Walshocracy'.
The second part of the book details how the FCUM revolution went a bit Animal Farm, with the Walshocracy taking control, trying to impose a MUFC-style code of conduct on co-owners and censor dissenting voices. A blow-by-blow account of an internal power struggle, focused on such seemingly 'trifling' issues as a 50p mark-up on a match programme, might seem a bit distant to some. What gives it a wider interest and adds political spice, however, is that Walsh and his appointed coterie of club officials were 'former associates from the Militant Tendency, the radical entryist group which had tried to take over the Labour Party in the 1980s'.
Since the defeat of the Labour left and its groupie grouplets in the 1980s, there has been a fashion for some activists to retreat from politics into the culture wars – with the 'working-class culture' around football a primary destination. Thus it was that the ex-Militant hacks sought to use FCUM as a vehicle to pursue other ends. One official announced that 'we have never set out to be just a football club' – which was news to JP and other founding members, who had 'always insisted that's exactly what FCUM set out to be: a football club, albeit one with a social conscience'.
No, insisted the 'Walshocracy', the formation of FCUM as a community benefit society 'goes way beyond the frankly limited basis of football politics and actually challenges the basis of Western society'. You can 'actually' imagine the cadre from Militant, the most humourless group on the old left (a title won in the face of some stiff competition), saying that with a straight face.
While the club officials and their allies on the board focused on courting high-profile allies in the charitable 'third sector' and among local politicians and 'bandwagon-jumping celebrities' such as Russell Brand, the club was heading for crisis. Eventually some co-owners rebelled. 'In a blink we had become everything we were meant to be against', one railed on an internet forum, 'old, money-grubbing, self-satisfied and sanctimonious hypocrites. We'd lost it.'
In such a fight, the old political labels of left and right seem as irrelevant as the extinct football positions of inside-left and right wing-half. Like many issues today, the central question was about democracy and control. Central to that was the contested membership status and free-speech rights of club founder JP himself, accused by the new regime of all manner of thoughtcrimes against FC, and even briefly arrested by police. It seemed, O'Neill says of Walsh, that 'our favourite Stretford ex-Trotskyist has learned well the lessons of his old hero's demonisation at Stalin's showtrials'.
Hopefully no spoiler alert is necessary before we reveal that in the end FCUM had its 'second revolution', and the 'Walshocracy' was forced out in 2016. Maybe some of them have returned home to pursue their political control-freakery in Jeremy Corbyn's Labour Party.
Aware of the Animal Farm parallels throughout, O'Neill ends by quoting Orwell on the moral of his self-styled 'fairy story': 'I meant the moral to be that revolutions only effect a radical improvement when the masses are alert and know how to chuck out their leaders as soon as the latter have done their job.' The delay in doing that means FCUM faces an uncertain, indebted future, its progress up football's pyramid stalled. But at least, says O'Neill, the club now has a chance of seeing its own 'golden future time' – a line from 'Beasts of England', revolutionary anthem of Animal Farm.
In the midst of this struggle, JP became so disillusioned with United that he closed Red Issue in early 2015. 'Ten years on', his last editorial said, 'and with every aspect of the game run by bullshitters, imposters and chancers, it serves no purpose us still raging against it all'. But where there is rage, there is surely hope. Red Rebels has a photo of FCUM fans with a banner declaring 'Thank You Red Issue – We'll Keep Kickin' Against the Pricks'. Good slogan, wonder where they got it from?
FCUM is never going to be another MUFC; there is only one United, for better or worse. But while there are rebels like these, the FUCK 'EM spirit of football is not dead yet.
Mick Hume is spiked's editor-at-large. His new book, Revolting! How the Establishment is Undermining Democracy – and What They're Afraid of, is published by William Collins. Buy it here.
Red Rebels: The Glazers and the FC Revolution, by John-Paul O'Neill, is published by Yellow Jersey. (Order the book direct here).
To enquire about republishing spiked's content, a right to reply or to request a correction, please contact the managing editor, Viv Regan.