The Steve Scalise shooting and the hypocrisy of right-wingers
Blaming anti-Trump speech for James Hodgkinson's actions is a dangerous game.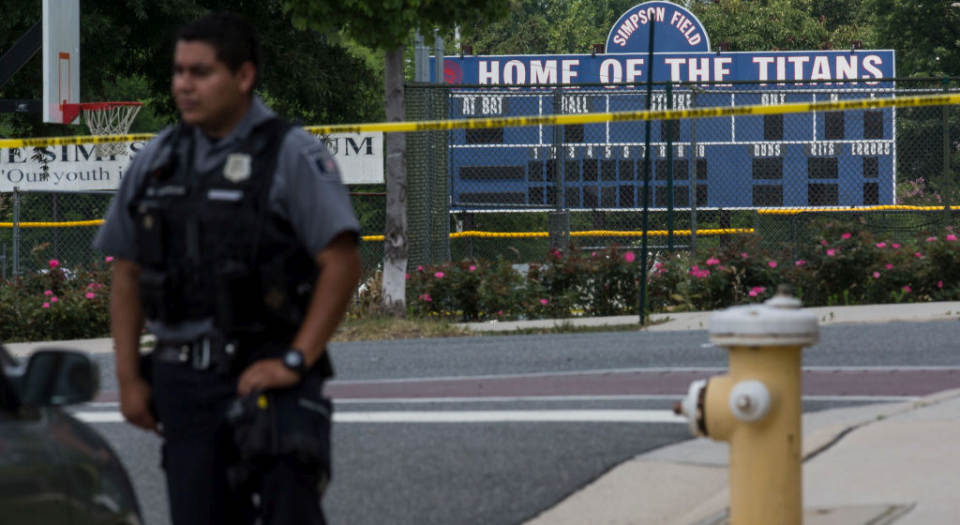 When activists and protesters call on universities or other institutions to cancel speeches, talks or public appearances by controversial figures, they usually do so on the basis that the ideas and rhetoric of the speaker in question create a climate of hate. And within this climate, they argue, violent attacks on certain groups, be they Muslims, transgender people or African-Americans, become more likely.
In fact, activists often argue that if a member of a minority group is attacked on the basis of their group identity, any speakers deemed to have contributed towards a negative view of that minority group must share some of the blame for the attack. The best way to prevent violent attacks on minority groups is therefore censorship. Or so the argument runs.
Over the past few years, this view has been in the ascendancy, especially on American university campuses. Yet, recently, there has been a pushback from conservative and right-wing media outlets. Political speech, they counter, cannot be blamed for acts of violence committed by others. Or at least that is what they have argued when their own speech has been threatened. For when the attacker seemingly holds left-liberal views, then it seems the right-leaning are all too happy to argue that fiery left-wing speech can cause violence.
This is what happened last week after Steve Scalise, a Republican congressman and the majority whip in the House of Representatives, along with a congressional staffer and policeman were all shot as the Republican team were warming up for the annual congressional baseball game. The shooter, James Hodgkinson, who was then killed by police officers, was a 66-year-old Democratic Party supporter from Illinois. He is reported to have been a supporter of Bernie Sanders and an active member of online anti-Republican groups. It has also been reported that before opening fire, he asked his prospective targets whether they were Republicans or Democrats. The answer, Republicans, appeared to be the prompt to start shooting.
Many commentators on the right have seized upon the shooting, citing Hodgkinson's liberal-left credentials to argue, effectively, for the censorship of their opponents. And they have done so by regurgitating the claims of student censors, arguing that the US left's overblown rhetoric about the evilness of Republicans, something the shooter appears to have firmly believed in, is in some way to blame for the shooting.
So according to one commentator, writing in American Greatness, the left has been stirring up 'rancour and division', and has 'impugned and politically assassinated the Republicans'. In the City Journal, another commentator asserts that the 'daily repetition that President Trump is an illegitimate usurper who stole the election through collusion with foreign powers has been a hypnotic incantation in search of an Oswald: a siren call for an assassin'. Likewise, in the National Review, Deroy Murdock blames leftist speech for Hodgkinson's crimes. 'The left's carnage-inducing words and images have reached their apotheosis', he writes. 'Hodgkinson's roughly 50 pulls on the trigger of his SKS 7.62 rifle likely were eased by the constant drumbeat of left-wing violence, blood-soaked imagery and hateful rhetoric about Trump.'
Had Hodgkinson been a Breitbart-reading right-winger attacking a left-leaning politician, many on the right would have rightly rejected the argument that right-wing speech was to blame for his actions. This is precisely what they did when leftists blamed the recent stabbing of two Muslim teenagers by a white supremacist in Portland on Trump's rhetoric about Muslims; and when the shooting of Democratic senator Gabby Giffords in Arizona in 2011 was blamed on the hyperbolic language of the Tea Party movement. Yet, as soon as the roles are reversed, the right is all too keen to blame provocative and inflammatory rhetoric from the left.
Of course, people are motivated by speech and rhetoric. If they weren't, political writing and campaigning would be a waste of time. But attempting to hold a strand of speech and thought culpable for acts of violence committed in its name is a dangerous game. It renders certain things – for example, calling Trump and the Republicans evil – unsayable. Of course, due to the widespread commitment to the First Amendment, few US commentators would be willing to call for a ban on rhetoric that incites hatred. But blaming speech for violent acts can't help but lead to the informal policing of political language.
Giving in to the idea that inflammatory rhetoric causes violence, that passionate politics turns individuals into assassins, deals a damaging blow to free speech. It blurs the line between speech and action. And it reduces audiences to automatons, spurred to commit unspeakable acts by passionately argued talking points. Certain views are effectively prohibited, and certain attitudes are felt to be best left unheard. The problem here is not a climate of hate – it's the creeping climate of censorship.
Tom Bailey is a spiked columnist. Follow him on Twitter: @tBaileyBailey
Picture by: Getty Images.
To enquire about republishing spiked's content, a right to reply or to request a correction, please contact the managing editor, Viv Regan.