The cynical campaign to impeach Trump
Liberals are using legal chicanery to undemocratic ends.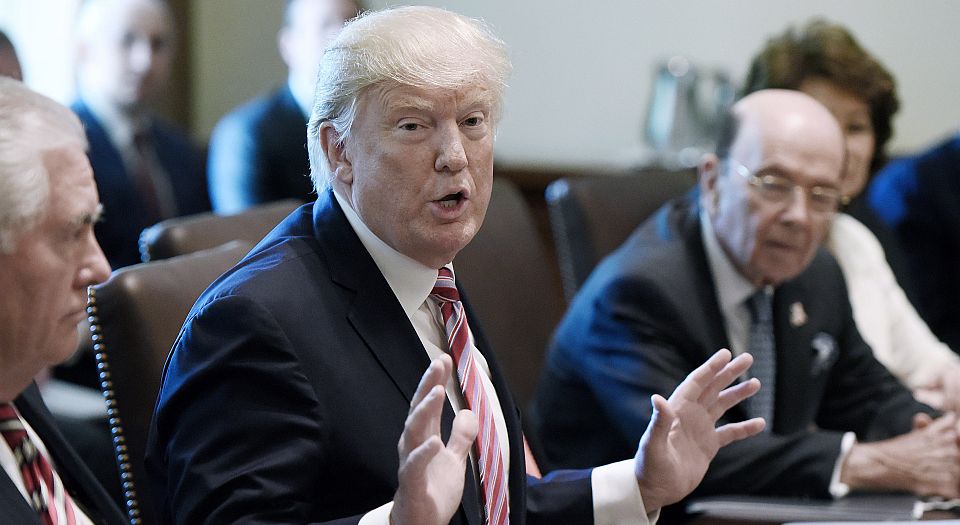 Many American liberals, still sore that their candidate lost the election, continue to wage war against the Trump presidency. Alongside the occasional protest in funny hats, their main means of assaulting this administration is to argue that Trump must be impeached.
The latest piece in the impeachment puzzle is a lawsuit filed in the state of Maryland and the District of Columbia. The lawsuit alleges, as many commentators have done already, that Trump has violated the so-called foreign emoluments clause, which bans presidents from taking money from foreign powers without congressional approval. It is alleged that Trump is accepting foreign money through his global empire of hotels, golf courses and resorts. Apparently foreign state actors are currying favour with the president by splashing cash in his properties.
Trump might no longer be directly in control of his huge business, but if some sheikh spends some petro-dollars in one of his properties, he will still profit. But is this really a case of 'currying favour' with the president? That is far harder to prove.
Whatever the outcome of this lawsuit, the very accusation that Trump is mixing business with foreign political activity bolsters the growing narrative that he is an illegitimate president ripe for impeachment. 'This isn't normal' is the catchphrase of anti-Trumpers. The lawsuits fuel this sense that things are abnormal.
This isn't to say that the district attorneys of either Maryland or DC are politically motivated in filing the lawsuit. But whatever their intention, these legal challenges, and how they are reported on, seem to feed into, and feed off, a narrative that says Trump is actively violating the law and is a president on borrowed time.
Even before Trump assumed office, there was talk of impeachment. One law professor argued in the Guardian in December that Trump should be blocked by the Electoral College, or at least impeached upon assuming office.
Less than a month into his presidency, Time magazine published an article claiming the foreign emoluments clause was grounds for impeachment. The opinion pages of the New York Times and the Washington Post are perpetually filled with articles calling for Congress to start impeachment proceedings.
Whether it's conspiracy theories involving Russia (now discredited thanks to former FBI director James Comey's testimony) or accusations that Trump and his people 'obstructed' the FBI's investigation of him, anti-Trumpers have been reaching for anything they think could be used to start impeachment proceedings.
If it is shown that Trump committed 'high crimes or misdemeanours', then of course he should be removed from office through constitutional means. But the crusade seems to be about finding or even creating facts to suit the already desired political end of getting rid of Trump. Impeachment has been turned from a specific means of investigating a president who has clearly done something wrong into a permanent, catch-all tool for liberals to take vengeance against a president who they hate and who defeated Hillary.
The sustained attempt to have Trump removed through impeachment smacks of desperation. They couldn't beat him in the ballot box so instead they look to the law. Many Democratic-leaning observers and campaigners seem to have given up on winning nationwide popular support in favour of going to the courts. Defeated, demoralised and unsure of how to regain support in key states, Democrat supporters resort to legal chicanery.
Some claim Trump won't be impeached for the simple reason that Republicans control both political houses. Unless something really scandalous happens, Republicans won't throw their own president under the bus, commentators claim. But what happens when he loses friends?
As Jonah Goldberg points out in the National Review, impeachment could become a real possibility. If — and it's a fairly big if — the Democrats regain some control in 2018, impeachment proceedings against Trump could start. After all, the narrative for doing this, the idea that Trump is 'not normal', has already been written.
If this were to happen, it would be disastrous for democracy in America. It would prove to many Americans what they suspect: that their political wishes don't matter. Things have gone so far down the 'let's impeach him!' route that even if Trump were now to do something genuinely suspect, still the launching of impeachment proceedings would strike many of his supporters as a cynical attempt to frustrate the outcome of last November's election — and to frustrate their political views.
Any impeachment now, or in 2018, will be seen by many as another case of the coastal elite asserting its supremacy over the political system. It would seriously damage American political life.
Tom Bailey is a spiked columnist. Follow him on Twitter: @tBaileyBailey
Picture by: Getty Images.
To enquire about republishing spiked's content, a right to reply or to request a correction, please contact the managing editor, Viv Regan.