The Comey bombshell that wasn't
The Trump-Russia conspiracy theories are wearing thin.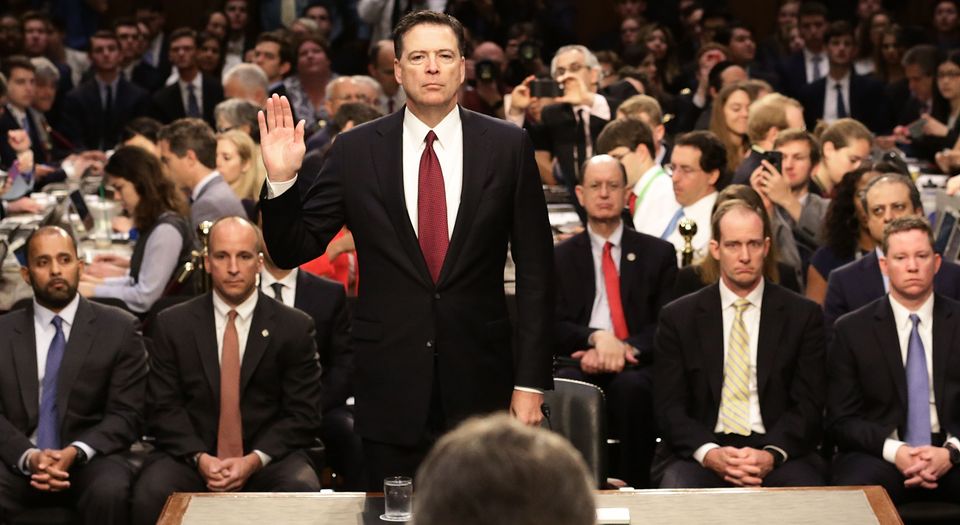 Since J Edgar Hoover, no FBI director, serving or otherwise, has received as much press coverage as James Comey. 

Comey was sacked by President Trump last month, a move that was interpreted as an attempt to slow the FBI's investigation into alleged collusion between the Trump campaign and Russia during the election.
His appearance before the Senate Intelligence Committee yesterday was hotly anticipated, and his testimony was broadcast live on all major US news networks. It was as if Americans across the country were on the edge of their seats, waiting for Comey to reveal The Truth about Trump.
Democratic leaders were certainly watching closely, itching for anything that might take Trump down; anything that would save them having to take responsibility for their crushing electoral defeat last November.
Comey had suggested that Trump tried to intervene in the FBI's investigation, and some hoped that he would serve up clear evidence that Trump was a Moscow stooge, opening the way to impeachment. Unfortunately for them, it wasn't to be.
In his testimony, Comey said that Trump had indeed hinted that the FBI should drop its investigation into Michael Flynn, his former national security adviser. Comey also said that Trump asked for his 'honest loyalty'.
No doubt, this is deeply inappropriate. The president shouldn't be asking for the loyalty of the FBI director, or putting any pressure on him to drop inconvenient investigations. But these allegations don't amount to criminal wrongdoing, nor do they prove any collusion with Russia.
Nothing Comey said yesterday suggests Trump is guilty of directly obstructing the FBI investigation. When he was asked by the committee if Trump had asked him directly to halt the investigation at any time, he said: 'Not to my understanding, no.'

According to Comey, Trump was more desperate for it to be made public that he himself was not under investigation. Though Comey did say he had 'no doubt' that Russia had intervened in some way in the election, Trump is clearly not under personal suspicion.
In many ways, Comey's testimony has weakened the Trump-Russia conspiracy theories. When asked about the now infamous New York Times article published on 14 February, which alleged collusion between the Trump campaign and Russia, Comey said, 'In the main, it was not true'.
Trump was out of line when he suggested Comey should back off Flynn; he appears to have little respect for the established norms of the presidency. But he does not seem to be guilty of anything criminal or impeachable, and he is not some sort of Manchurian candidate, as far as we know. The Trump-Russia conspiracy theories are beginning to wear thin.
Tom Bailey is a spiked columnist. Follow him on Twitter: @tBaileyBailey
Picture by: Getty Images.
To enquire about republishing spiked's content, a right to reply or to request a correction, please contact the managing editor, Viv Regan.