After London: let's start talking about Islam
Protecting Islam from ridicule has had disastrous consequences.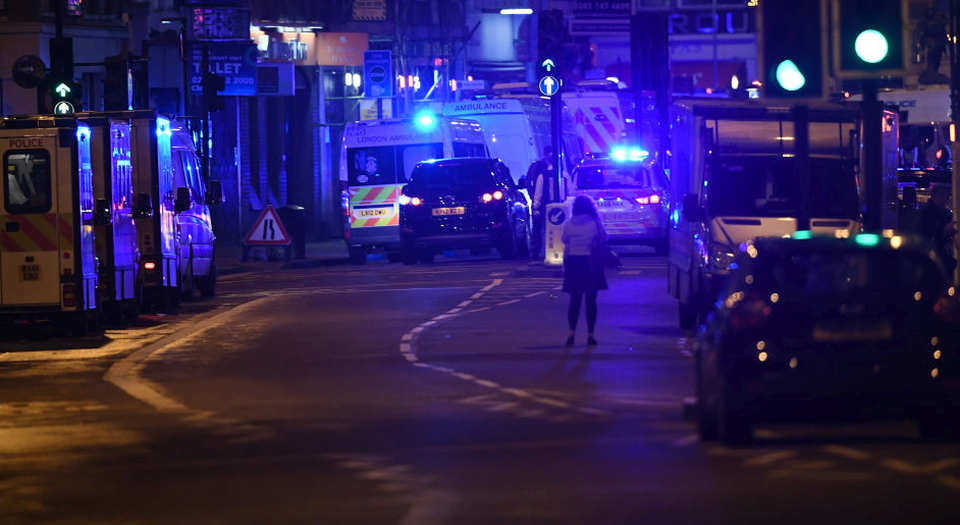 Another month, another terror attack. Britain's third in three months. This time the targets were Saturday-night revellers in London Bridge and Borough. Mown and stabbed for the crime of having fun, of being free. And already we are seeing the same craven, baleful response that follows every act of Islamist terror. 'Watch out for an Islamophobic backlash', aloof observers say, their minds always more agitated by the thought of stupid white people saying something rude about Islam than by acts of Islamist mass murder. 'Don't say anything bad about this wonderful religion or its adherents', they tell us. This is a really bad response, because it is becoming increasingly clear that one of the major problems we face today is not that our society is too mean about Islam, but that it flatters Islam too much.
Islam now enjoys the same kind of moral protection from blasphemy and ridicule that Christianity once (wrongly) enjoyed. All last week, for example, I received furious emails and messages in response to two articles I wrote about the Manchester attack, telling me I was wrong to defend the use of the phrase 'Islamist extremism'. That term has an Islamophobic bent to it, we're told. It demeans Islam and its adherents by suggesting they have something to do with terrorism. You should just say 'extremism', not 'Islamist extremism'. Don't ever name the extremism, don't label it, because you might hurt people's feelings.
This is why our political leaders so rarely use the terms Islamism, radical Islam and Islamic terrorism: because they want to avoid offending Islam and also because they don't want to stir up what they view as the public's bovine, hateful prejudices. This censorious privilege is not extended to any other religion. We do not avoid saying 'Catholic paedophiles' about the priests who molested children for fear of tarring all Catholics with the same brush. We happily say 'Christian fundamentalist' about people who are Christian and fundamentalist. We use 'Buddhist extremists' to describe violent Buddhist groups in Myanmar. And yet Islam is ringfenced from tough discussion; phrases which at some level include the word 'Islam' are tightly policed; criticism of Islam is deemed a mental illness: Islamophobia.
This is incredibly dangerous. This censorious flattery of Islam is, in my view, a key contributor to the violence we have seen in recent years. Because when you constantly tell people that any mockery of their religion is tantamount to a crime, is vile and racist and unacceptable, you actively invite them, encourage them in fact, to become intolerant. You license their intolerance. You inflame their violent contempt for anyone who questions their dogmas. You provide a moral justification for their desire to punish those who insult their religion.
From the 7/7 bombers to the Charlie Hebdo murderers to Salman Abedi in Manchester, all these terrorists — these Islamist terrorists — expressed an extreme victim mentality and openly said they were punishing us for our disrespect of Islam, mistreatment of Muslims, ridiculing of Muhammad, and so on. The Islamophobia industry and politicians who constantly say 'Islam is great, leave Islam alone!' green-light this violence; they furnish it with a moral case and moral zeal.
There are no quick fixes to the terror problem, but here is a good start: oppose all censorship and all clampdowns on offence and blasphemy and so-called 'Islamophobia'. Every single one of them, whether they're legal, in the form of hate-speech laws, or informal, in the guise of Twittermobs against those who criticise Islam or self-censoring politicians being literally struck dumb on TV because they cannot muster up the word 'Is… is… is… Islamist'. This will at least start the process of unravelling the Islamist victimhood narrative and its bizarre, violent and officially sanctioned sensitivity to criticism. And if anyone says this is 'punching down' — another intellectual weapon in the armoury of Islam-protecting censorship, designed to demonise awkward questions about certain religious and ideological beliefs — tell them that it is in fact punching up: up against a political class and legal system that has foolishly and outrageously sought to police criticism of a religion.
What this means is that the supposedly correct response to terror attacks — 'Don't criticise Islam' — is absolutely the worst response. It pours petrol on fire. It inflames the violent religious narcissism and self-pity that motors many of these attacks. Making criticism of Islam as commonplace and acceptable as criticism of any other religion or ideology is the first step to denuding Islamist terrorism of its warped moral programme, and it will also demonstrate that our society prizes freedom of speech over everything else — including your religion, your God, your prophets, your holy book and your feelings.
Brendan O'Neill is editor of spiked.
Picture by: Getty Images.
To enquire about republishing spiked's content, a right to reply or to request a correction, please contact the managing editor, Viv Regan.