After Manchester: the cowardice of feminists
'Toxic masculinity' had nothing to do with this barbaric attack.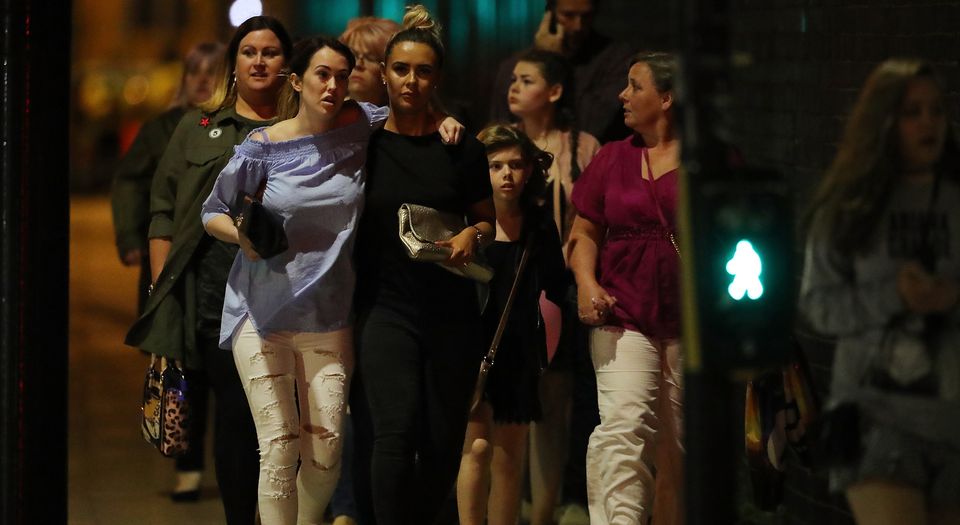 The response to the terrorist atrocity carried out in Manchester on Monday has been peculiarly muted. Twenty-two people are dead, many of them children, the youngest just eight. Yet while there is undoubtedly sadness, as Brendan O'Neill has written on spiked, anger seems absent. Fury and rage have been squashed in a determination to stick to a narrative of keeping calm, carrying on and choosing love not hate.
Anger leads to awkward questions. Who organised this attack? How? Why? What would motivate someone to target a pop concert, to stand among parents waiting to collect their children and deliberately set out to kill as many young people as possible? There seems to be a fear that asking these questions, naming Salman Abedi and looking into his background, will unleash Islamophobia. Rather than focusing on why a man born and brought up in the UK chooses to butcher his fellow citizens, we are instead offered a mixture of platitudes about unity, and generalities that absolve individual terrorists of all responsibility for their actions.
The push away from blaming individuals, particularly individuals with a connection to radical Islam, and the focus on more general point-scoring began almost as soon as news of the bombing broke. Just hours after the attack, feminist writer and speaker Jaclyn Friedman tweeted: 'Here is what the coverage will not say: targeting an Ariana Grande concert is targeting young women. This is a violent act of misogyny.' In narrowing the victims to young women, and at the same time expanding the motive to misogyny, the specific actions and motivations of the terrorist are diminished.
The argument that the bombing was 'a massive act of gender-based violence' has continued. The headline of one article, 'The bombing at a Manchester Ariana Grande show was an attack on girls and women', is as simplistic as it is inaccurate. Most obviously, it overlooks the fact that men died in the attack too – fathers, brothers and boyfriends attending the concert or waiting to take people home. The author goes on to explain how 'Grande has advanced a renegade, self-reflexive sexuality that's threatening to the established heteropatriarchal order'. Rubbish. Grande's Nickelodeon cuteness combines bunny ears with pink balloons. She's loved by teen girls because her sexuality is safe and fun and threatens no one.
The idea that the Manchester attack was driven by misogyny shifts the blame on to all men: 'It's not Muslims or people with mental-health problems who are most likely to kill you in a terrorist attack – it's men', claims another headline. This not only absolves the individual perpetrator but prevents a more specific analysis. In blaming all men, discussion of gender roles in Islam, and criticism of the way some interpretations of Islam view women and girls, is closed down. In the aftermath of the Cologne attacks of 2015 and the child-abuse cases in Rotherham, Oxford and Rochdale, feminist commentators were quick to criticise any focus on the ethnicity, rather than the gender of the perpetrators.
Focusing on Grande's performance and her particular audience prevents links being drawn between what happened in Manchester on Monday and what has happened in Paris, Nice, Berlin, Tunisia, Afghanistan, Iraq and Egypt. In presenting terrorism as part of a broader gender war, feminism ultimately reduces mass murder to just another example of everyday sexism.
We're told terrorism is not caused by nihilistic, murdering terrorists but by 'toxic masculinity'. This 'hateful, toxic masculinity' is not unusual but 'bred among us in the everyday', apparently, and its roots lie 'in male entitlement and structures that promote masculine supremacy'. Individuals are no longer held to blame for terrorism, instead they are provided with the excuse 'toxic masculinity made me do it'. But it wasn't an abstract notion like 'toxic masculinity' that killed 22 innocent concert-goers, and it wasn't men in general. It was one man in particular: Salman Abedi.
The Manchester bombing has so far claimed 22 victims and left 59 people hospitalised. But it was also an attack on all of us, on our way of life and our most fundamental liberties. To present it as a specifically gendered attack ignores the threat terrorism poses to Enlightenment values and liberal democracy more broadly. We need to be able to name Salman Abedi. We need to be able to discuss why sections of our society have grown so detached they contemplate mass murder. And we need to be able to talk about the role radical Islam plays in terrorism if we are to stop such attacks becoming a regular part of our lives.
Joanna Williams is education editor at spiked and the author of Academic Freedom in an Age of Conformity.
To enquire about republishing spiked's content, a right to reply or to request a correction, please contact the managing editor, Viv Regan.