Macron: président of a fractured France
Naomi Firsht finds Parisiens less than enthusiastic.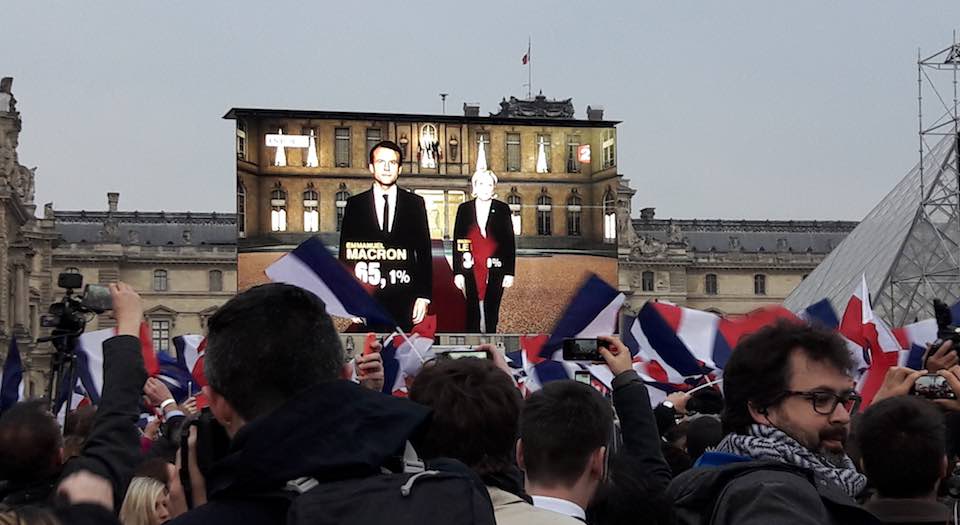 The esplanade of the Louvre was a sea of tricolore flags, as the giant screens showed just 10 seconds until the results. The crowd began to count down, before exploding into cheers as the result we knew was coming lit up the screen. Emmanuel Macron, the 39-year-old political newcomer and independent centrist candidate, was announced as the president-elect of France. He won a whopping 66.09 per cent of the vote, crushing Marine Le Pen.
The mood among the crowd was pretty jubilant. 'I'm very, very, very happy and relieved', said one woman. 'I was afraid Marine Le Pen would win, I was even having nightmares about it.' Philippe said: 'I'm very happy. Not only because we defeated Le Pen, but because we have chosen a young president, so perhaps we will have a younger, more dynamic France for the future.' A couple of cheering students told me they supported Macron from the beginning. Another jubilant Macron supporter, Gilles, was pleased to see a centrist candidate win – he believes it will be the start of a new tri-party politics with a left, a right and a centre.
Macron arrived at the Louvre a few hours later to deliver his victory speech. He declared: 'What we have done today has no precedent and no equivalent. People said it was impossible, but they didn't know France.' He is right that his campaign and subsequent victory are political firsts for France. Macron launched his movement, En Marche!, little more than a year ago, and announced his presidential bid last November. He worked as economy minister under outgoing president Francois Hollande, but he has never held elected office, until now. At the beginning of his campaign no one thought he would get anywhere. And yet, by the end of the election, after a series of shocks and upsets, Macron's victory was perhaps the only predictable outcome.
Macron has divided French opinion. Some think his youthful exuberance and the liberal reforms he wants to make to the labour laws could reinvigorate the French economy and reverse the trend of high unemployment. Others, however, see him as little more than the newest version of establishment politics and the heir to Hollande's unpopular presidency. Many in the ruling Parti Socialiste pledged their support to Macron – including former prime minister Manuel Valls – over their own party candidate, Benoit Hamon.
Those celebrating at the Louvre were mostly a young crowd, but Macron should be under no illusions about a new centrist consensus among young people. In fact, after the first round of voting, polls showed that he came third among the 18- to 24-year-old age group, behind leftist Jean-Luc Mélenchon and Marine Le Pen.
At Place de la République, after the result was announced, I discovered plenty of disgruntled young people, unhappy with the turn French politics has taken. A 19-year-old told me he voted for Macron, but remains 'disgusted by that': 'I told myself it's a little less bad than voting for Marine Le Pen.' He voted for Mélenchon in the first round, but again was not completely 'satisfied' with the candidate. 'There have been very few ideas, it's just been a political spectacle', he says of the election. Marie, 22, said: 'I hesitated for a long time over whether to vote, or not vote, or spoil my vote… Finally I resigned myself to voting for Macron against Le Pen.' She said it was a 'choice of rejection', and told me about plans for an anti-Macron demonstration the next day.
Simon, an artist, was not optimistic for the future, and voted only at the very last minute. 'On the one hand, it's a relief because we've got rid of a certain oppressive political weight on the system. But at the same time, it could be even worse', he said. 'I drank a bottle of whisky before I went to make sure I wasn't conscious when I voted.' When I asked who he voted for, he said 'I voted to not vote for Le Pen'. Simon pointed out that Front National is a leading party among the working class. 'That's why I didn't really want to vote, because I didn't want to vote against the working class… This was a revolt of the working-class against a revolt of the upper-class.'
As the evening wore on there was a sudden flurry of noise and activity, and several police vans zipped by, sirens blaring. According to reports, there were some anti-fascist protests taking place in Ménilmontant, north-east Paris. Some of the people at République attempted to enter the metro to join the protest, but were deterred by the large number of police decked out in riot gear inside the République metro station.
Figures from the Ministry for the Interior estimate that the abstention rate in the election was at 25.3 per cent, which makes it the highest abstention rate since 1969. There was also a record number of blank and spoiled votes. Anne Jadot, political science professor at the University of Lorraine, told AFP: 'That would make a total of one French person in three who has chosen to not make a choice between the two candidates.'
When I was chatting to people earlier in the day about their voting choices, several talked about 'blocking Le Pen' before anything else, and I met a few who planned to abstain or spoil their ballot. Real-estate worker Jean-Francois told me he would do a 'blank vote' because 'neither candidate pleases me'. He said the quality of this election was 'disappointing' and 'shameful'. In a busy cafe in north-east Paris, architect Sofiane said: 'I've voted in every election since I had my electoral card. But this time I will not vote.There is no point.'
Those celebrating at the Louvre were ecstatic about Le Pen's crushing defeat, but this must be put in context. Yes, Le Pen failed to get close to her predicted 40 per cent (she received 33.94 per cent of the vote). But that's almost twice as much as her father and former FN leader Jean-Marie Le Pen received when he was beaten in a landslide Jacques Chirac victory in 2002. And Marine's defeat in this election doesn't detract from the fact that she has run a hugely successful campaign and has put her party in the strongest position it has ever been in.
Macron's rapid and surprising rise to the Elysée is certainly impressive. But beating Le Pen is the easy bit. Getting his plans through parliament will not be so simple. Macron says he will put forward an En Marche! candidate for every seat in the upcoming parliamentary elections in June, and hopes to win a majority. But, unlike the presidential election, in June French voters will not be choosing only between En Marche! and FN — they will once again have a wide range of candidates to choose from.
Having spent the past few days in Paris, I got the overwhelming impression of a very fractured France. People feel rightly let down by the level of debate and the lack of ideas in the election, and there is an underlying sense of anger and frustration. Macron told his supporters, 'The task ahead is immense'. This is perhaps the only statement on which he will find all of France in agreement.
Naomi Firsht is staff writer at spiked and co-author of The Parisians' Guide to Cafés, Bars and Restaurants. Follow her on Twitter: @Naomi_theFirsht
To enquire about republishing spiked's content, a right to reply or to request a correction, please contact the managing editor, Viv Regan.