Get Out: clever satire or lowbrow horror?
This great pulp movie tries too hard to be political.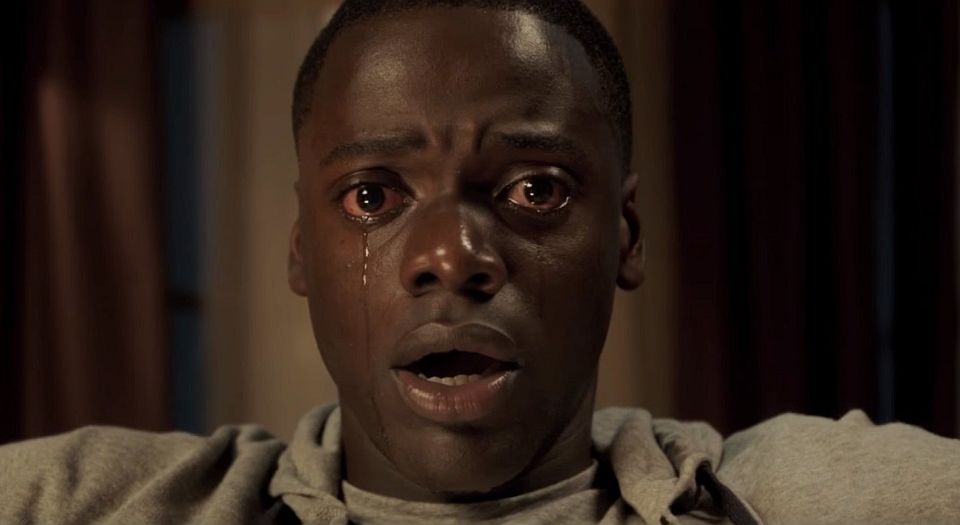 Get Out is a horror movie with the simple premise of an African-American man visiting the estate of his white girlfriend's parents. This being a horror film, the estate is of course isolated, and the parents' intentions are not as good as they first appear. Written and directed by Jordan Peele, one half of comedy duo Key and Peele, Get Out stands out from most commercial horror flicks in its portrayal of white/black tensions, specifically through satirising so-called 'West Wing liberals'. Filmed on a low budget without major stars, the film has become a huge box-office success in the US.
The film is driven by a slow-building atmosphere created by unsettling pleasantries and unnerving banalities, which slowly give way to an insane conspiracy that motivates everyone in the film expect the main protagonist. Think Rosemary's Baby or The Wicker Man. A huge part of the film's momentum comes from anticipating what is going on around our protagonist without him knowing. It features knowingly absurd dialogue and the plot device of hypnotism.
Even before anything bad goes down, it is clear the characters inhabit a racialised world where skin colour is on everybody's mind. The first words we hear from our protagonist Chris is when he asks his girlfriend Rose if her parents know he's black. On the way to the estate, the police stop their car when Rose accidentally hits a deer, and asks for Chris's driver's license, even though Chris wasn't driving the car. They arrive at the parents' estate to find they have two black servants. Dad asks the couple how long their 'thang' has been going on, and states his admiration for people like Jesse Owens and Barack Obama. Of all the parents' strange white friends, only one person makes no comment about Chris's race… and he's blind. 
Through this portrayal of microaggressions and casual racism, we discover that all the white people in the film are psychotic, and have extremely sinister motives in relation to African-Americans like Chris. There are no normal white people in the movie. Is this how Peele sees white people in society? It is notable that Chris expects racism before anything horrific even happens to him. He has a certain paranoia, a feeling whites are out to get him – and it turns out they are. Or perhaps the awkward racial-chatter scenes are just designed to add to our sense of discomfort by tapping into contemporary tensions about race. Peele's intentions are unclear.
But Peele is a director with flair, and Get Out's visual storytelling is superior to most modern horror flicks. The film is very clever at highlighting minor visual details which slowly become leitmotifs signifying future events. Chris, played excellently by Daniel Kaluuya, is a nicely rounded character whose traumatic childhood provides a fleshed-out tragic flaw that becomes central to the story. The plot is structured superbly.
Leaving aside the vague racial satire, Get Out works as great pulp entertainment. It revels in the absurdity of horror flicks, especially through inverting the genre's creepy tropes. The film's last act is brilliantly cathartic and violent, and outrageous in the tradition of the best Blaxploitation. Peele's background in comedy is apparent throughout, especially through the character of Rod, an airport security officer played by Lil Rel Howery who provides comic relief. At first a minor presence, he becomes more prominent as the movie goes on, counterbalancing the horrific sequences.
Get Out is fabulous horror. But it sometimes feels thought-provoking for the wrong reasons. Its satire is sometimes unclear rather than ambiguous. It is mindless entertainment that tries to be a bit too mindful: the high-minded racial satire distracts from the lowbrow charm. Regardless, Peele, making his directorial debut, has shown us his great potential as a filmmaker. 
Christian Butler is a spiked columnist. Follow him on Twitter: @CPAButler
Watch the trailer for Get Out:
To enquire about republishing spiked's content, a right to reply or to request a correction, please contact the managing editor, Viv Regan.