Yvette Cooper: the witchfinder-general of the web
Cooper is on a crusade to cleanse the internet. We must stop her.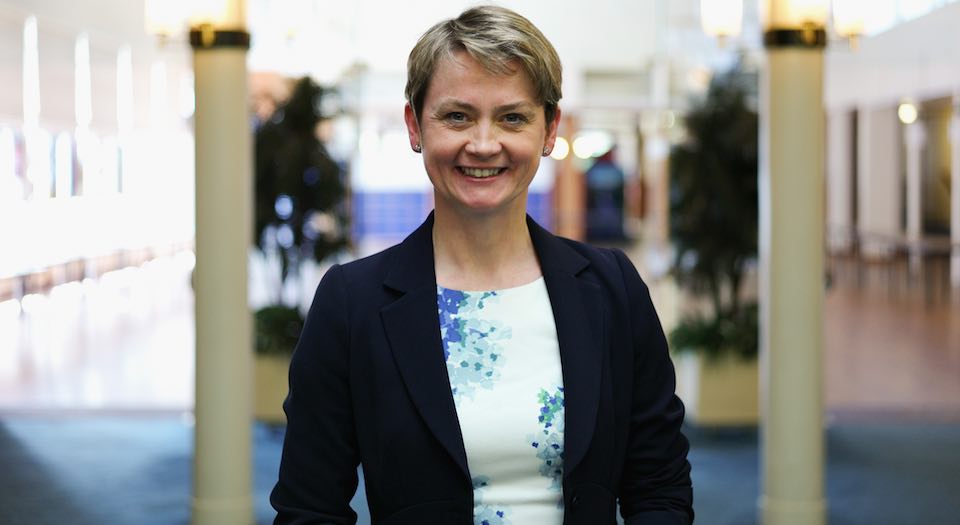 Three grown men were subjected to a humiliating interrogation on Tuesday. Their crime? There was none. Google's Peter Barron, Facebook's Simon Milner and Twitter's Nick Pickles faced a three-hour grilling by the UK Home Affairs Select Committee, headed by MP Yvette Cooper, as part of the committee's inquiry into hate crime. Like naughty schoolboys brought before their disapproving headmistress, the witnesses were made to squirm as they were accused of 'commercial prostitution' and profiteering from hatred.
While quizzing the social-media directors, Cooper referred to YouTube videos posted by neo-Nazis, and one by white supremacist David Duke. MP James Berry said it took him 'two seconds' to find abusive tweets while searching on Twitter's platform. References were also made to the recent BBC investigation that revealed a number of sexualised images of children on Facebook.
The directors were questioned on whether they are upholding their own community standards and guidelines on what kind of material can be posted. But the scope of the inquiry is confusing. Sexualised images of children surely come under the crime of paedophilia — nothing to do with hate speech, or even hate crime.
In truth, this inquiry is not looking into crime as most of us would understand it. It says it is examining 'hate crime and abusive content on [social media] platforms', yet much of the MPs' questioning is really focused on content that they claim constitutes 'hate speech'. In fact, according to the government's own written evidence to the committee, in the majority of cases where there is concern about social-media posts, those posts 'do not cross the threshold into criminal behaviour'. This inquiry is about speech, and when it should be silenced.
YouTube, Twitter and Facebook all have guidelines on what kind of content is acceptable on their sites, and whether something is 'hate speech' will always come down to a judgement call. Barron, Google's vice-president of communications and public affairs, made this point when defending YouTube's decision not to remove the David Duke video entitled 'Jews admit organising white genocide'. He said:
'There is no clear definition of hate speech in British law. We have our own guidelines around hate speech. The guideline that we follow, which is very close to the law, is that a general expression against a country, for example, wouldn't qualify as hate speech, but if you are promoting or advocating violence against a particular group based on their race or ethnicity, that would constitute hate speech. I accept that those are very nuanced judgements and that we are right on the borderline… I would just emphasise that our teams are making highly principled decisions and debating these issues with a lot of intensity; we are not looking at these questions lightly.'
Cooper has made it clear that real crimes are not her priority here. After further interrogation on the Duke video, she said the video breaks the bounds of 'common decency'. 'I think most people would be appalled by that video and think that it goes against all standards of common decency in the United Kingdom', she declared. So now it is part of MPs' role to protect 'common decency'? As Barron pointed out, YouTube is not defending the content of the Duke video, but there is the small matter of freedom of expression to be taken into account.
Free speech is of no concern to Cooper and her colleagues, however. Pickles, Twitter's head of public policy in the UK, was questioned over a Twitter account which included the hashtag #deportallmuslims, which had not been taken down. Cooper also complained that she hadn't received a response after complaining about a tweet about Angela Merkel. It said: 'This German bitch needs a bullet in the head.' That tweet was 'pretty vile', said Cooper.
In Cooper's view, all 'vile' online content should be blocked or removed, lest it break the sacred bounds of 'common decency'. This is shocking. What right does an MP have to dictate what can and cannot be said on the web? Cooper seems to think she has every right. She kept asking the directors why posts that she and her committee had flagged up were still online. The sinister and shocking message is that if an MP says it's wrong, then it's wrong, and it has to go.
Cooper has form with online censorship. Last year she led the Reclaim the Internet campaign, designed to make the web a 'safe' place for women. Cooper is obsessed with online safety. Under the guise of keeping the public safe, she seems seriously to believe that all content which doesn't adhere to her own vision of acceptability must be banned. Never mind if free speech gets trampled in the process.
Throughout the inquiry, Barron raised the issue of free speech. Cooper mentioned it only once, and then only as a stick with which to beat her witnesses. She said to Pickles: 'Surely as an organisation that has in your previous evidence promoted free speech, you would not criticise people for criticising you as part of their free speech.'
Video clips of the inquiry make for uncomfortable viewing. Cooper is imperious, fixing the directors with a stern glare. The directors are snapped at, rebuked, subjected to hysterical accusations and outbursts from the committee. MP Chuka Umunna accused Barron of making money from peddling hatred, in reference to the advertising revenue YouTube makes from videos. Labour MP David Winnick thundered: 'Do you feel any shame at all about the things that my colleagues have been referring to and what has been distributed on Facebook and Twitter? Do you feel any shame whatsoever?' He continued: 'Presumably the answer is no. You feel no shame, do you, Mr Milner, Mr Barron, Mr Pickles?'
A Home Affairs inquiry is not a courtroom, so why did this feel so much like a showtrial? In their pursuit of an online world in which only nice things are said, Cooper and her cronies have effectively launched a witch hunt. Alarm bells should ring whenever a politician meddles in what people can say and see online. In insisting upon 'common decency', Cooper is starting down the slippery slope of state censorship. She needs to understand that this is not in her remit. The internet doesn't need a headmistress.
To enquire about republishing spiked's content, a right to reply or to request a correction, please contact the managing editor, Viv Regan.