Thou shalt not 'make light' of gay marriage
A beer boycott Down Under shows how authoritarian gay marriage has become.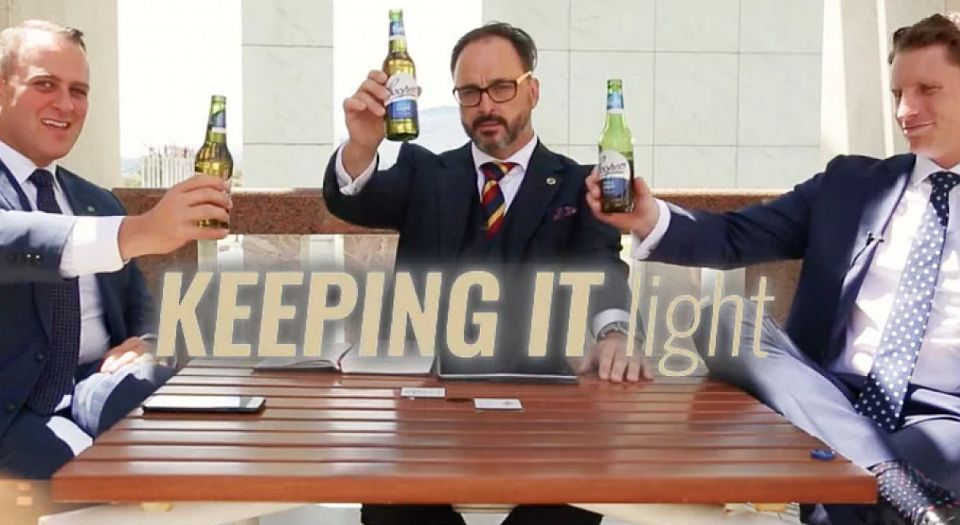 We've known for a while that it's a risky business to oppose gay marriage. Now it seems it's perilous even to discuss it.
In Australia, Coopers beer – which is delicious, by the way – has found itself the target of a bizarre, shrill hipster boycott after its wares featured in a Bible Society video debate about gay marriage. In the vid, Andrew Hastie, the Liberal MP for Canning in Western Australia, and Tim Wilson, Liberal MP for Goldstein in Victoria, battle it over gay marriage. They drink Coopers Light as they do so. (Mistake. They should have gone with Coopers Pale Ale, a cloudy, fruity joy.)
Hastie makes the case against legalising gay marriage (it's not legal yet in Oz), while Wilson makes the case for it. Wilson is one of Australia's keenest advocates for gay marriage – I've had a few heated chats with him about it – and he does a good job in the video. The slogan is 'Keeping it Light'. That is, light beer, light chat. But the response has been anything but light. It has been, and this is no exaggeration, hysterical.
Twitter went into meltdown. Coopers is fuelling homophobia by letting its beer feature in a discussion about gay marriage, said irate Twits. Bars started throwing away all their Coopers. A hotel in Melbourne posted a photo of the Coopers sign outside its venue with the letters 'RIP' spraypainted over it. Another bar posted a notice on its Cooper beer tap: 'We apologise but we are not serving Coopers beer until a positive response is received to the marriage equality debate.' Shorter: 'Back gay marriage, beer companies, or we'll punish you.' A widely shared video shows hipster-looking bar owners smashing Coopers beer bottles in the streets. It brings to mind that time Christian fundamentalists in the American South smashed Beatles records in the streets after John Lennon said The Beatles were bigger than Jesus. It is really reminiscent of that.
The furious war against Coopers over a discussion of gay marriage swiftly moved to New Zealand, like a contagion of intolerance spreading through the Antipodes. Numerous NZ bars have said they will never again stock Coopers. Well, not until Coopers recants its belief that gay marriage is something that can be discussed and instead genuflects obediently before the glory and light of gay marriage. One Kiwi bar says it plans to sell off its Coopers stock and give a cut of the profits to a gay charity and then it will no longer allow this toxic brew to pollute its establishment or its patrons.
Let's make no bones about this: this is crazy. This attempt to trash Coopers' business and reputation simply because its product featured in a short online discussion about gay marriage is rash and mad and weird and intolerant. It's intolerant because its message is as clear as that smashed glass on the streets outside angry pubs: that if you do or say anything to oppose gay marriage, or even to facilitate a for-and-against chat about it, you will pay a heavy price. It's a warning to everyone, not just businesses: bow down.
What's even stranger is that it's not clear Coopers gave the go-ahead for its beer to feature in the Bible Society video. It has worked with the Bible Society before, but it denies that it gave the nod for that 'Keeping it Light' chat. It has issued a grovelling statement in response to the bottle-smashing hysteria. It says it is 'deeply sorry' for any offence caused by the appearance of its beer in a video debate – a debate! – and assures everyone it does support gay marriage. It says it would never 'make light of such an important issue' – no lightness, no discussion and certainly no jokes are allowed about gay marriage – and it has confirmed it will now sign up with Australian Marriage Equality. It has recanted. It has been cowed. It has been corrected. It has learned the hard way that gay marriage is not something you talk about – it's something you bow and scrape before, or else. Or else you're in trouble. Or else your place in polite society will be rescinded, and your ability to do business assaulted.
Can we now, please, quit the pretence that gay marriage has anything to do with freedom and progress? Looking back on Western public debate over the past few years, it's hard to think of any issue that has engendered as much intolerance as gay marriage. For a movement that poses as the heir to the American civil-rights uprising of the 1950s and 60s, the gay-marriage lobby is remarkably uncivil and uninterested in rights. Especially the right to dissent, to say you don't like the idea of gay marriage.
So Brendan Eich lost his job at Mozilla Firefox after an online mob found out that he had made a donation to a traditional-marriage campaign. North Carolina was made state non grata, denounced as a 'plain ignorant' place, after a majority there voted in favour of traditional marriage. Commentators tell us there are 'some subjects that should be discussed in shades of grey, with acknowledgement of subtleties and cultural differences' – how gracious of them – but 'same-sex marriage is not one of those'. Indeed. As business have discovered. From Chick-fil-A in the US to Coopers in Oz, any business whose owners raise so much as a peep of criticism about gay marriage, or who contribute to a discussion of it, can expect to have economic war declared against it.
There's a terrible irony here. In this rage over a Bible Society video, it's the supposed progressives who have behaved like hot-headed religious fanatics, not the Bible Society. It's they who have demanded full subservience to their moral worldview. It's they who have smashed the products of those who disagree with them, vandalised the signs of businesses that might have a different opinion, issued warnings that anyone who doesn't have a 'positive response to the marriage-equality debate' can expect to be expelled from decent society. Gay marriage is not a progressive strike for greater freedom – it's the new, foremost signifier of moral virtue and social decency, the means through which certain sections of society demonstrate their goodness, and anyone who rejects it or questions it or 'makes light' of it can expect to be punished. It has a strangling, stricture-like, religious feel to it, and that in itself makes it something we should 'make light of', and mock, and certainly question. Let us blaspheme: drink Coopers and make light of gay marriage.
Brendan O'Neill is editor of spiked.
Picture by: Bible Society
To enquire about republishing spiked's content, a right to reply or to request a correction, please contact the managing editor, Viv Regan.