Israeli Apartheid Week is ugly, but it shouldn't be banned
Both critics and supporters of Israel must have free speech.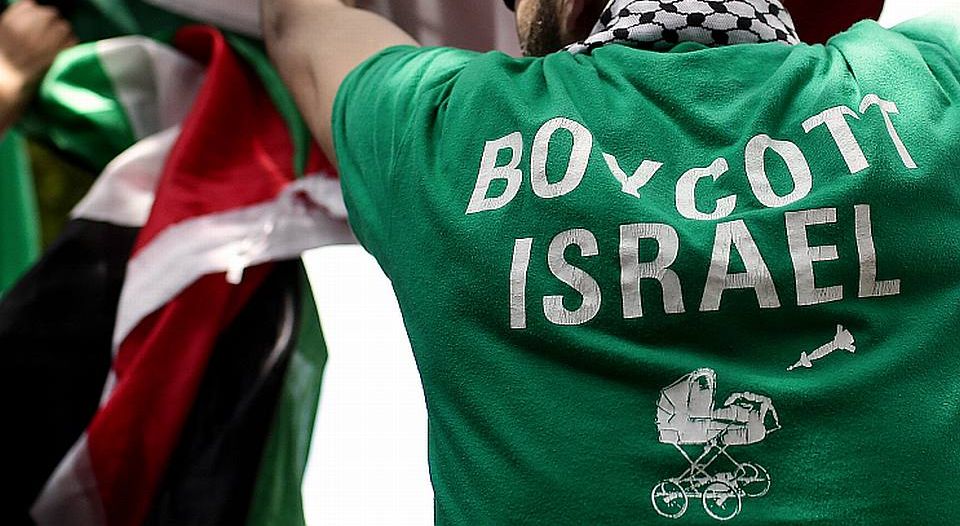 The end of February and the move into March marks an important time on the campus calendar, and it is not the celebration of the burgeoning spring season. No, this is the time of year when the anti-Israel activists dust off their mock checkpoints and papier mâché guns and prepare to irritate their fellow students with endless flyering. This is Israeli Apartheid Week (IAW).
I have written previously that the whole awful shebang belongs in the sick bucket, and I stand by it. Those behind IAW, closely tied to the Boycott, Divestment and Sanctions (BDS) movement against Israel, have no interest in furthering debate on Israel and Palestine, or indeed in helping Palestinians. IAW is quite clearly an exercise in demonising Israel, based on a premise that is completely false. Like any other country, there is much to criticise about Israel's politics, but Israel is not, and never has been, an apartheid state. Besides, there is both right and wrong on both sides of this conflict; campaigns like IAW, which seek to reduce a highly complicated situation to a battle between goodies and baddies, are highly disingenuous.
But like it or loathe it, the whole bogus roadshow pitches up at campuses across the world like clockwork every year, with different timings for different countries. This week there are events happening in Ireland and France; last week it was Britain's turn. Except, this, IAW's 13th year, is slightly different. Instead of the usual tradition of being offered free rein to use campuses as a playground for anti-Israel hyperbole, some activists found their events were blocked.
IAW events at Central Lancashire, Exeter and University College London were cancelled. Many are blaming universities minister Jo Johnson, who prior to IAW sent a letter to the head of Universities UK calling for a crackdown on anti-Semitic incidents on campus, and citing IAW events as a possible cause for concern. In the letter he reminded Nicola Dandridge, chief executive of Universities UK, of the government's adoption last December of the International Holocaust Remembrance Alliance's (IHRA) working definition of anti-Semitism. The definition has been subject to much criticism, and has been accused of outlawing criticism of Israel, as it highlights 'targeting of the state of Israel, conceived as a Jewish collectivity' as anti-Semitism. Although the statement adds that 'criticism of Israel similar to that levelled against any other country cannot be regarded as anti-Semitic', and the government also added a similar caveat.
But Johnson's concerns are not unfounded. Anti-Semitism is a real problem on British campuses. Recently, Holocaust denial leaflets were found on four different campuses, including Cambridge, and swastikas were painted at Exeter. Moreover, most Jewish and pro-Israel students spend IAW feeling intimidated on campus, or avoiding it altogether.
War On Want, in its write-up of IAW, complained that: 'Some universities placed draconian restrictions on IAW events, including last-minute "risk assessments", imposition of external moderators, securitised pre-registration processes, and even potentially unlawful cancellations. Students were not given clear information about these restrictions… These restrictions created an atmosphere of fear and intimidation on university campuses.' Middle East Monitor also released a video showing clips of pro-Palestinian students talking about coming up against restrictive university measures and sometimes finding their events cancelled.
Ironically, this has been the experience of pro-Israel students for years. Their events are frequently subject to dubious last-minute cancellations and restrictions, and protests from anti-Israel activists frequently disrupt and even halt talks by Israeli speakers. Last November, Israeli speaker Hen Mazzig literally had to run off the UCL campus for his own safety. So forgive me if my first thought in response to the complaints about restrictions on IAW is 'diddums'.
However, the event at the University of Central Lancashire, a panel discussion on the boycott of Israel, including anti-Israel activist Ben White, was cancelled, according to the university, because it was felt it may breach the new anti-Semitism definition. It turned out that grassroots group North West Friends of Israel had led a campaign to stop the event. There were also reports of threats of legal opposition against IAW events in the UK. And organisations the Israel Britain Alliance and Campaign Against Anti-Semitism launched legal campaigns against IAW. Meanwhile, the Israeli ambassador to France has asked French mayors to ban IAW events (taking place this week) in their towns and cities.
While the other universities in the UK which cancelled events cited procedural or practical reasons, they appear to have been under significant pressure to clamp down on IAW events. In what was possibly a misguided desire to address the very real problem of anti-Semitism on campus, universities appear to have capitulated. In response, an open letter in the Guardian signed by 243 academics called out universities for restricting free speech.
The fight for open debate about Israel and Palestine on campus is a tough one. Campaigns like IAW and BDS demonise Israel, and in doing so demonise those who support Israel. It is not a shock that pro-Israel and Jewish students at some of the most virulently anti-Israel campuses, such as SOAS and Kings College in London, often feel discriminated against and intimidated. And that anti-Israel activists are now posing as free-speech martyrs must irritate pro-Israel students who have so often found themselves silenced.
But defending free speech means defending it for everyone. If pro-Israel students and activists fail to do so, they'll have no defence when their own events are censored. IAW is undoubtedly an ugly campaign. But it should not be censored. The answer is more speech, not less.
To enquire about republishing spiked's content, a right to reply or to request a correction, please contact the managing editor, Viv Regan.