'I decide': Jane Roe and the struggle for autonomy
Norma McCorvey's life is a testament to the importance of choice.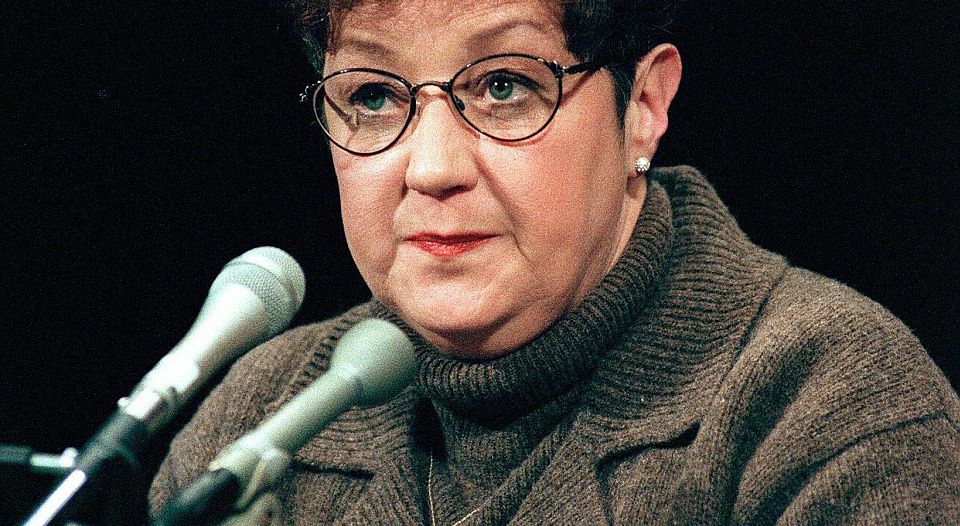 'I wasn't the wrong person to become Jane Roe, I wasn't the right person to become Jane Roe. I was just the person who became Jane Roe, of Roe v Wade.' (I Am Roe: My Life, Roe v Wade, and Freedom of Choice, by Norma McCorvey and Andy Meisler, 1994.)
On 18 February, Norma Leah McCorvey – better known as Jane Roe of the landmark US Supreme Court case Roe v Wade – died in Katy, Texas at the age of 69. During her life McCorvey was both a symbol of perseverance and a target of derision for many people. Those who once hailed her wound up deriding her, and vice versa: she was patient zero of the modern pro-choice movement, though she later became one of the most forceful voices of the anti-choice opposition. She was a bisexual in a committed relationship who later became a born-again Christian denouncing her sexuality, and who later still became a Catholic eschewing her born-again identity. She was written off as a naive tool of more powerful forces, slandered by former associates as a money-hungry opportunist, and hailed as an advocate par excellence by those on the left and right of the political spectrum.
In light of the many contradictory positions she occupied and opinions she held, it is no wonder many of the articles published during her life and following her death seem capable of reaching only two conclusions. The first: the focus of her life was abortion – either the unfettered right to have it or the necessity of abolishing the procedure altogether. The second: she was either an inscrutable or morally fickle human being – or perhaps both.
Categorising her as an ideologically capricious mystery figure while simultaneously stating that her life centred on abortion – correct as these claims may or may not be – brings the public no closer to understanding McCorvey. Reaching a more nuanced understanding of both 'Jane Roe' and her place in history requires an examination of only two factors: context and motivation.
With regard to context, it should be pointed out that the 1973 Roe v Wade Supreme Court case was not strictly about abortion – it was about the implications of bodily autonomy on a woman's right to choose abortion (a right, which, it is often overlooked, Ms McCorvey never exercised – at no point in her life did she receive abortion services).
For the sake of clarification, a comparison is useful. The UK Abortion Act of 1967 possesses four sections and one subsection. In Section 1 alone there are four clauses tightly defining the circumstances under which one may receive or perform an abortion – two medical practitioners must be of the opinion that the procedure is warranted, the pregnancy must not exceed its 24th week, the termination is necessary to prevent grave permanent injury, etc. All of which is to say, the British legal framework for abortion is couched in terms predominantly medical, and justified in what could generally be referred to as a Hippocratic context.
The ruling of Roe v Wade, however, rests upon a different foundation. Justified under the due process and equal-rights clauses of the 14th Amendment to the US Constitution, in the words of Justice Harry A Blackmun, Roe v Wade allowed for a woman to receive an abortion in the first trimester 'free of interference from the state'. While there are medical qualifiers regarding the practice of abortion from state to state in the US, at the federal level the pretext for legalisation is one of personal autonomy – one cannot be told what to do with their person.
To begin to understand the rather complex life of McCorvey, it is important to keep this last distinction in mind. Personal autonomy and the right to make a choice for oneself were at the heart of Roe v Wade – which only makes sense given that these two ideas were, throughout her turbulent life, the very forces that drove McCorvey. Even the briefest examination of the events of her life reveals it to have been both a test of and testament to the phrase 'free of interference'.
A petty thief and runaway by age 10, childhood victim of repeated sexual assaults by a relative, reform-school student, ninth-grade dropout, cleaner, carnival worker, waitress, drug addict, and mother of two children given up for adoption with another on the way by age 22, McCorvey's opposition to 'interference' with her person is apparent from virtually the outset of her life. By the time she signed an affidavit presented to her by Dallas, Texas lawyers Sarah Weddington and Linda Coffee – the attorneys would go on to represent her in Roe v Wade – the overarching philosophical principle of McCorvey's life was already sharply defined: I decide, despite others or the circumstances.
By her own admission, McCorvey did not even bother reading the affidavit she signed, her rationale being that to sign the paper would be the shortest path to having an abortion, thus exercising her own autonomy. She would have an abortion because it was her body, her life, and no one would tell her what to do. That she never received an abortion at any point in her life is ultimately irrelevant; that she could have an abortion without interference, that she could do and say virtually anything without interference – that was the point. Much to the consternation of those attempting to make her a heroine or a heretic, that was the entire drive of Norma McCorvey's life – the freedom to choose, regardless of the outcome, and to continue choosing.
McCorvey's unwavering insistence on personal choice and autonomy enraged people to no end. Her identity concealed in anonymity for close to a decade after Roe v Wade, McCorvey was the focus of derision the moment she stepped into the public eye. A prominent voice for the pro-choice movement from the 1980s to the mid-1990s, McCorvey was spat upon, screamed at, frequently referred to as a baby-killer, and on one occasion was the target of late-night gunfire while sleeping in her home. Admitting that her story of impregnation through gang rape was a lie, she was pilloried by those on both the left and right. Working at A Choice for Women (a Dallas women's clinic) during a period when lethal violence was not uncommon at abortion clinics, she was faced with furious protesters daily.
When (while working at the very same Dallas facility) she was baptised as a born-again Christian by the Reverend Phillip Benham of Operation Rescue – thereafter renouncing the pro-choice movement – she was vilified as a traitor and dismissed as a useful tool of those more qualified (be it Benham or, earlier on, Weddington and Coffee) to shape the course of history. After leaving the born-again movement and converting to Catholicism with the Reverend Frank Pavone of Priests for Life, another bout of high-profile derision was directed towards her – the Rev Benham later claiming to Vanity Fair that, far from being a person of firm moral convictions, McCorvey 'just fishes for money'.
Informing a 1998 Senate subcommittee that she was 'dedicated to spending the rest of my life undoing the law that bears my name'; unsuccessfully petitioning the Supreme Court to overturn Roe v Wade in 2005; flatly stating in a 2012 televised political advertisement that the voters of Florida should not vote for Barack Obama because 'he murders babies' – McCorvey never ceased to draw the ire of the public through her words and actions.
In the days and weeks following her death, many will grapple with their personal feelings towards McCorvey, as well as what her place in history should be. Traitor, liar, harlot, zealot, opportunist, tool, victim, victor – all these are labels will no doubt be applied to McCorvey. Given her life, the use of such terms are both understandable and interminably contestable in each instance. Their application to McCorvey is also inaccurate to the point of being categorically wrong. It is safe to say that in their attempt to define away such a complex individual's inconsistencies, the critics of McCorvey are treating effects as causes. Norma McCorvey was not inscrutable and her life was not abortion.
McCorvey was nothing more or less than the warts-and-all embodiment of choice and autonomy – which is to say, she was a person. Even later in life, when she attempted to obstruct others' autonomy by repealing the ruling which was handed down as a result of her own tumultuous youth, she did so with the same motivation which guided her entire life: I decide.
In the modern world, it seems there is an abundance of opinions and a dearth of convictions. Whatever one thinks of her, however history comes to view her, Norma McCorvey was a person of conviction, of conscience: she chose. And whether those choices led to shotgun blasts for being pro-choice or protest arrests for being anti-choice, she accepted the consequences of those choices.
Complicated figure that she was, no one may know what to think of Norma McCorvey, nor, in the end, what she truly thought – and that is understandable. What must not be lost sight of, however, is why McCorvey thought and acted as she did: she believed in choice and personal autonomy. That her choices, and the way in which she exercised her autonomy, are unsettling to so many is ultimately beside the point. Those who accuse her of being naive, of being a tool for forces more powerful than her, of being a victim of circumstance, of being a crass opportunist all miss the point.
McCorvey's life was about the right to choose, not about the choice you make. This is what it means to respect the right to choose – especially when you disagree with the choice others make. In the end I disagreed with Norma, but would still fight for her right to choose.
Jon O'Brien is the president of Catholics for Choice.
Picture by: Getty
To enquire about republishing spiked's content, a right to reply or to request a correction, please contact the managing editor, Viv Regan.