Up the Citeh!
Why Leicester won – and why they've made the commentators swoon.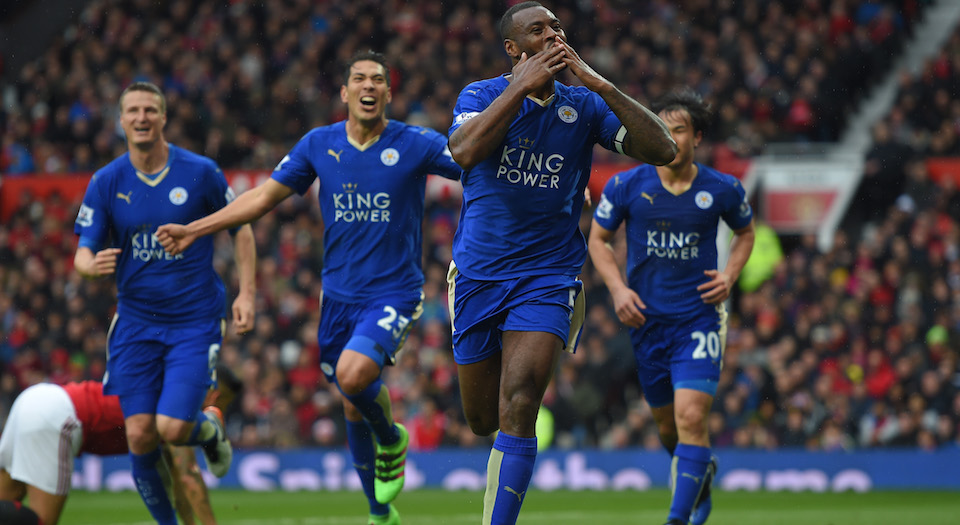 'This is the season for Leicester', sang the 1974-75 City squad at the start of that year's campaign. While the 'tune' has since migrated from vinyl to ringtones, in 2016 it started looking like this really was the season for Leicester. The longer the Foxes topped the table past Boxing Day, the more fans polarised between those keeping the faith and those fearing a late collapse, which seemed likely at the West Ham home game and at Old Trafford. It took Tottenham imploding at Stamford Bridge to confirm our status as champions. Cue the chant, 'We're all going on a European tour'.
How did we do it? Discounting the supernatural interventions of Richard III and Buddhist monks, pundits have deployed the following explanations:
Perfect pairings: Yes, the distribution between Mahrez and Vardy was superb all season, netting more than 40 goals between them. But also important was the telepathy along the wings, with Fuchs feeding Albrighton – who started out very anonymously under former manager Nigel Pearson – and a much-improved Danny Simpson adding speed and muscle.
Relentless running: It's basic, but every outfield player has been moving really fast. When Leicester's rise prompted EA Games to upgrade its FIFA player statistics for Mahrez and Vardy, rumour had it they also clocked Wes Morgan running at 30km per hour. Wes Morgan!
Grudges galore: According to legend, Leicester's threadbare squad was assembled from players who were told they had no future in football. Vardy? Too small for Sheffield Wednesday. Mahrez? Too thin for English football. Morgan? Initially too fat for Dunkirk FC, and not wanted by Notts County. The last time we had this many players with a point to prove was under Martin O'Neill in the late 1990s. (Then came Peter Taylor, who signed a whole bunch of players with no future in football: Junior Lewis, I'm talking about you.) Leicester's underdog reputation was consolidated by the recruitment of underdog players.
Pearson's protégés?: The core of the Premiership-winning side was put together under dog-blinding ostrich-inquisitor Nigel Pearson, who took the credit for last season's 'Great Escape' from relegation. Lest we forget, languishing bottom of the table at Christmas 2015, Leicester went from the end of January to the start of April without a win. Winning seven of nine sounds like a Star Trek: Voyager tribute; to Leicester fans it felt like science fiction, but it kept us up.
Wes's wall: Part of the Great Escape hinged on firming up the defence. Stoke hatchet-man Robert Huth excelled on loan and was made into a permanent signing, scoring four goals along the way. The increasingly immobile Paul Konchesky was sent out on loan. Hitting Leicester on the break became less and less effective.
Pooh-poohing possession: Going back a decade or more, the Leicester of old would try to hang on to the ball at all costs. This worked when we had Paul Dickov to hold up the ball, less since (including when Dickov was substituted). In contrast, Ranieri's Leicester don't seem to care about it – the back four soak up the pressure, Kanté disrupts any attacks, and we hit opponents on the break.
The Cambiasso conundrum: Immediately after the Great Escape, Leicester fans were getting nervous. First Pearson left after a 'racist sex tape' row (no tape was involved – Tom Hopper, now at Scunthorpe, shared a 'personal hygiene' video from his smartphone with 20 of his closest friends); then, after the lukewarm reaction to Ranieri's appointment as manager, our Player of the Year was leaving. This had relegation written all over it. Fortunately, Danny Drinkwater stepped into the breach and filled Cambiasso's boots, aided by a genius Pearson signing, the teleporting defensive midfielder N'Golo Kanté.
The failing five: Leicester fans would sooner not admit this was a factor in our 5,000-to-one win, unless singing it to opposing teams, but the 'big five' were shit this year. Ex-champions Chelsea, the two Manchester sides, Liverpool and Arsenal (who admittedly beat Leicester twice) all fell way short of the positions their spending and histories suggest they could achieve – and not for the first time. Someone was always going to benefit from this weakened league characterised by long-term decline. Leicester's teamwork and work-rate were likely to grind out results at the expense of big-name players who often turned out to be square pegs in round holes. At least former wunderkind Eden Hazard woke up in time to help us to the trophy.
In the aftermath of Leicester's triumph, pundits have called up a mixture of these explanations to account for the most unlikely top-flight title of at least the past three decades. (They often skip the part of the story I'm calling Hour-kazaki, the phenomenal workrate of Shinji Okazaki in the first 60 minutes of most games – prior to his substitution – that helps to set up greater things later in the match.)
Away from the on-field stuff, Leicester's triumph feels good. I first went to Filbert Street in 1978, meaning that relegations, play-off distress, La Manga, and Junior Lewis are all etched in my memory. I won't begrudge the glory-hunters and the 'Leicester are my second team' folks their day in the sun, either. But much of the reaction to Leicester's title success also speaks to the rise of 'soccerism' in society, filling a football-shaped hole where politics used to be.
Thus Leicester's genuine underdog status has morphed into a morality tale of the little guy versus the billionaires, forgetting for a moment the King Power part – Thailand's duty-free empire is built on a bit more than loose change from down the back of the polo-club sofa. Rewriting the (genuine) gulf in resources between Leicester and the big five as an anti-capitalist fable is a stretch too far – come back to me with that when Mansfield Town win the Premier League. It's been going on since the Great Escape, but the 'Leicester fairytale' has become a screen on to which all manner of ideas and ambitions can be projected, with inspiration and opportunism elbowing their way into its penalty area.
With my hometown celebrating until at least August, and the ink of some 'dilly ding, dilly dong' tattoos still drying, no one gets to poop Jamie Vardy's party. But next season we'll be the overdogs, with the eyes of Schadenfreude-hungry rival supporters bearing down on us. On the positive side, hopefully morons like Zac 'hoping to do a Leicester City' Goldsmith will have found another footballing outlet for their lack of politics. Sadly the substitution of football for public life will last for some seasons to come.
Up the Citeh!
Graham Barnfield is a Leicester City supporter and a senior advisor to Thai travel company Virgo-Virgin.
Picture by: Michael Regan / Getty Images.
To enquire about republishing spiked's content, a right to reply or to request a correction, please contact the managing editor, Viv Regan.