Manos: rediscovering the world's worst film
The re-release of Manos: The Hands of Fate allows us to appreciate better its unique awfulness.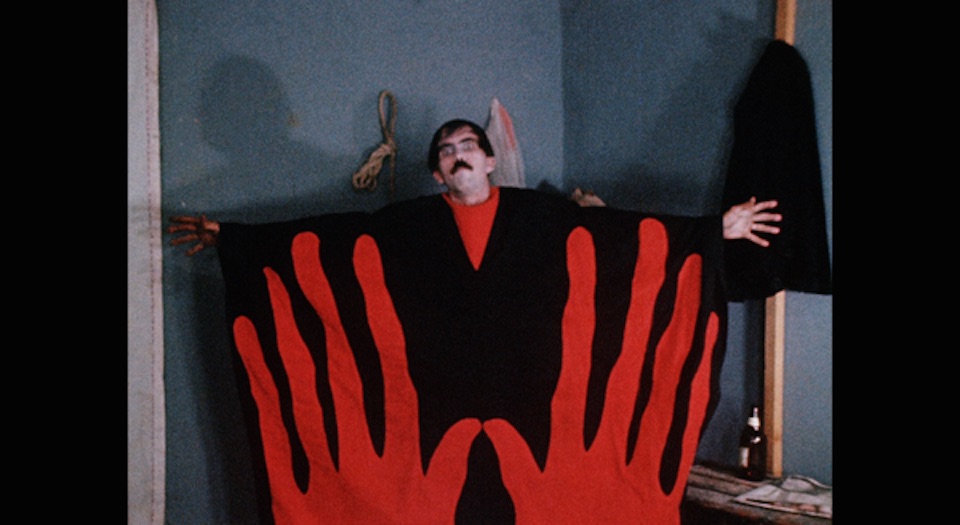 When film enthusiast and collector Ben Solovey bid on a box of film reels at an auction in 2011, he had little idea of what exactly was in the batch. When he started to examine the film cans he came across a print of Manos: The Hands of Fate, a movie commonly described as 'the world's worst film'.
There are many claimants to the title of 'the world's worst film'. Most of these films turn out to have single critical flaws with constellations of minor flaws: Plan 9 From Outer Space is an eccentric and shoddy B-movie; The Room is the world's most awkwardly scripted and stiffly acted day-time soap opera (in film format); After Last Season is crushingly boring as well as incomprehensible; and the entire filmography of Neil Breen is a glimpse into the most bizarre worldview ever committed to film. Ultimately, the very worst films are probably those which are just unwatchably dull. Manos is different: dull, yes, but oddly fascinating.
On paper, Manos (which is nominally a horror film) does not sound that ridiculous. A couple and their young child become lost while driving through Texas, and seek shelter in an isolated house inhabited by an individual named Torgo. Torgo lives in fear of the Master, a sinister figure who worships the god Manos. The Master appears and instigates his harem of wives to assist in the conduct of a Satanic ritual which will decide the fate of the characters. To describe Manos as thinly plotted is putting it mildly. Yet it is not the feeble plot (or any other single aspect) that makes Manos a terrible film, but an accumulation of shortcomings, oversights, ineptitude and peculiar decisions.
When Harold P Warren, a part-time Hollywood extra, decided to finance, write, direct and act in his own feature film, he could not have imagined the strange future his film, Manos: The Hands of Fate, would have. Allegedly to win a bet on how cheaply a feature film could be made, Warren gathered a group of friends to shoot on a ranch near El Paso. During the production, every decision turned out to be ill-judged, poorly executed and underfunded. Even in 1966, the miserly budget of $19,000 did not cover any wages for the cast nor leave anything for costumes and props, which cast members made themselves. The cast was a mixture of locally based amateurs, supplemented by agency models with no acting experience. Their performances were wooden. Warren had seriously underwritten the script, leaving characters facing each other with no lines to speak. Scenes were under-scripted, unrehearsed and shot in one take, all of which left the unprepared cast and crew cruelly exposed.
Warren wanted to make a horror flick laced with salacious eroticism, but his actresses refused to disrobe for the camera. Consequently, a potentially sensational fight between the Master's wives turned into the world's least convincing catfight, with women in diaphanous gowns and matronly underwear chastely rolling on the ground. John Reynolds (who played Torgo) wore cumbersome prosthetic braces meant to simulate goat legs, suggesting that the character was a satyr – though none of the other characters in the film seem to notice his peculiar appearance. The braces limited his movement and gave him an awkward, stiff-legged gait. Adding to Torgo's unintentionally comic appearance was the fact his costume was far too big for him. Reynolds drugged himself so heavily that he appears visibly intoxicated in all his scenes. His gaze wanders aimlessly as his body twitches uncontrollably in his shabby, oversized clothes. He committed suicide before the film was premiered.
Most filming was done at night and the cast and crew (many of whom had day jobs) were tired, cold and disillusioned by the haphazard production. (Rumour has it that exterior lighting had to be provided by car headlights.) The crew had no facilities for sound recording on set, so all audio had to be dubbed later. This was not an oversight as such. Low-budget filmmakers often have to resort to ADR (additional dialogue recording) without on-set sound recorders and mics, but, in the case of Manos, the dubbing was atrocious. Dialogue was sparse and repetitive, full of non-sequiturs, recorded by three actors and only one actress, who dubbed all the female parts and that of a child, which was done in an awkward falsetto. A cool bebop jazz soundtrack – perhaps the least suitable accompaniment for a horror movie – was recorded for the film. Even at 69 minutes, the pacing is not so much sluggish as glacial, with a full 12 minutes of aimless driving footage.
Yet the aspects of Manos which create the most lasting impression are more intrinsic and less definable than the obvious slips, continuity errors and poor judgement. Much of the footage is disastrously out of focus or underexposed. The editing is excruciating and somehow uncanny: scenes are drawn out inexplicably beyond their natural conclusion with characters glaring mutely at each other, leaving viewers perplexed and expectant. Viewers sometimes feel they are missing crucial information or watching scenes out of sequence. The overall effect is like viewing an assemblage of test shots and outtakes compiled by an individual in the midst of a breakdown. At its gala premiere in El Paso, Manos elicited laughter and derisive reviews. It did poor business, and, for the most part, sank out of view, to the relief of its embarrassed cast.
Yet a critical error made in post-production gave Manos a strange and glorious afterlife. The omission of a copyright notice on the print meant that, by the laws of the time, Manos came into the public domain on its first performance and could thereafter be copied and distributed without legal consequence. In effect, Manos had no legal owner. This led to it being shown on drive-in triple bills and later sold to US television. In the early 1990s, the comedy TV show Mystery Science Theatre 3000, which interpolates comments and jokes over the audio of uncopyrighted movies, appropriated Manos and thereby introduced it to a wider viewership and eventually earned the film cult status.
Unarguably terrible, Manos manages to rise above other amateur films by being memorable: Torgo and the Master are visually striking and the ambience of the setting is distinctive. While the film is subject to derision it is also held in affection by fans who warm to its amateur ethos and bizarre aesthetic.
Upon examination, Solovey realised he had not acquired a copy of Manos as seen on television and in cinemas. What he had was something unique: a work print, which was 16mm footage without sound, copied from the original negatives. This was a high-quality uncut version of the original footage from which Manos had been made. For the purpose of television broadcast, a print of Manos had been converted, copied, cropped and adjusted so drastically that many parts of the film acquired a sinister, murky, samizdat quality. Manos was partly inscrutable because it became illegible. Solovey's 16mm reels were only one or two generations detached from the original negative, and were unmatted (that is, they were full frame, not cropped). Although Solovey could restore the video, the audio would have to be copied from an existing print of the film.
However, Manos' uncopyrighted status left Solovey with a problem. How could he acquire funding for a restoration of Manos? The usual course would be to approach a DVD/Blu-ray production company to fund a restoration for commercial distribution, yet why would any company spend money on a film that can be legally copied and broadcast by anyone? (The entire film is available on YouTube.) For funding, Solovey turned to Kickstarter, a website where individuals contribute sums to creative projects, in this case, in return for copies of the resultant DVD/Blu-Ray. With many donations ranging from $10 to $1,000, the project quickly met its funding target. Later, once it was established that the reconstruction was so extensive that it effectively amounted to a new film and was therefore eligible for copyright, Synapse (distributors of vintage and rare martial-arts, horror and sexploitation films) decided to release Manos on DVD and Blu-ray.
For the restoration, the damaged print was cleaned, digitised at 2K resolution and colour corrected. The restored film has much greater clarity and the notoriously washed-out colour is now fresh and bright. The television cropping is gone, showing fuller frames. Visible film grain and occasional scratches are unavoidable and not intrusive. In fact, these flaws return you to the fact that you are watching a celluloid film created in 1966 under great physical and technical constraints. The region-free, unrated Synapse Blu-Ray release includes the restored film, one documentary on the history of Manos, another on Solovey's restoration, plus a commentary track by two of the cast members. The original unrestored grindhouse version is included, allowing viewers to see the remarkable contrast with the restored version.
This restoration project allows us to better appreciate one of the most terrible films ever made – made a little less terrible.
Alexander Adams is a writer and art critic. He writes for Apollo, the Art Newspaper and the Jackdaw. His book On Dead Mountain is published by Golconda Fine Art Books. (Order this book from Pig Ear Press bookshop.)
To enquire about republishing spiked's content, a right to reply or to request a correction, please contact the managing editor, Viv Regan.