Council estates need more development, not less
The government's Housing Bill punishes the worst off.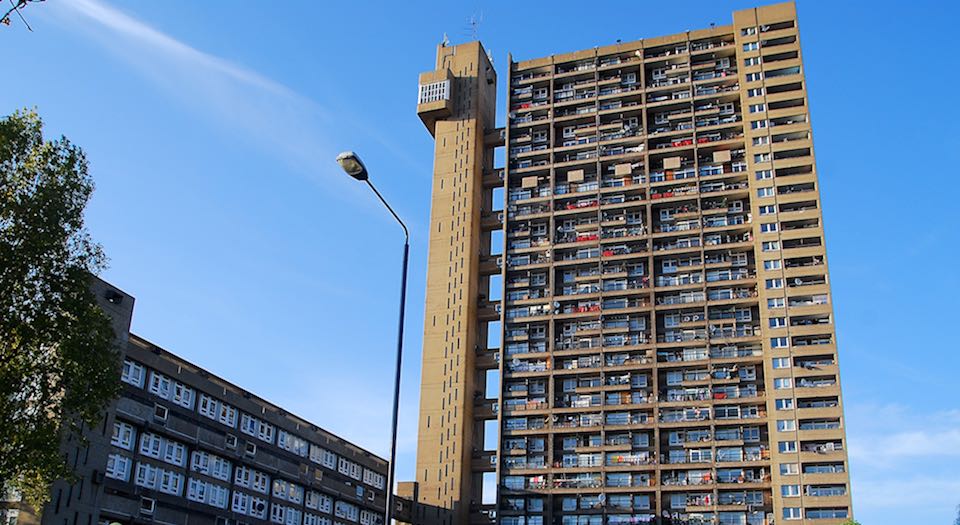 UK government plans to take away the tenancy rights of those in social housing (coming after the 2013 housing-benefit cap) add up to an attack on the worst off. Social-housing tenants are in the firing line because the government has targeted some 100 estates for a £140million redevelopment project. The scheme was drawn up by former Conservative minister Michael Heseltine's estate-regeneration advisory panel. On announcing the scheme, Heseltine said it was his dream to clear the 'slums'.
Prime minister David Cameron has added to the fear that poorer areas are being targeted for 'slum clearance', by writing that 'in the worst estates, you're confronted by concrete slabs dropped from on high, brutal high-rise towers and dark alleyways that are a gift to criminals and drug dealers'. Ominously, Lord Adonis, a one-time minister under Tony Blair and now heading infrastructure planning in London, has argued that the government must unlock the value tied up in inner-city estates. 'The scale of council-owned land is vast and greatly under-appreciated', he said. 'There are particularly large concentrations of council-owned land in inner London, and this is some of the highest-priced land in the world.'
Adonis goes on to say that Southwark council owns 43 per cent of its land area and 'Islington council alone owns about 150 large council estates'. Given that London's population is projected to grow to nine million in the next four years (having recently outgrown its previous high of eight million in 1939), and to 11million in 2033, the need for new homes is urgent. Adonis's plan projects some 50,000 new homes in London alone.
The objective of Adonis's plan, like Heseltine's, would be obvious even if it were not already happening. But it is already happening: social-housing tenants are being cleared from prime real estate to make way for private developments, with windfall profits. Already social-housing tenants at the Carpenters estate in Newham, and in Balfron Tower in Tower Hamlets and Aylesbury in Southwark, have been cleared out of their homes, while tenants at other sites, like the Ravensbury Grove estate in Mitcham, are being told to get ready to move. The case of the E15 mums, who protested their eviction from the Carpenters estate, touched on the concerns of a much wider group of Londoners, who find themselves priced out of the housing market, reduced to the status of 'generation rent' and having to move to outer London suburbs to make way for a new breed of (bearded) 'gentrifiers'. Social-housing tenants, with their security taken away from them by law, stand to have their lives turned upside down because of the failures of the British housing market. This is a very good reason to oppose the 2016 Housing Bill.
The tragedy of British housing is that none of this needs to be happening. The need for new homes could be met quite readily on the fringes of our major cities and towns, or in new satellite towns. Those homes are not being built because of a perverse planning system that prevents the outward expansion of our major urban centres through the stranglehold of the Green Belt.
Ten years ago, I wrote a book highlighting the problem. It was called Let's Build, with the subtitle Why We Need Five Million New Homes in the Next 10 Years. I warned that the country was storing up a massive problem for the future by not building the homes we need to meet existing demand. Back then, I noted that the shortfall in new homes would lead to a continuing climb in prices, increasing social inequality, and that 'rising prices [will] force lower-income families out of inner London'. Five million new homes were not built; indeed, not even enough houses were built to replace the UK's ageing housing stock. Unfortunately, nobody was willing to hear about the looming disaster. Most insisted more development would be bad for Britain.
Today the perverse results of the unwillingness to build new homes are clear for everyone to see. More than five trillion pounds is currently tied up in Britain's housing stock (five sevenths of all UK investment). The average house price is £205,000 in the UK (six times the national average annual income), and £416,000 in London (ten times the average annual average income in London).
In the 1990s, middle-aged people bored young people by talking about house prices. Today young people bore middle-aged people by talking about rent. Rents, sadly, rise in line with house prices, so renting does not get you out of the rat race – it just leaves you stuck in the starting blocks. Currently renters pay, on average, £800 a month, rising to £1,271 in London.
Rising prices, because of the failure to build enough homes, create perverse results. The first is overcrowding and poor conditions. A problem that we thought belonged to Victorian times is back. To meet high rents, younger and less well-off people take on less space, doubling up, or even living in sheds and other makeshift dwellings.
Another perverse result can be seen in Lord Adonis's plans to clear and rebuild inner-London estates. It is a perverse result because most tenants in London's postwar housing estates would love to see their homes refurbished. For decades, local authorities and government cut back on the investment that those estates needed, and, by transferring their titles to housing associations, avoided responsibility for estates' problems.
Now, because of the way that rising prices have put a special premium on sites in London, most especially in central London, the government has hatched plans to renovate those estates, to 'unlock the value' in the estates. In other words, people are to be pushed out so that their homes can be demolished and the sites developed for profit.
It should be said that it is quite possible to redevelop London estates without attacking the residents. I spoke to residents who moved to Cherry Court in Kentish Town from Backton Block, and they were happy with the new flats. More often, though, the need to profit on investments has meant that those with tenancy rights are pushed around. When Balfron Tower was cleared, tenants were moved by the relevant housing association, Poplar HARCA, to nearby homes, but the promise that they would be allowed to return was withdrawn, and the prestigious modernist tower was sold off. Figures showed that many simply gave up the new tenancies and moved away, as their lives were uprooted.
Some of the critics' claims against the Housing Bill are misplaced, however. These are not 21st-century clearances, equivalent to those of the 15th century. Those clearances turned yeoman homes into green deserts. These redevelopments, however, will pack more people into London than before (more, in fact, than the available space justifies). The developments – if they all go ahead – threaten people's tenancies. But that does not mean that London, and other major urban centres, will become the preserve of the wealthy. On the contrary, London's projected growth means that more people will be coming. What will have changed is that people will be paying more for less space, with less secure tenancies. The danger is not gentrification. There are not enough gentrifiers to occupy all the dwellings that are to be offered in London. Rather, people who are already poor will be made to pay more rent, and live in less space.
The opponents of the development are already backed into a defensive position. They are rallying against the redevelopment of rundown estates when everyone knows those estates need to be developed. The tenor of the campaign is against development, when the only solution to Britain's housing crisis is not less development, but more. We need to expand our cities and build new towns to accommodate the growing demand. If we do not, house prices and rents will continue to rise, putting more pressure on families' incomes, security and living space.
Redeveloping housing estates built over 50 years ago ought to be an opportunity to build better homes for the residents. Instead, the narrow preoccupation with 'unlocking value' means that many people who are least able to cope with the turmoil will be pushed out of their homes.
To enquire about republishing spiked's content, a right to reply or to request a correction, please contact the managing editor, Viv Regan.