Après Charlie: a year of fighting for the right to offend
Why spiked thinks free speech is the most important cause of our times.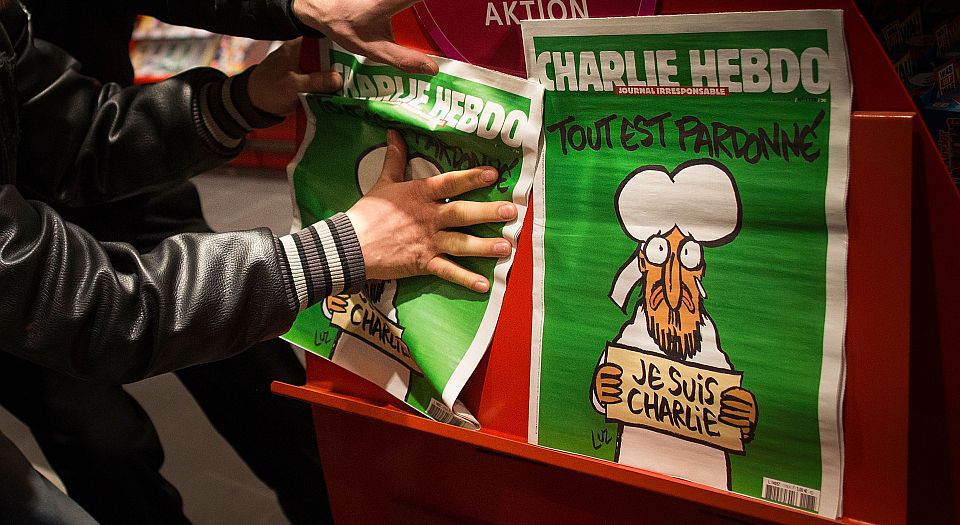 spiked's response to the massacre at the offices of Charlie Hebdo exactly a year ago, on 7 January 2015, was swift and angry. In a BBC radio interview just a couple of hours after the murders occurred, our editor Brendan O'Neill said this 'horrific, barbaric attack' was an assault not only on individual cartoonists and journalists but on 'the right to be provocative, offensive and blasphemous'. He said we should respond to the attack, not by silencing ourselves or refusing to engage in risky debate, but rather by 'reaffirming freedom of speech and our right to question and mock all belief systems'.

Brendan O'Neill on BBC Radio on 7 January 2015
In our editorial published on the day of the massacre, spiked warned against seeing the murders as an utterly foreign act, the work of a 'faraway death cult'. We argued that 'the tragic fact is that this barbarism fits a depressing pattern in modern Europe': it is a 'fouler, bloodier version of the PC urge to destroy material that offends people's sensibilities'. On that 'dark day for Europe', we argued that everyone who considers him or herself progressive must now 'embolden even further the right to be offensive, in memory of the journalists at Charlie Hebdo and in the name of freedom and enlightenment'.
In the days and weeks after the massacre, spiked noted the reluctance of many so-called liberals to stand up for Charlie Hebdo's freedom to speak and rile and to draw whatever or whomever it pleases. In February 2015, Frank Furedi described the global outburst of 'Je Suis Charlie!' as 'truly inspirational', but he worried that it really meant 'Je Suis Charlie, but only some of the time…' He noted the way 'free-speech fundamentalist' was becoming a 'term of abuse applied to those who are consistent in their support of free speech'.
spiked's editor-at-large Mick Hume described the killers as 'the armed wing of today's You Can't Say That culture'. He laid into those observers who say 'Je Suis Charlie' while at the same time supporting or even spearheading censorious clampdowns on the tabloid press, un-PC speakers on campus, and other modern-day heretics. Everyone 'pays lip service to the principle of free speech', he said, but 'scratch the surface and in practice most will add the inevitable "But…" to button that lip and put a limit on liberty'.
Hume's book, Trigger Warning: Is The Fear of Being Offensive Killing Free Speech?, the first major book to discuss and contextualise the Charlie massacre, was published six months after the attack. Described by Salman Rushdie as 'strong-minded, unafraid, determined', Hume's book located the massacre in the recent historic decline of the West's attachment to the value of free speech, and in particular the right to offend. Writing in the Sun, Hume insisted that standing up for free speech always means 'upholding the right to be offensive'.
To demonstrate that it isn't only Islamist gunmen who want to crush things that offend them, spiked published a thought experiment titled 'What if Charlie Hebdo had been published in Britain?'. 'It would have been crushed', we imagined, running through the week-by-week assaults from censorious students and illiberal liberals that would likely have been launched against such an Islam-disrespecting publication. BBC Radio 2 dramatised our thought experiment and discussed it with our editor.

BBC Radio on our 'Charlie in Britain' thought experiment
The message from spiked writers was clear and forthright: in the words of O'Neill, writing in the Wall St Journal, 'now, more than ever, we must defend the freedom to provoke, to mock, to rail against gods, prophets and orthodoxies'. 'Freedom of speech is our most important and cherished value', he said. Marking the first anniversary of the massacre in a column for Haaretz yesterday, O'Neill argued that we are witnessing an undermining of the Enlightenment itself: 'The Enlightenment, coming after the Inquisition, was fundamentally about insisting that people should not be punished for what they believe or say. As John Locke argued, no man should be attacked by "fire or sword" for what lurks in his mind. In Europe in 2015, cartoonists and writers were punished by "fire" – gunfire – for their beliefs.'
This new, PC Inquisition is not led by religious fundamentalists, however, but rather by the self-censoring culture of 'You Can't Say That', as Hume argued on spiked yesterday. Suggesting that the front cover of the anniversary edition of Charlie Hebdo, showing God with a gun, is wrong, Hume said: 'The most powerful "assassin" of free speech in the West today is not God, but the high priests of "liberal" secular conformism here on Earth.'
The reason spiked and its writers have devoted so much of the past year, and long before that too, to fighting for the right to offend is because we recognise that freedom of speech either applies to everyone, including people who provoke and upset, or it does not exist. And it must exist. Because, in the words of our Free Speech Now! manifesto, it 'is the foundational freedom upon which every other right we enjoy – from the right to vote to the right to protest – is built. Without the freedom to think, write, publish, depict and debate as we see fit, all our political and social rights become meaningless'. Free speech makes us morally autonomous, fully human, through allowing us to say and hear everything and to decide for ourselves what is good or bad, right or wrong. Censorship, in contrast, makes us into children, only allowed to think and utter what our betters have already decreed to be right and good.
So one year on from that bloody day, let us once again say 'Je Suis Charlie', but let us also stand up for the freedom of speech of everyone who finds themselves fined, jailed, shamed, shushed or Safe Spaced out of existence merely for holding and expressing unpopular views. Fighting for freedom of speech remains the most important cause of our times.
Sign our Free Speech Now! manifesto.
Picture by: Credit: Carsten Koall / Stringer
To enquire about republishing spiked's content, a right to reply or to request a correction, please contact the managing editor, Viv Regan.