Tyson Fury: falling victim to PC tyranny
It's an outrage that the police are investigating Fury's beliefs.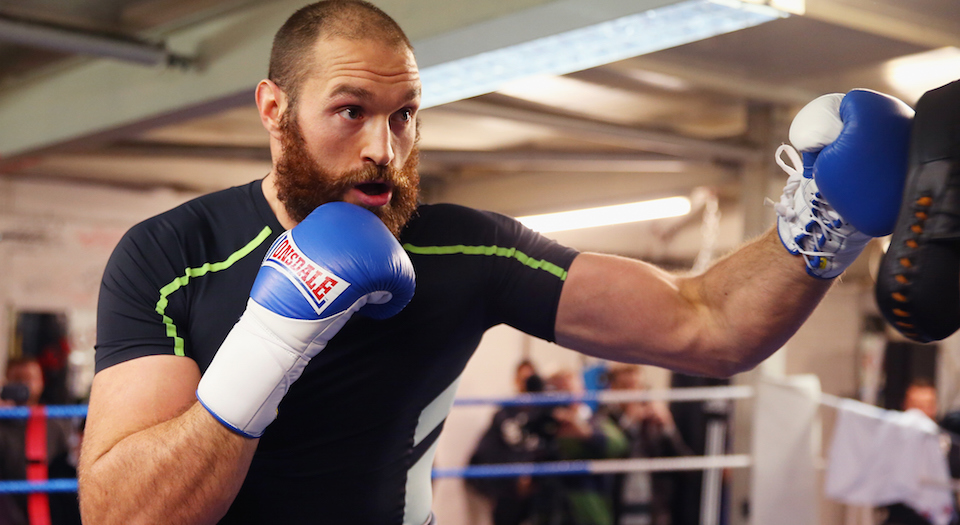 If you were in any doubt that Britain is skating perilously close to tyrannical territory, get this: the boxer Tyson Fury is being investigated by police over his comments on homosexuality. Fury, a Manchester-based boxer who became the heavyweight champion of the world at the end of last month, is a born-again Christian. He thinks homosexuality is sinful. In a recent newspaper interview he compared it to paedophilia. And now, after receiving a complaint from a member of the public at 10.30 this morning, Greater Manchester Police will put him under the spotlight to determine if his words constituted a hate crime.
To put this another way: in 2015, in a nation that claims to be liberal and democratic, a nation which just last week launched missiles attacks on ISIS to demonstrate its love for liberty against ISIS's desire to traduce our enlightened values, a man is being investigated by the authorities over his beliefs; his convictions; his deeply held faith. The police are opening a file on Fury, not over any physical act he carried out, not for robbery or assault or affray, but because he thought and said something that many people disagree with.
British politicians wring their hands over Saudi Arabia's arrest of blasphemous bloggers or ISIS's severe punishment of those who doubt the Prophet. Yet at the same time they give the nod as police investigate a man who dares to hold to Biblical scripture on homosexuality. In fact, they wrote the very hate-speech laws that allow those judged to be overly Godly, too Biblically literal, to be investigated for 'hate crimes'. Is this not religious persecution, too? The potential punishment of someone for believing in God in a particular way? Sure, Fury won't be flogged or even jailed, but the principle is the same here as it is in Saudi Arabia: officialdom presumes it has the tyrannical authority to question and punish individuals for what is inside their minds and hearts.
Some will say that Greater Manchester Police's opening of an investigation into Fury is, at this point, a formality. And that's true. Every complaint of a 'hate crime' must be investigated by the cops. Yes, it takes just one person phoning them up and saying, 'Someone said something that I think is a hate crime', for the police to poke their noses into our speech and ideas. The police might later decide that there's no case to pursue against Fury and leave it at that.
But it is outrageous that they have even opened an investigation. It's not enough for them, or us, to say, 'Hate-speech laws demand that every complaint be taken seriously and that's why we're looking into Fury'; we should campaign to abolish any law that empowers the police or any other wing of the state even to think about feeling someone's collar simply because he holds unpopular or strange or non-mainstream beliefs and has the temerity to express them.
The police probe into Fury's comments confirms that hate-speech laws facilitate actual, old-fashioned, moral censorship. Apologists for hate-speech legislation claim it's only about tackling explicitly racist or bigoted comments. (As if that wouldn't be bad enough: racists and bigots should be as free as everyone else to express themselves.) But hate-speech laws also punish moral convictions, religious beliefs, political speech. In Europe in recent years, Christian pastors have been arrested for denouncing homosexuality; people have been fined for describing the Islamic ritual slaughter of animals as 'barbaric'; columnists who want to stop immigration have been grassed to the police. These are viewpoints, whether you like them or not, and they're no business whatsoever of officialdom. The Fury case should remind us that one man's hate speech is another man's belief system. Fury really believes homosexuality is sinful. Deal with it.
The spread of hate-monitoring, which is just a fancy term for thoughtpolicing, represents a reversal of the Enlightenment we're supposed to be defending against Islamists and nihilists. Post-Inquisition, the great English jurist Edward Coke insisted that 'No man, ecclesiastical or temporal, shall be examined upon the thoughts of his heart'. Today, a man is being investigated over the contents of his heart, over his expression of faith. Loads of people are. There should be a lot more anger about this. If the police make plans to go to Fury's home to question him, there should be people outside, stopping them, pushing them back, expelling the state from the realm of belief and speech.
Brendan O'Neill is editor of spiked.
To enquire about republishing spiked's content, a right to reply or to request a correction, please contact the managing editor, Viv Regan.