This China-bashing exposes Britain's own insecurities
Why Xi Jinping's visit has prompted so much handwringing.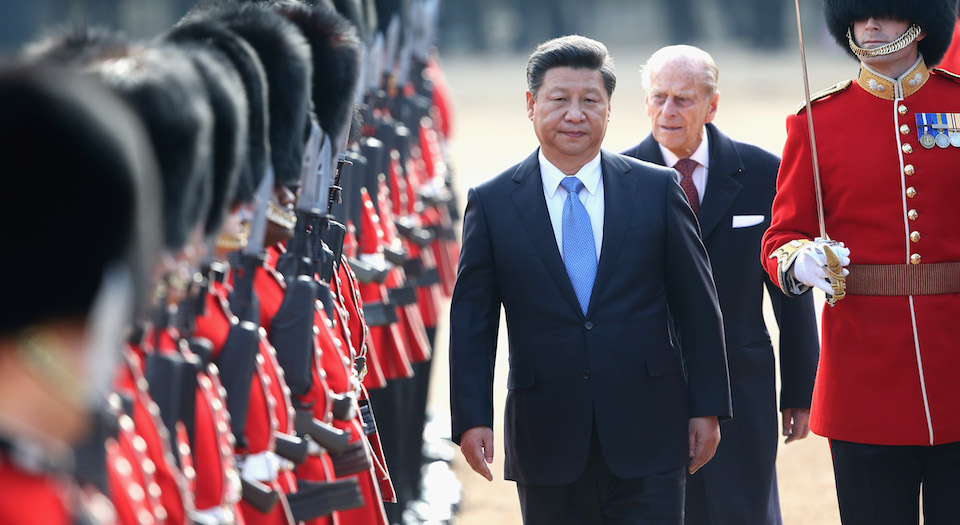 Chinese President Xi Jinping is not in the UK for a jolly, as much as he is no doubt enjoying the pomp and ceremony of China's first state visit since 2005 – it is like 'going back in time', he said of the Houses of Parliament, presumably after catching sight of Jeremy Corbyn.
No, the head of the Chinese state is here because of an economic opportunity. There is a chance to do in Britain what China – the state, Chinese firms and the state-backed Asian Infrastructure Investment Bank – has been doing elsewhere in the world: deepening economic relationships, trading, providing capital investment. While Western states have been interfering politically and militarily in various far-flung places over the past decade, China has been investing – in Europe, North America, Australia and across Africa. And now China plans to invest in the UK, from its energy provision, with the Hinkley Point nuclear plant to the fore, to its transport infrastructure.
But for too many in the UK, our burgeoning relationship with China is not an economic opportunity. It's a moralising opportunity, a chance to spruce up Britain's long-faded sense of imperial superiority, a chance to puff their pigeon chests out and reprimand China with a 'look here, old boy, this human-rights stuff is just not on'. The political and media focus has not been on the benefits – economic and, yes, non-economic – of China's largesse; it's been on Britain's sense of itself, its role in the world, its do-gooding obligations.
John Bercow, speaker of the House of Commons, concluded his speech to Xi Jinping, his entourage and assembled British parliamentarians, with a call for Britain and China, now hand-in-glove, to 'aspire to be seen not merely as a powerful force in the world but a moral inspiration to it'. Others saw any deal with China as the end of Britain's role as a moral inspiration to the world. Steve Hilton, a former Tory adviser, was disgusted by the UK's new-found fraternity with China: 'Surely we should be fighting corruption in the world, not feeding it with fat contracts that filch the earnings of British taxpayers to fund the lavish lifestyles of sleazy Chinese elites.' Hilton didn't stop there – he called for the British state to fight China: 'Instead of trade deals, tough sanctions; instead of sucking up to the despots of Beijing, we should stand up to them. For moral reasons and on the grounds of national and international security.'
But it's the following sentence that captures the nature of the dynamic informing the righteous reaction to Xi Jinping's visit: 'By standing up to the Chinese regime we can assert our commitment to decency and avoid the embarrassment of overlooking behaviour we know to be repugnant.' Here China represents a symbol of something 'repugnant', against which the British state can 'assert' its moral superiority, a regressive entity against which the British state can demonstrate what a morally positive force it is. China is serving a purpose. It is a means to politicos' and commentators' self-affirming, self-righteous ends. This is why we've had the odd spectacle of British politicians boasting about how they're going to 'raise the issue of human rights' with Xi Jinping – China and, by association, its president, allow for ostentatious displays of moralising, of sanctimony. The Labour Party even released a statement to say that Corbyn really had raised the issue of human rights in China at the state banquet. (As it turns out, he'd given Xi Jinping's team a letter containing his human-rights concerns. Brave stuff.)
It's as if Xi Jinping's visit, on the back of China's economic and social rise, has brought the British elite's sense of insecurity, its moral uncertainty, its existential crisis, to a head. The light China's rise casts on Britain is experienced as a humiliation for Britain's political class. Hence the need to assert, or rather reassert, a sense of superiority, a sense of mission. Take Free Tibet campaign manager Alistair Currie, who told the London Evening Standard that the Tibet protests were 'sending a message to David Cameron that Britain expects him to stand up for British values instead of bending to Chinese pressure'. It seems that opposing China, being against the Chinese state, might even provide the government's 'British values' campaign with a bit of substance
But the problem with using a 'distasteful foreign regime', and endlessly citing China's 'appalling human-rights record', in order to demonstrate and claw back some ersatz moral superiority, some specious sense of national, global purpose, is that it necessarily entails demonising China. It rests on the creation of an evil-doing other, a China that needs to be corrected by its moral betters. Today's China-bashers pay lip service to the development that has dragged nearly half-a-billion Chinese out of poverty, that has transformed billions of lives, that has laid the foundations for an increasingly prosperous future. But it's just that – lip service. Their main concern is to use China to boost Britain's long-flagging sense of purpose, to affirm some vague moral role that Britain supposedly plays on the world stage.
It's desperate stuff. If those British politicos and pundits currently shouting about China's failings really want to defend people's freedoms, then they could start by challenging the growing illiberalism in their own glass house, rather than lobbing pebbles at China. It is for the Chinese people to win their liberty and democratic rights against their government, with solidarity from those of us in the West who actually believe in liberty. Which doesn't include our governments or many of the commentating classes, to whom freedom is a negotiable commodity, or just a weapon to bash foreign leaders with.
Tim Black is books and essays editor at spiked.
Picture by: Chris Jackson / PA Images
To enquire about republishing spiked's content, a right to reply or to request a correction, please contact the managing editor, Viv Regan.